Furniture makeover you can DIY – How to repurpose and upcycle a vintage wash stand to create a unique changing table with storage for a nursery.
This furniture makeover has been a long time in the making, but I couldn't be happier with how it turned out! With a fresh coat of paint inside and out, and some shiny new hardware, this old vintage wash stand has a new lease on life as a changing table!
Thank you to DecoArt for providing the paint for this project and to D. Lawless for providing the hardware. All thoughts and opinions are my own. Click here to read my full disclosure policy.
You know how sometimes when you begin a project you have really good intentions of finishing it in a reasonable amount of time? This is not at all the case for this furniture makeover.
I adopted this piece when my in-laws were moving a family member out of her apartment and into an assisted living facility. The hubs was skeptical, as he does not support the idea of me becoming a furniture hoarder, but I told him he wouldn't have to do a thing as far as making over this piece. I'd handle the whole process (which, of course, wound up not being true). At first, I envisioned using it as a way to store my sewing machine, notions and fabrics, and I started working on it for my craft room makeover during the Spring 2016 One Room Challenge. I ran out of time to finish the piece before the big reveal, and then never got around to finishing it. (Click here to see more of craft room makeover.)
Which really was a blessing in disguise because it turns out that this old wash stand is absolutely perfect for repurposing as a changing table! The top is just the right size for a changing pad, and the drawer and cabinet storage provide ample space for diapers, wipes, rash cream and more! I think I'd even mentioned this to the hubs when we first got it, years ago.
Once I found out I was pregnant, I knew exactly how I wanted to makeover this piece. I wanted to go classic white on the exterior but give the interior an unexpected dose of color. I chose my favorite DecoArt paints – Satin Enamels from the Americana Decor line. The colors I selected are Pure White and Smoke Grey. I debated going for a more gender-specific color on the interior, but ultimately decided that a neutral, but impactful, dark grey would be best. If we want to use this cabinet as a changing table for a future child(ren), it would still work in a boy's nursery, should we have a boy.
This post contains some affiliate links for your convenience. Click here to read my full disclosure policy.
Furniture Makeover: How to turn an old wash stand into a changing table
Materials Needed:
Orbital sander
Sanding papers
Drop cloth
Brushes, foam roller, or a paint sprayer*
Cabinet knobs
*I'll be detailing more about how we painted this dresser in a post next week, but we got the job done pretty quickly by using a paint sprayer. If you don't have a paint sprayer, brushes or a roller would also work.
Tutorial:
1.) Begin by removing the drawer and doors and giving your piece of furniture a thorough cleaning. We tried to use a deglosser on this piece, but after doing some reading, we realized that this piece is too old for a deglosser to be effective. I did a little research and discovered that this maple wash stand cabinet was made by Willett Furniture in the 1950s. Willett was well-known for their multi-layered wax based finishes, so this piece needed a good sanding before it could be painted. The deglosser actually seemed to help shine it up and make it look clean instead of stripping off the layers of finishing wax! Live and learn, right?
We used our orbital sander to get the finish off of the whole piece – sides, front, top, drawer front, doors, and even inside. Then we thoroughly wiped down the whole piece with a damp cloth to remove all of the sanding dust.
2.) Prime the whole piece, inside and out. We opted for Zinsser Cover Stain, an oil-based primer, on the suggestion of my husband's uncle who does a lot of painting and woodworking.
3.) We decided to start painting the interior first. Since I wanted to give this wash stand a two-toned look, we taped off and covered the exterior portions with paper. We prepped our paint sprayer, filled the canister with DecoArt Satin Enamels in Smoke Grey and got to work. In minutes, the entire interior, plus the backs of the doors, had a beautiful coat of paint!. The grey covered so well that we only needed to do one coat! For an extra pop of color, I painted the outsides of the drawer by hand with a small paint brush.
4.) We approached the exterior the same way, taping off the interior and loading our paint sprayer with DecoArt Satin Enamels in Pure White. We did two coats of white to get full coverage.
5.) When the paint was fully dry, we re-attached doors and added new hardware from D. Lawless Hardware. These Mia satin nickel knobs give this cabinet a fresh new look.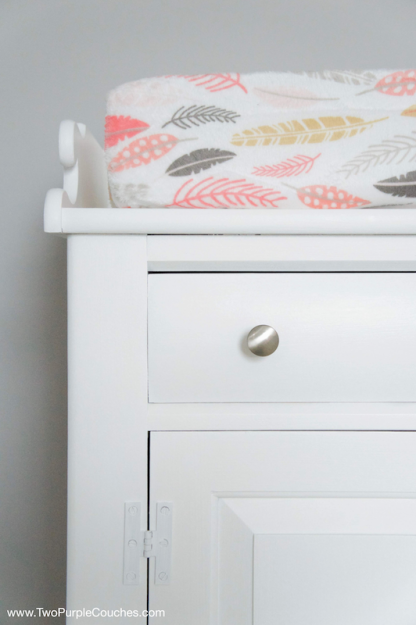 Once we got our "new" changing table into our daughter's nursery, it was time to stock it with all the necessities—diapers, wipes, rash cream, baby thermometer, hair bows, etc.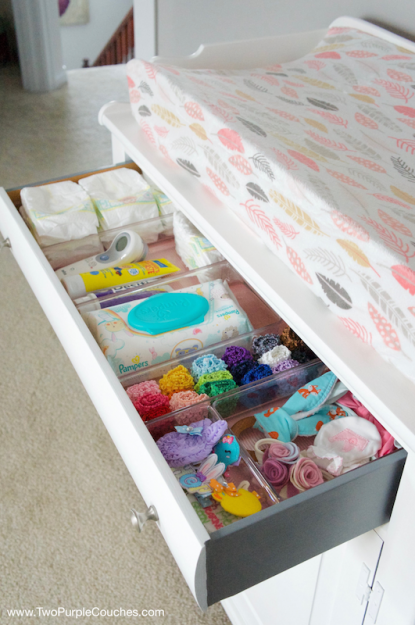 I am thrilled with how our furniture makeover turned out. And now that we've had a couple of months to use it, it really does seem like this wash stand was destined to be repurposed into a nursery changing table! The height and dimensions are perfect; the drawer holds all her necessities and the cabinet section is great for storage. We can store multiple packs of diapers, plus extra receiving blankets, changing pad liners, burp cloths and other baby items. I love that we were able to upcycle a quality family piece into something we'll use for years to come!