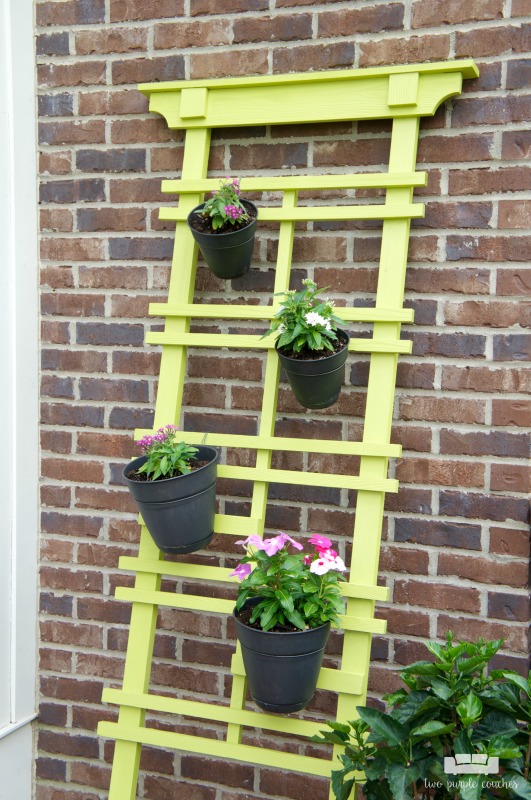 Looking for a simple and fun way to display your flowers or herbs this summer? This easy vertical garden idea, created with a store-bought trellis, is the perfect solution. Add a splash of colorful paint, and you've got a unique piece of stylish outdoor decor!
One of my favorite, and most popular, outdoor projects is this super simple vertical herb garden I created a few years ago. It's served me well, but after several years of hanging out on our deck through rain, sleet, sun and snow, the trellis was a little worse for the wear. Considering that it's not splintered or broken, I thought a coat of paint would be the best solution to breathe new life into my vertical garden trellis. I dug through the stash of paint I brought home from the Haven Conference last year and found the perfect option!
This post contains some affiliate links for your convenience. Click here to read my full disclosure policy. 
How to paint a vertical garden trellis
Materials Needed:
Tutorial:
1.) If you already have a garden trellis, start by giving it trellis a good cleaning. I set our hose nozzle on "jet" and washed away dirt, mildew and a couple of wasp nests. Use a scrub brush to remove any stubborn dirt or stains. Let the trellis dry for several hours or overnight. Make sure it's completely dry before you begin painting.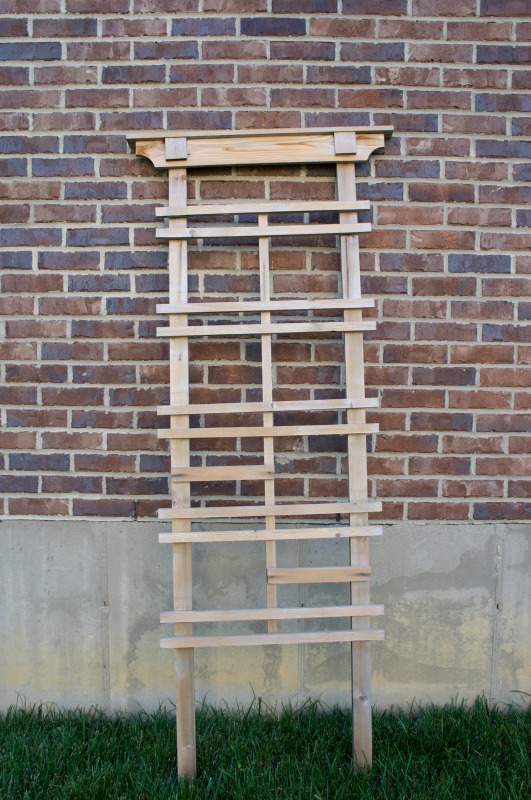 2.) If necessary, lightly sand away any small splinters or rough spots. Your trellis doesn't have to be perfectly smooth since this isn't like a piece of furniture you'd be touching or handling.
3.) Set up a couple of sawhorses and lay the trellis on top. Using a small paintbrush, begin painting the trellis with DecoArt Outdoor Living Paint. I painted two coats on the front and one on the back. I was working on a warm, sunny day, so the paint dried pretty quickly!
4.) Add flowers or herbs to small planter pots and display on your vertical garden trellis!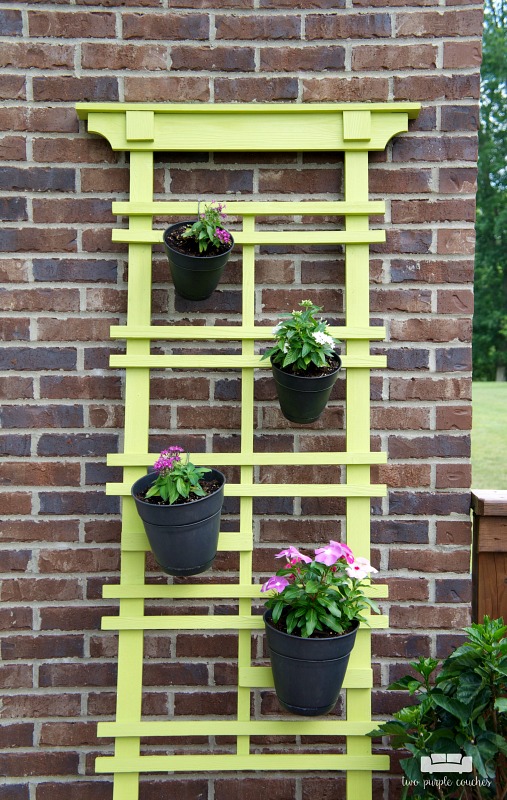 While I usually plant herbs in my vertical garden, I'm opting for flowers this year.I love this mix of purple, pink and white flowers against the green trellis! Our patio needs a pop of color, and I had room in my cedar bed for herbs this year (for once I'm not over-crowding it with tomatoes and unruly zucchini plants!)
Love this? Don't forget to pin it!