Next to Christmas, Swap It Like It's Hot Week is my second-favorite time of the year! If you're new to how it works, a bunch of bloggers head to their favorite thrift stores, pick out a few items that are crying out for a makeover, then ship them off to another blogger to be transformed into something new and useful! Out of the box full of thrifted goodies I received, I turned some of the contents into this upcycled Spring wall hanging.
I received a box full of interesting finds from Melissa at Polished Habitat. Here's what she sent me: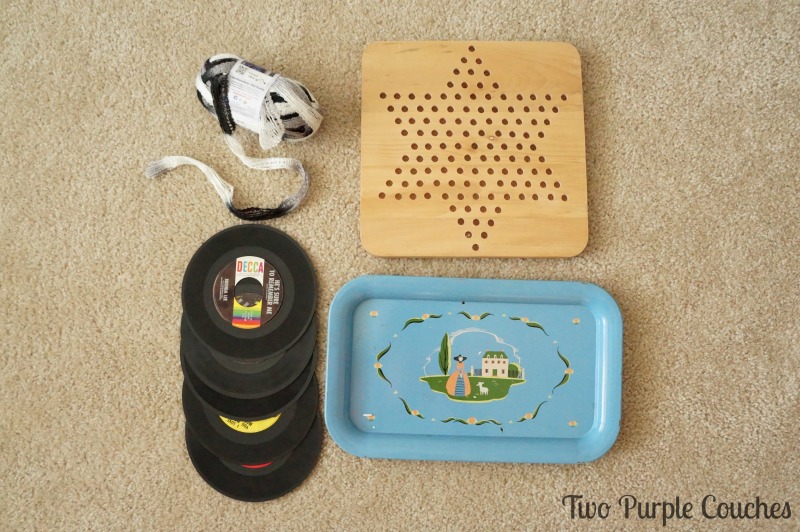 Clockwise from top: some neat yarn, a wood game board, 2 metal trays and 5 old records. It's quite a haul, isn't it!?
I had ideas on what I wanted to do with each of these items, but I decided to tackle the records first and turn them into a Spring wall hanging. Here's how I did it:
First, I gave three records a few light coats of spray paint until they were fully covered.
I found these pretty faux flowers and a set of adorable miniature birds' nests at my local Michaels that I knew would be perfect for my Spring wall hanging.
I used hot glue to attach the faux flowers to two of the records, and the miniature nest to the third record.
Then I connected the records together with hot glue and white ribbon, and also made a loop out of the ribbon for hanging.
I don't have much Spring decor, and I love how simple (and affordable) this transformation was!
Now, moving on to the other items I received… I didn't have as much luck transforming these. The next item I tackled was one of the metal trays. My plan was to transform one into a pretty silver tray for my bathroom counter. But my makeover attempt quickly spiraled into a craft fail.
I have so-so luck with spray painting. I swear, there is some special trick I don't know about! I was able to spray paint the records without incident, but the tray didn't go so well… I used a primer first, which went fine, but when it came time to add a coat of metallic silver paint… let's just say I got impatient and ended up with a nice big thumbprint on the tray! Whoops!
After a second, more successful coat of spray paint, I thought I was on the right track. My genius idea was to use the funky yarn as a stencil around the edge of the tray. I tried a test swatch on paper, which turned out pretty cool. But taping the yarn down to the curved edge of the tray? Not so much.
I charged ahead anyway, determined to channel my inner Tim Gunn and "make it work". But as I pulled the yarn stencil up, the tape took a layer of silver spray paint with. The yarn stencil resulted in a rather splotchy mess in some spots, and the white craft paint I used didn't show up as well as I'd hoped it would. Whomp-whommmp. So, now this tray is in my "craft fail" pile. But I am determined to tackle it again and make something of it in the long run!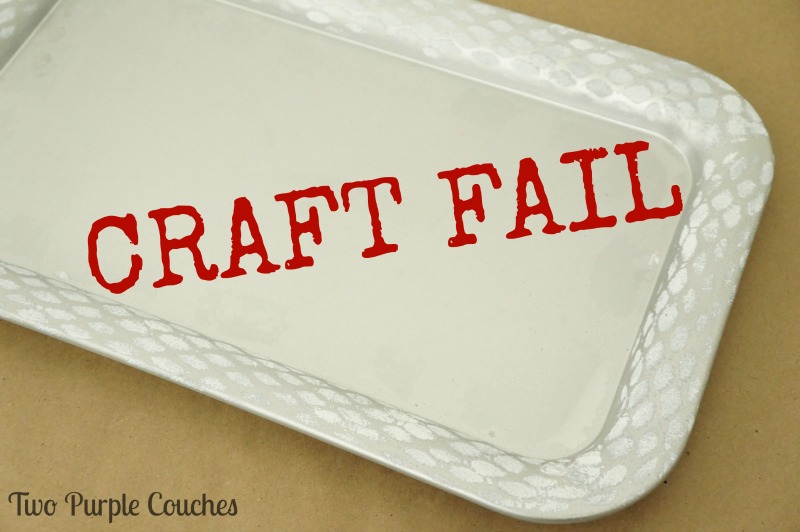 I ran out of time before I could get to the wood game board, but I have a fun idea for it. And you can be sure if it works (and probably even if it doesn't!), I'll be sharing it with you when it's ready 😉
Do you want to see what Tania from Run to Radiance did with this random assortment of stuff I sent to her?
You know you do! Head on over to her blog here to find out! Then be sure to click on through and visit all of the amazing bloggers sharing their Swap transformations this week:
MONDAY
TUESDAY
WEDNESDAY
THURSDAY
FRIDAY
I also want to send a big ol bear hug of thanks to Charlotte from Ciburbanity for all her hard work coordinating #SwapItLikeItsHot. I can't believe we're on Round 5! Here's a look at what I created in previous rounds:
Round 4: Picture Frame Pumpkins
Round 3: Ring Dish & other makeovers 
 Sharing with: Sweet Inspiration