I know I'm usually sharing what's happening inside our house, but this week I've teamed up with a fantastic group of bloggers to share our outdoor spaces and give you a garden tour.
If you follow me on Instagram, you've probably caught on that I have this thing with flowers. Next to Christmas, my favorite day of the year is the day I head to the nursery to buy flowers. Well, days, because let's be honest—I can never shop just once!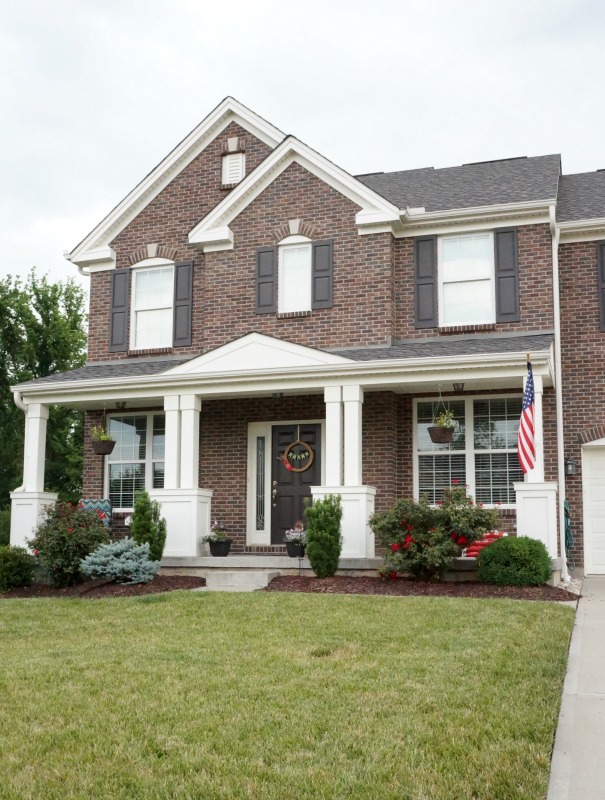 We've been in our home for four-and-a-half years now and I think I can honestly say that landscaping has been the biggest challenge of moving into a new construction because we were completely starting from scratch. Our yard was nothing but mud for the first five months that we lived here, and then once the grass was planted, we battled weeds from the straw and cheap seed the builder used. Our grass is slowly coming around; thankfully our landscaping makes up for it! We designed and selected all of our bushes and plants with a local nursery, who planted it for us the first Spring we were in our home. It's taken a few years for things to get established and fill out, and so far this year, everything seems to be thriving.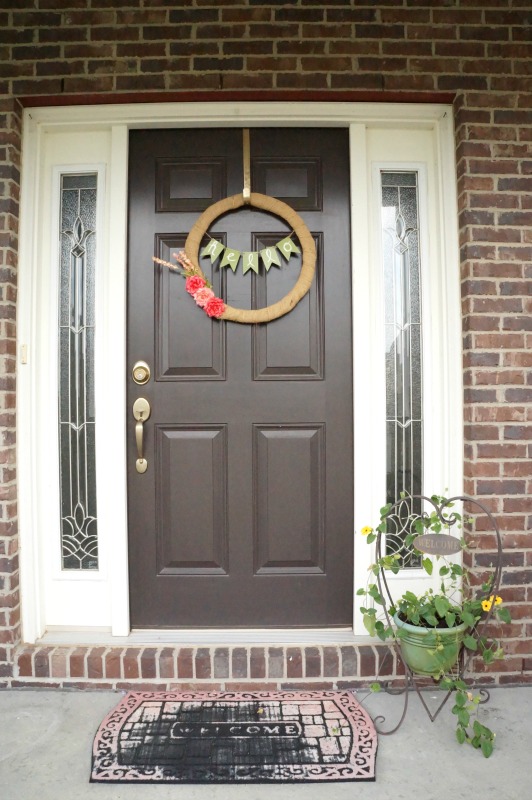 In our front yard, we have two knockWe have two deep pink Knockout Roses that are absolutely huge. When they bloomed for the first time a few weeks ago, they absolutely exploded with color!
Unfortunately, I didn't get any photos with my good camera before the deer helped themselves to an all-you-can-eat rose bud buffet. Ugh.
I'm a little obsessed with big bloomers like peonies and hydrangeas. In my dreams, my backyard has a gorgeous English-style cutting garden with hedges and hedges of these flowers. For now, we have have just a few of these along the left side of our home. My peony already bloomed for the season; it has the most gorgeous deep pink flowers.
We have two hydrangea – one that we just added earlier this Spring. It has the tiniest bloom on it! I can't wait to see how these grow over the next few years!
Further down the left side of our house, we have a raised veggie garden. We built the cedar bed several years ago (you can find the tutorial here). This year, I planted several bunches of lettuce, three different tomato plants and one zucchini. The hubs added this fence around it to keep the deer away (are you sensing a trend in our neighborhood?) using a roll of galvanized wire and metal posts.
Moving around our backyard, we've got a small deck and patio. It's not the fanciest space, but it's what we currently have to work with. I have been experiencing some major patio-envy this summer, and would love to completely overhaul this space. However, that's not exactly in the budget so… I'll just have to make the best of it for now.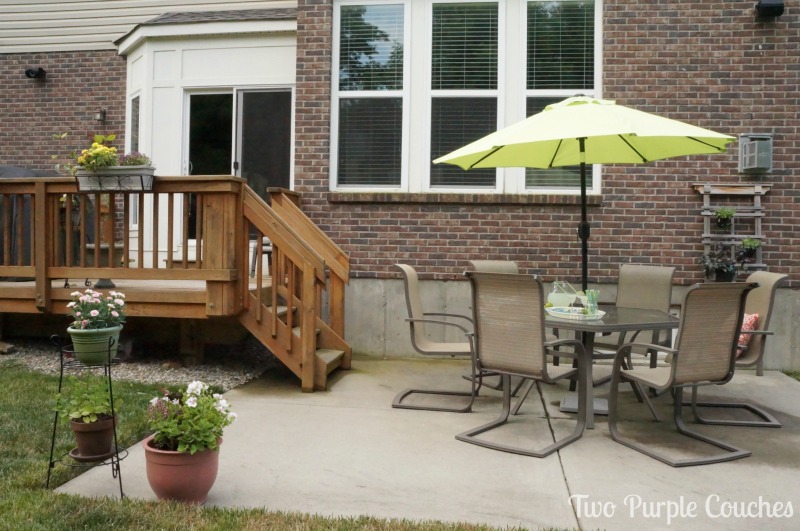 We still have plenty of space to have some friends over for a drink or two. We ran a cable line out here when the house was being built so we can bring a small TV outside to watch baseball and football games. Not a bad set-up 😉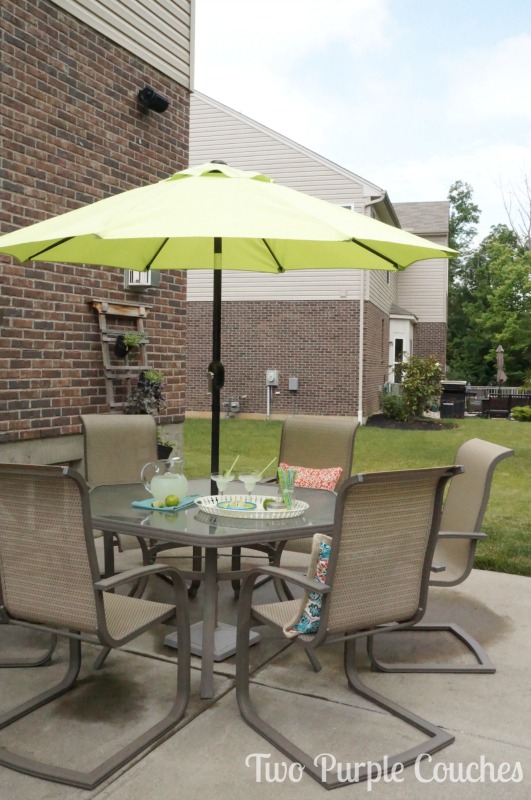 I developed a love for container gardening when we lived in a condo before building this house, and I still love to add planters and containers all over our deck and patio. Unfortunately, the deer like these too, so I usually corral everything on the deck where they can't reach my flowers!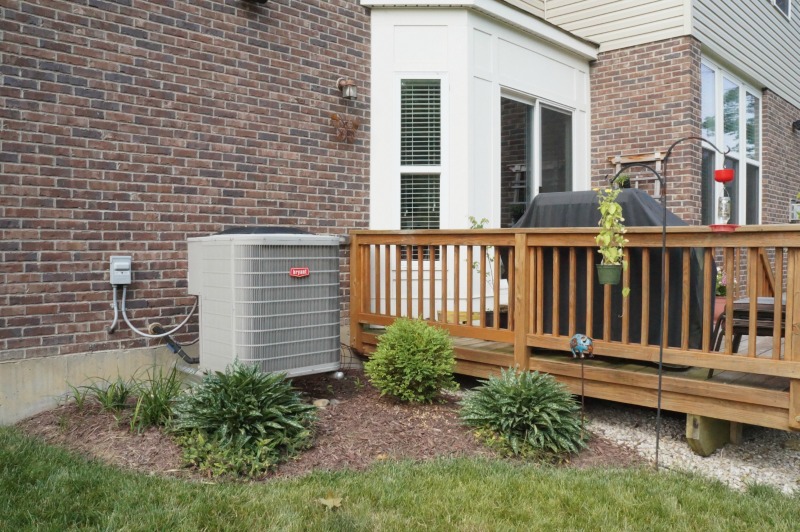 I've got a hummingbird feeder hanging from that shepherd's staff and I love watching those little birds zip all over our backyard!
One of the things I love about making my annual Spring trip to the flower nursery is checking out all the different varieties they carry. And I rarely plant the same flowers from year to year. This year, I filled our two window boxes with purple pentas and ageratum along with yellow zinnias.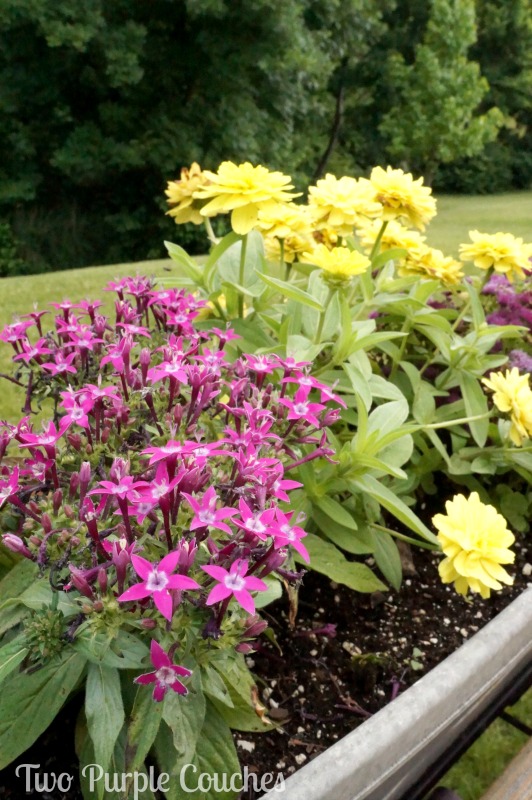 I couldn't pass up these interesting white and pink geraniums, and I love these vertical angelonia. I've got a small hanging pot with an orange-yellow thunbergia hanging near the hummingbird feeder, and a small pot of pink carnations on our deck.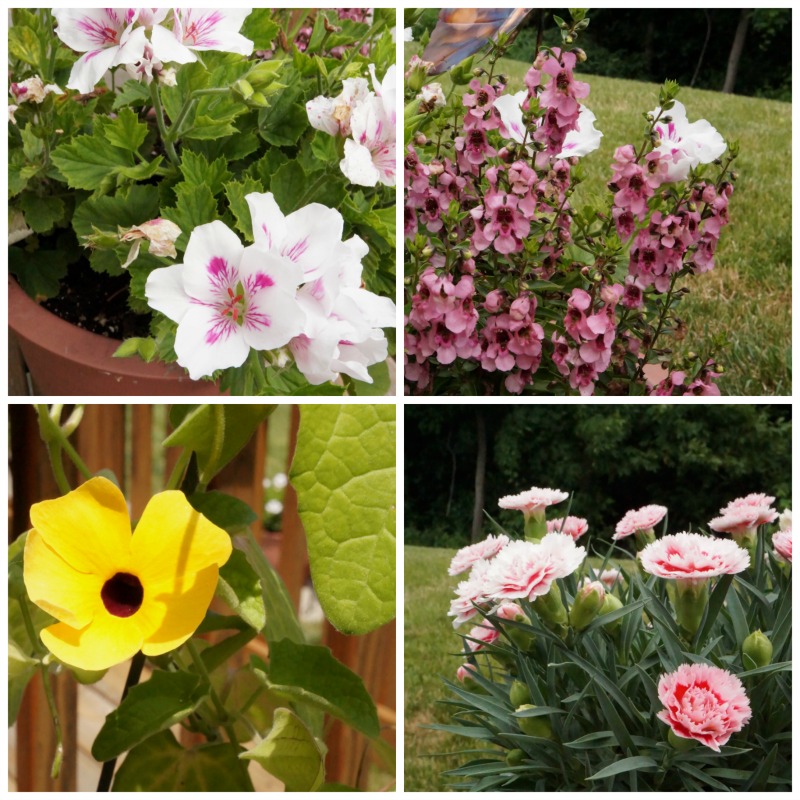 I made this simple vertical herb garden several years ago, and still love it! This year I've got basil and cilantro along with a couple of small pots of alyssium flowers.
I hope you enjoyed my garden tour! Be sure to stop by and check out my friends' tours as well – they've got some beautiful spaces to share & there will be more to come as the week goes on!
Summer Garden Tour & Outdoor Spaces Blog Hop
Monday
Tuesday
Wednesday
Thursday
Friday
Follow Along with all the garden tours by following #gardentourbloghop