Modern Christmas Mantel and more holiday decorating ideas for the fireplace. DIY this simple, elegant mantel with white, silver and "sugared plum" decor.
I did something a bit different this holiday season and decided to create a modern Christmas mantel with white, silver and "sugared plum." I have wanted to highlight purple in my holiday decorating for years, but always seem to say "maybe next year, I'll try it." Well, no more putting it off and convincing myself to stick with red and green. This is the year for a splash of purple!
If you saw this year's Fall Mantel, you'll remember that I talked about feeling like I had to put my personal style and color preferences "on hold" in favor of more traditional season colors. But then my decor, and consequently our home, didn't feel like me. So after years of using purple in my Fall decorating and loving it, I decided this was the year to try it in a modern Christmas mantel!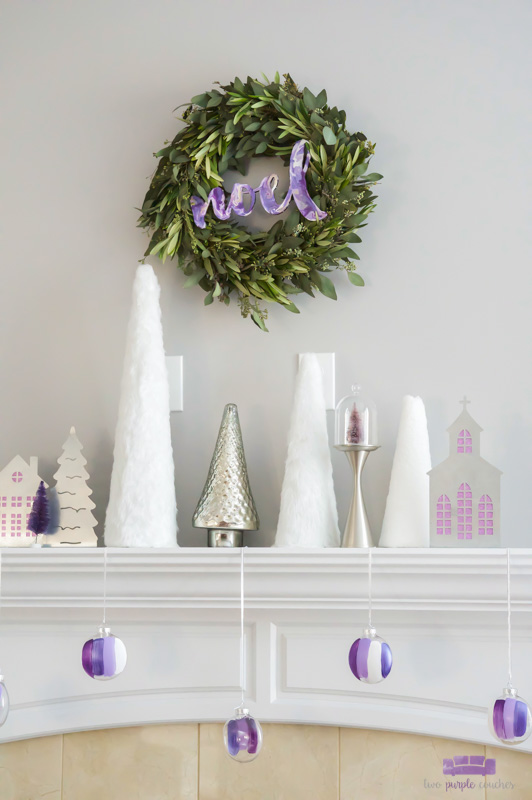 I am pretty pleased with how my modern Christmas mantel came together. I incorporated a few DIY projects, including these brush stroke ornaments and the paint-poured "Noel" sign. I'm working on tutorials for these and will have them up on the blog soon.
For my first foray into purple Christmas decor, I thought a simple, light touch would be best. But now my creative wheels are spinning, thinking about how I can evolve on this look next year!
For this year, it mixes beautifully with my small collection of white and mercury glass trees and galvanized village. A couple of purple bottle brush trees help add a few more dashes of color to my modern Christmas mantel. And can we talk about that incredible, real olive and eucalyptus wreath!? It's gorgeous, and smells amazing! It was made by Wendy of Consider the Lilies and I bought it up at my friend Jill's recent open house at her shop, Sew a Fine Seam.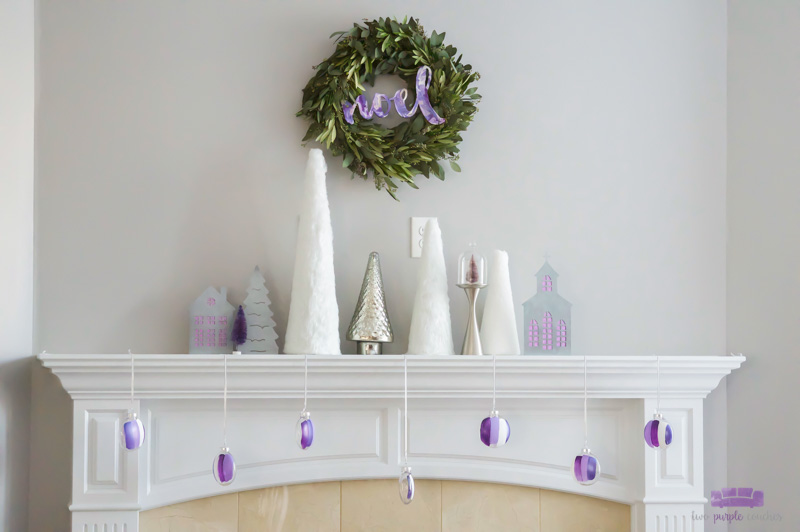 Who else wants to curl up in front of this fire with a blanket and a good book? As soon as I finish the rest of my Christmas decorating and shopping, this is right where I'll be!
My modern Christmas mantel and I are joining my creative and talented friends for Decorate Your Mantel: Christmas Edition, hosted by Amy of My Life from Home. Grab your favorite hot beverage and be sure to check out each of these beautifully decorated Christmas mantels!