Fall is almost here, ya'll! As I'm typing this, there are a few yellow leaves popping up in our backyard, and they gave me the idea for today's project – a stenciled fall leaf throw pillow. I've been itching to change up some of our throw pillow covers, and the shifting of the seasons is a great excuse (or reason) to do so. It was also the perfect opportunity to pull out my sewing machine and Silhouette Cameo and craft up this handmade pillow cover.
Today is also our Fall Silhouette Challenge, so be sure to stick around to the end of this tutorial to check out all of my blogger pal's fall-inspired projects and to get your name entered in our special giveaway!
I knew I wanted to create my own stencil for my throw pillow cover, but I wasn't sure exactly what kind of design I wanted. After browsing through the Silhouette Design Store, I settled on a set of three leaf designs from Sophie Gallo. I like using elements of nature in my decor, especially during the fall season.
Let me show you how I created my stenciled fall leaf throw pillow:
Materials
pillow insert
throw pillow cover (buy plain or sew your own using this tutorial)
Silhouette Cameo
Silhouette stencil material
metallic craft paint
fabric medium
foam spouncer
matte Mod Podge
Instructions
I selected one of the three leaf designs and sized it to fit in the bottom corner of my throw pillow cover. The pillow cover is about 16″ x 16″ finished. I sized my leaf design to 6.75″ x 5.82″.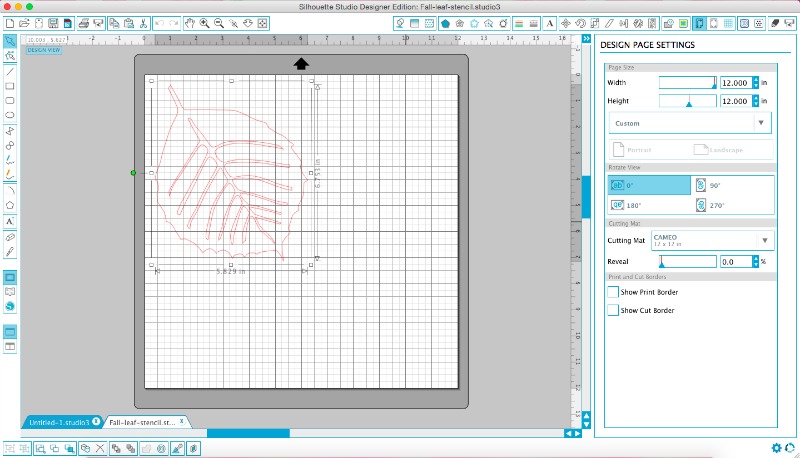 I wanted to be sure the size was right for my pillow, so I first cut the leaf design out of card stock so I could play around with the placement on my pillow cover. This is a good way to ensure everything is sized properly before you waste valuable stencil material!
I trimmed a square of Silhouette stencil material, stuck it to my cutting mat, adjusted the cut settings for stencils, and sent my design through my Cameo. I know you can send the stencil material through without a mat, but since I only needed a smaller piece of stencil material, I opted to use my mat. Anyone else just feel safer using the cutting mat?? Just me? Oh well!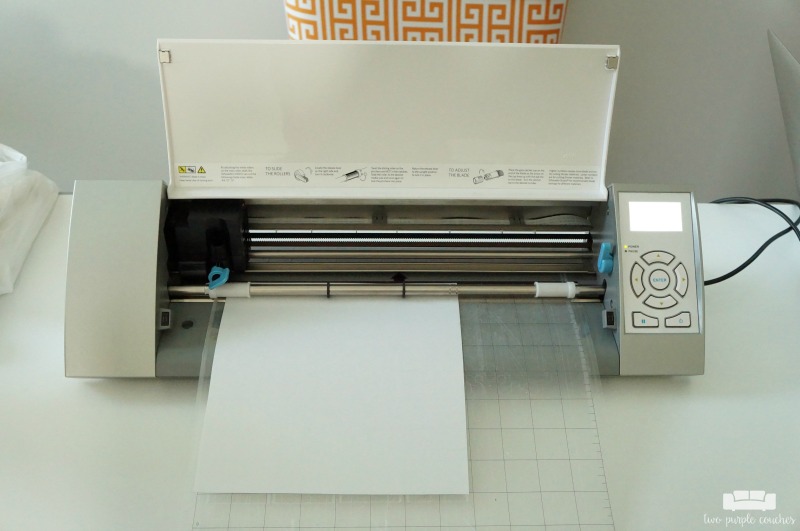 I weeded out the elements of the leaf that I wouldn't need, i.e. the portion that I would be painting in. For whatever reason, my brain really struggled with this part—another good reason to do a test on card stock first!
It's been a while since I busted out my sewing machine, and I'll admit, I had to call my mom—not once but twice—before I even got the machine threaded! But once I was reassured that I was measuring and cutting my fabric correctly, my handmade pillow cover came together like a dream. I made an envelope-style pillow cover using my own tutorial in this post.
I actually decided to stencil the leaf design before I sewed the pillow cover together because I thought it would be easier to work with the cover in pieces. (I will always do it this way in the future!) Just be sure to account for seam allowance when placing your stencil on the fabric.
Have you guys heard about the Mod Podge trick with stencils? I tried it here and it works on fabric too! Here's what you do – after applying your stencil to the fabric, brush on a coat of matte Mod Podge around all of the stencil edges. The Mod Podge seals them so paint won't bleed under them! (Be sure to use the matte finish so you don't have glossy spots in your finished design!)
For the leaf design, I chose a bronze-y metallic paint and mixed it with a fabric medium per the bottle instructions. Fabric medium helps the paint adhere better and withstand use and washing. Once the Mod Podge was dry, I used a foam spouncer to apply my paint mixture in an up-and-down motion.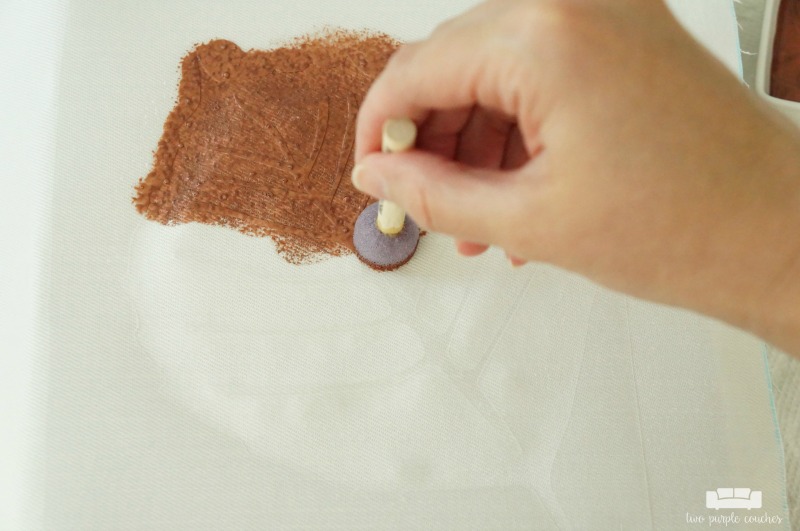 Once the paint was dry, I carefully peeled away the stencil…
Then I sewed my envelope pillow cover together and voila—my cute fall leaf throw pillow is done!
Love this project? Pin it for later!
Want to Check Out More Silhouette Projects?
My Silhouette Challenge buddies and I are all sharing fall-inspired projects on our blogs today, so peruse the projects below for a wealth of Silhouette inspiration!
1. Small Stuff Counts // 2. My Favorite Finds // 3. Two Purple Couches // 4. The Thinking Closet // 5. Practically Functional // 6. GiveMeAPaintbrush // 7. Creative Ramblings // 8. Ginger Snap Crafts // 9. Where The Smiles Have Been // 10. Sisters, What! // 11. Create & Babble // 12. HaberdasheryFun // 13. Curly Crafty Mom // 14. unOriginal Mom