Our temps here in Cincy have been fluctuating between 17 and 70. And no, I'm not kidding. March is notoriously a weird weather month here, and the "come in like a lion" has so far, been living up to it's name. Here's hoping we get to the lamb part of that phrase pretty soon.
Despite some cold days, I couldn't wait any longer to bring some signs of Springtime into our decor. I love our furry white winter throws and pillows, but, they needed to go. And in their places, a flood of cheery yellow. I had quite the debate with myself a while back on what accent color to pair with our beloved purple. I wavered between yellow, coral, teal, and apple green. I went yellow, and I'm so glad I did. Especially now that we've got this gorgeous grey on the walls. I am LOVING how nicely the grey, purple and yellow play together. Gorg. Adore. Muah.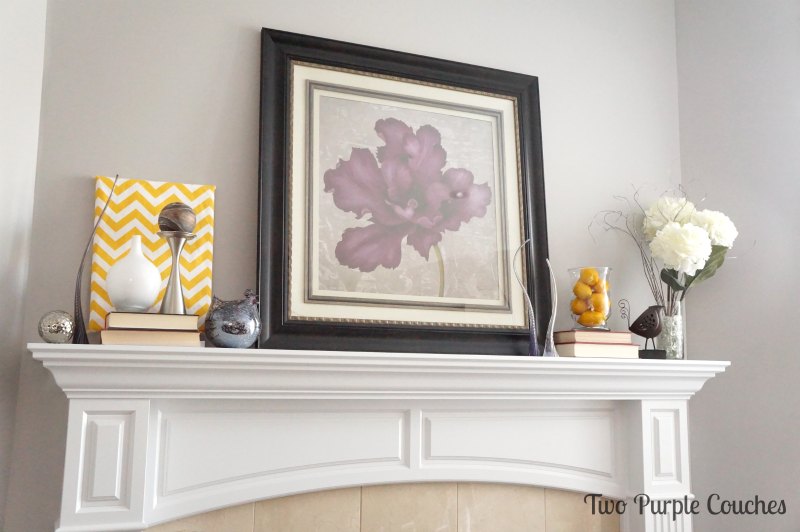 My mostly-neutral mantel was looking a bit blah. Just a few pops of yellow perked it right up. I'm a bit obsessed with this one. I love it. It makes me smile. And I'm rather proud of myself for grabbing the fabric-wrapped canvas I used for this project to make a sort of back-drop for my mantel knick-knacks. Love all the cheery zig-zaginess going on here!
I also like that this isn't super-seasonal. I've talked before about how I usually reserve my seasonally-appropriate decorating for Christmas. And I think I'll stick with that principle. This has just enough splash and attitude and color to pay off "spring" in my mind – the birds, the flowers, the yellow – without going overboard.
Though, I do have some dang cute wooden Easter bunnies that will have to make their way into this mantel set-up next month.
But I'll worry about that next week when April rolls in.
Oh, and our entry hallway also got a new look for spring!
What's that, you ask? Oh, nothing. Just Tom in danger of being poked by a one-eyed-no-horned-flying-purple-people-eater.
I ran to the grocery last weekend after a minor brownie catastrophe. And when I got home, Tom was hanging this on the wall as a surprise for me! This is one of my favorite shots from a photoshoot we did back in the Fall. (You'll find several photos from that session here). I mean, it's us: fun, quirky and… purple! Duh. Haha, but really, I love it, and I think it adds a really nice touch to our hallway!
PS – if you're in the Greater Cincy area, you should check out Alicia Eads Photography. She does amazing work!
Sharing with: