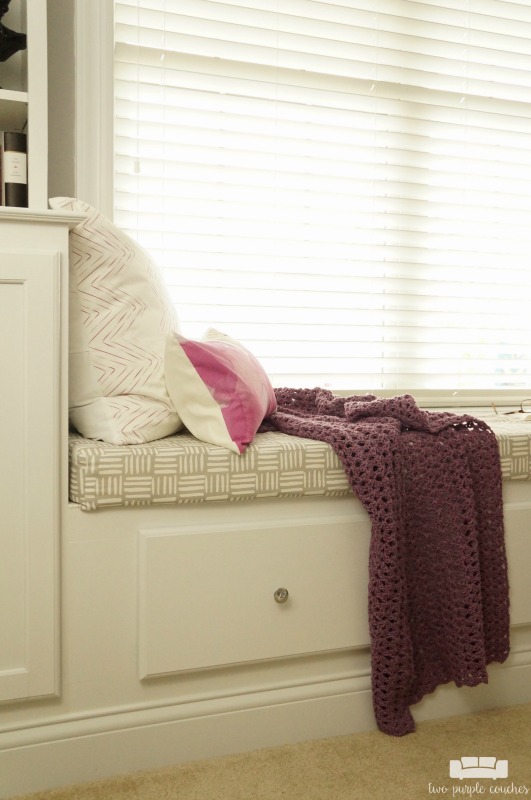 Thank you to Wagner SprayTech for sponsoring this post. All content and opinions expressed here are my own. Click here to read my full disclosure policy.
Poll time! How many of you currently own a paint sprayer?? I think I see a few hands out there…
I realize that a paint sprayer probably isn't on your shortlist of must-have tools, but let me tell you why it's worth adding one to your collection, especially if you have some large-scale painting and DIY projects on the horizon.
When we started putting together our plans for my home office makeover, I knew there'd be a lot of painting involved. At one point, the hubs even said he was dreading the project because of all the painting, and I quickly replied "I'll do it all myself!" At the time, it sounded like such a simple part of the process.
It wasn't until we began building each piece of furniture for the room that I realized just how much time painting would eat up. Because it wasn't just applying a coat of paint, but every single visible board on our window bench, cabinet and bookcase would need a coat of primer followed by two coats of paint. And when you're participating in a 6-week room makeover challenge, time is of the essence!
I'm so grateful that Wagner provided me with a FLEXiO 890 to help get the job done quicker. This paint sprayer was a huge help—it meant that I was able to get two coats of primer and two coats of paint on our custom furniture in a matter of minutes instead of hours, saving us valuable time along the way.
All of the components of the FLEXiO 890 come packed in a convenient case. Nestled inside are the handle with hose attachment and two nozzles with paint cups. The case also houses a turbine pump.
Now, I will say, if you've never used a paint sprayer like this, there is a bit of a learning curve. I'd never used one before, so I spent a while reading the manual and checking over all of the parts before diving in. I was glad to see that Wagner includes a test sheet with the FLEXiO 890 to help you get a feel for using the sprayer.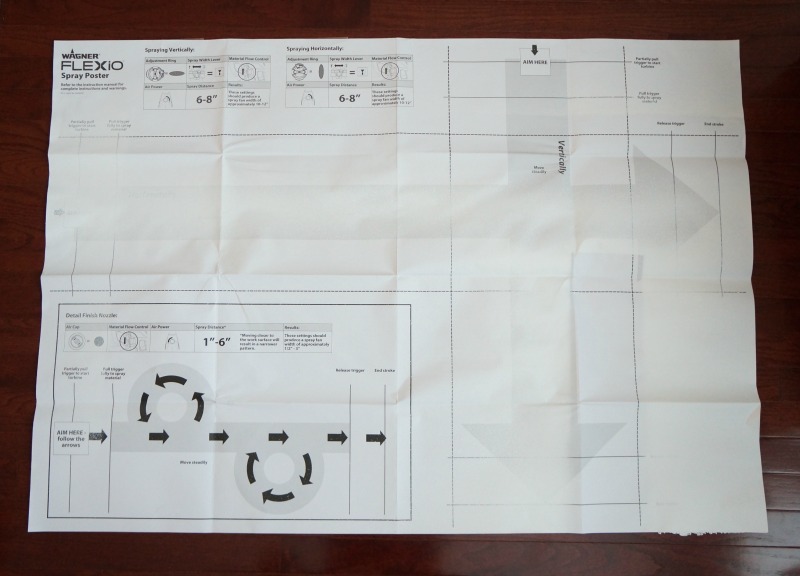 I'd also highly recommend taping off your work area with plastic sheeting and practicing on some scrap wood before moving on to the actual project.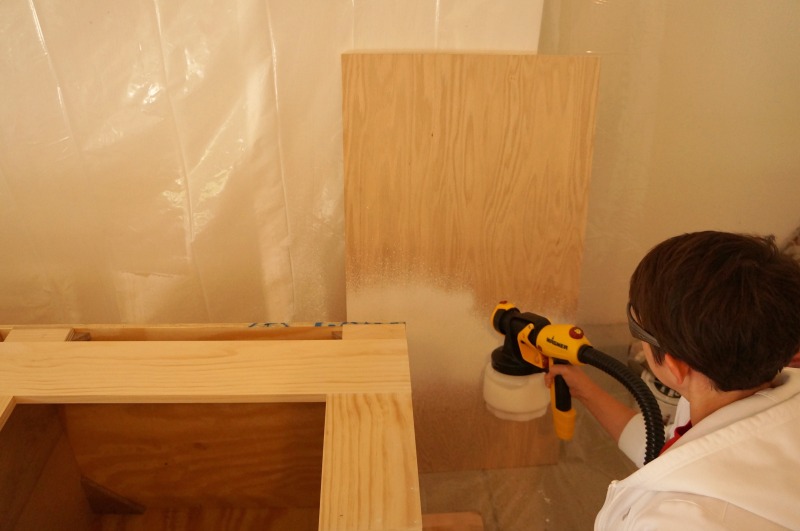 While I'm not a pro at using a paint sprayer, I did pick up a few helpful tips along the way! First off, be sure to keep the sprayer fairly close to the surface you're working on (6-12 inches), otherwise you'll have paint splattering everywhere. You also want to keep the sprayer moving; if you stay in one spot too long, the surface will get overloaded with paint and that will cause drips to form.
You can move left to right or up and down, and adjust the nozzle for a vertical or horizontal spray. Depending on the consistency of the material you're spraying, you can also adjust the flow and pressure. This is why a test board or two really come in handy! Play around with the settings to figure out which work best for the material you're using (thinner primer vs. thicker paint) and whether you prefer spraying up and down or side-to-side.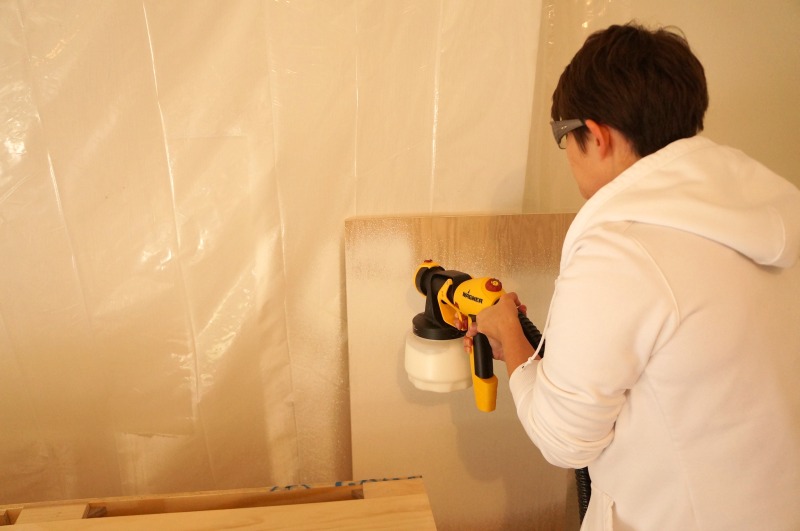 Once I was comfortable with the settings on my sprayer, I found it easier to prime and paint pieces of wood versus an assembled bench or cabinet. I was a little concerned with paint pooling in corners, so I decided to apply one coat of primer, then one coat of paint onto flat boards. Once the bench and cabinet were assembled, I sprayed on a final coat of paint.
Thank goodness for that pile of scrap wood to practice on! I have to admit, I was nervous to start applying paint for fear I'd mess it up somehow, but I was surprised at how quickly and seamlessly the first coat went on.
Clean up does take some time as the spray nozzle has several smaller parts to take apart and clean, but overall, the process only took a few hours from set-up to clean-up. If I'd painted all of our furniture pieces by hand, I'd probably still be out in the garage with a brush in my hand!
Is it wrong to be in love with a window bench? Because I totally am! I could not be happier with how our built-ins turned out! The finish is so smooth and clean… sometimes I sit at my desk and just stare at them because they're so pretty!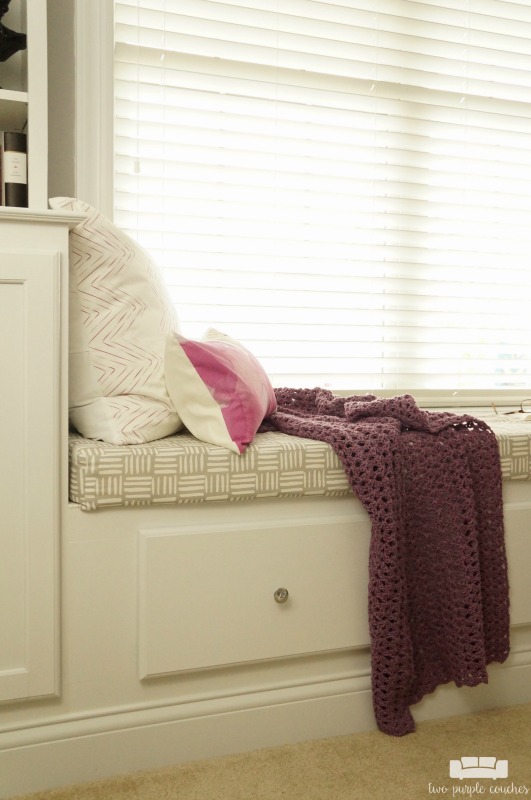 If you're planning a project that will require large-scale painting, like a whole room or larger pieces of furniture, I'd definitely suggest investing in a paint sprayer. Who doesn't want to save time these days!?