Did you know that March is National Craft Month? Now that's my kind of thing to celebrate! Wayfair recently asked me to be part of their Craft Redux campaign, and I jumped at the opportunity to participate. The challenge? To re-make or reimagine the first craft project you ever posted on your blog.
Sign me up! I love a good craft challenge. For me, this meant a chance to re-invent my Spring floral wreath.
Here's my sweet Spring floral wreath from way back when I'd just begun blogging in 2012 (see my original post here):
Then in 2014, I decided to spruce up this wreath with the addition of a cute banner (see my how-to here):
But last summer, this poor wreath met with tragedy. Some sort of insect had taken up residence inside my grapevine wreath and was actually eating it from the inside out! Every time I opened our front door, there was a fresh pile of sawdust on the step from this crazy burrowing insect. And try as I might, I couldn't evict it/them. My wreath was scrapped and put out for the trash. But before kicking it to the curb, I saved the "hello" banner. It was still in great shape; the insects hadn't touched it—thankfully.
So when I heard about the Craft Redux campaign, I couldn't help but feel like there was a little serendipity at play; I'd been thinking for a few weeks that I should make a new wreath and—voila!—This fun challenge opportunity appeared!
For the re-imagined version of my Spring wreath, I opted for a wire wreath frame instead of grapevine. I don't want to encourage those insects to come back!
Here's what I used to make my simple Spring floral wreath:
wire wreath frame
burlap ribbon (mine was 6″ wide, not wired)
faux flowers
floral wire
wood shapes for banner (optional)
craft paint for banner (optional)
outdoor Mod Podge or other weather-safe sealant for banner (optional)
twine
hot glue gun
To cover the wire frame, I wrapped it with wide burlap ribbon, securing with hot glue here and there as I worked my way around the frame. This gave me a nice blank slate to add the flowers and banner to.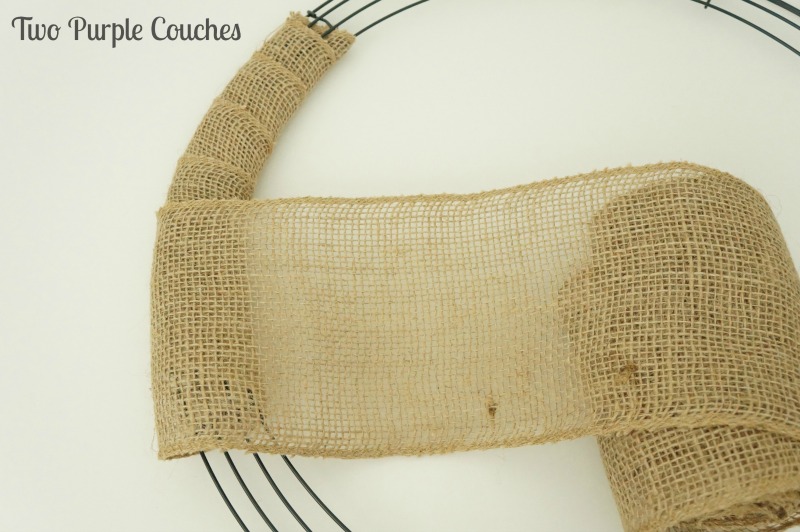 Instead of gluing the flowers directly to the burlap, I decided to wire them to the wreath frame. This way, I can change out the flowers and embellishments for different seasons or occasions if I choose to. I put a dab of hot glue on the back of each flower and attached down a piece of floral wire. Once the glue was dry, I arranged the flowers on the wreath, poking the wire through the burlap and the frame, and then securing each by twisting the ends of the wire together.
The last step was to add my salvaged "hello" banner to the top of the wreath, and my new Spring floral wreath was ready to go!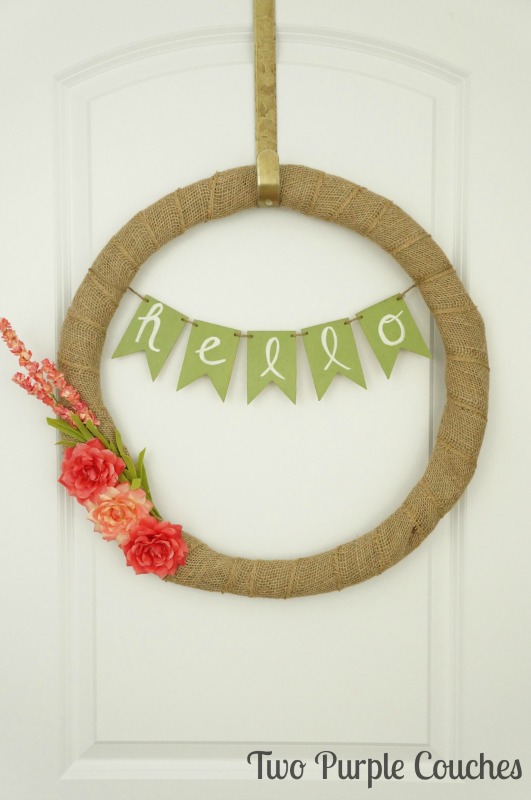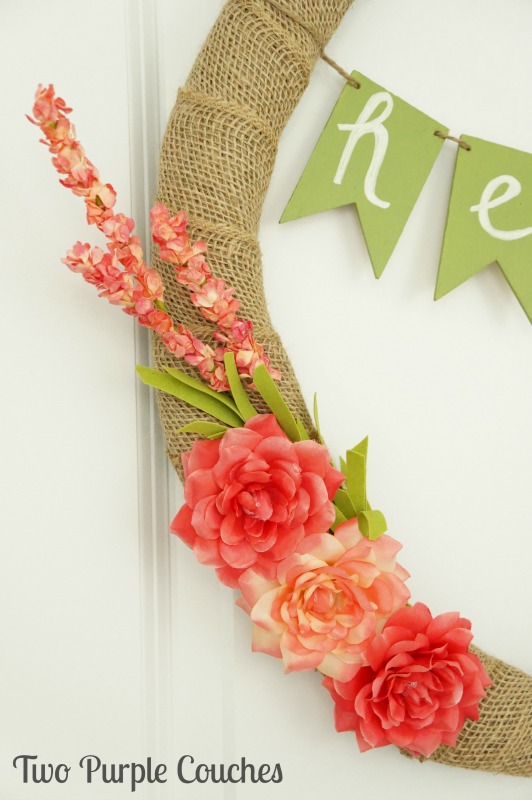 Here's hoping this version doesn't get eaten by insects! Maybe I should find a spot for it indoors…
I really enjoyed reimagining my first craft project. I was so proud of that floral wreath; it was one of the first things I made for our new home after we'd moved it, so I will always have a soft spot for it in my crafty heart!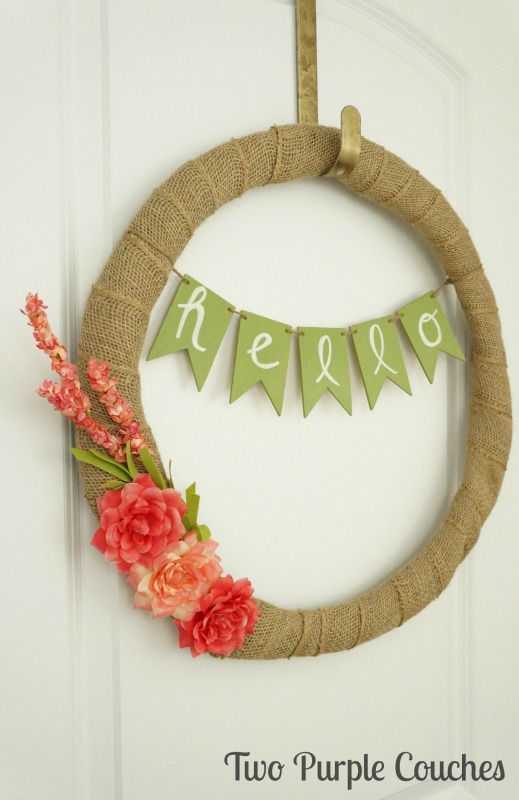 What was the first craft project you blogged about, or, if you don't have a blog, what was the first craft project you remember making and loving?
Many thanks to Wayfair for including me in the Craft Redux campaign, and for sponsoring this post. Did you know that in addition to furniture and home decor, Wayfair also has a great selection of craft supplies? While I purchased my supplies for my Spring floral wreath from my local craft store, I will definitely be browsing Wayfair's selection! Or, if you are in need of storage for your own collection of craft supplies, don't forget to check out Wayfair's selection of baskets and bins—there is so much to choose from!
Disclosure: I received a Wayfair gift card for my participation in the Craft Redux campaign. All craft projects and opinions are my own. 
Sharing with: Sweet Inspiration