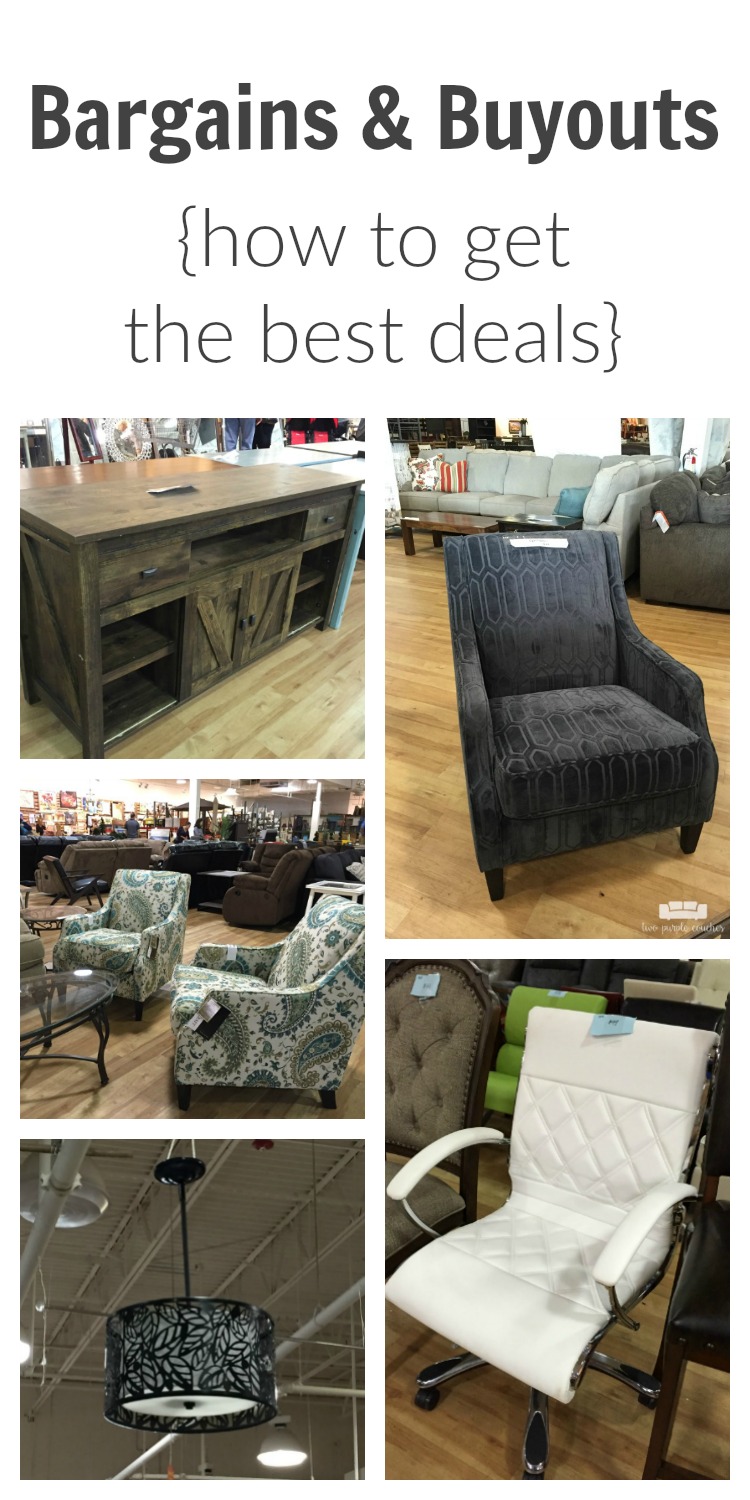 Thank you to Bargains & Buyouts for sponsoring this post. All content and opinions expressed here are my own. To read my full disclosure policy, please click here.
I recently had the opportunity to attend a blogger event at Bargains and Buyouts in Cincinnati, Ohio. If you're a local, you may have heard about this place; if you're a local and you haven't—well, you've come to the right place!
I spent a few hours with Marc and Greg, the founders of Bargains & Buyouts, and got the inside scoop on their business: how they source their furniture, which days are the best to shop, and how you can get the best deal possible! Plus, they've graciously offered a $100 gift card to one lucky winner, so be sure to read to the bottom of this post and enter!
If you're not familiar with Bargains & Buyouts, let me give you a quick low-down. They offer brand new overstock and liquidation items from name brand furniture companies like Ashley Furniture, International Furniture Direct (which specializes in the rustic look that's so popular right now), Vaughan-Bassett and more.
If you've never visited one of their two Cincinnati locations before, it is truly an experience. As soon as you walk in the door, there is furniture, decor and lighting as far as the eye can see! Everything is organized by section, with signs hanging above, so you can make a beeline for exactly what you're looking for, such as bedding, seating, etc. Or if you're a browser like me, you can wander around and take in the amazing variety of items and styles. There is truly something for everyone here!
I was very impressed by the selection and quality of the furniture. I have to say, I've only visited Bargains & Buyouts on one other occasion, several years ago, and I'm pretty sure I went at the exact wrong time (yes, there are better times to visit, more on that later), or maybe it's just that nothing jumped out at me that day. But this time around, I was blown away by the variety and the different pieces I saw. I was getting so many ideas and was reallllly wishing we had an SUV! I can only cram so much into my Honda Accord! I wish I had a spot for this gorgeous grey chair!
Josh, the manager at the Western Hills location, was telling us that their inventory changes daily, sometimes hourly. They are constantly receiving new shipments, and if you shopped there at 10 a.m. and 4 p.m. on the same day, it might feel like a completely different store! This also means that if you see something you love, grab it because it might not be there tomorrow!
The other thing I noticed—and loved—is that their sales associates are very friendly and low-key. They won't be constantly at your heels, breathing down your neck, trying to sell you a sofa or bed frame. They let you browse undisturbed. But there are plenty of "blue shirts" available to help you reserve the items you'll decide can't live without.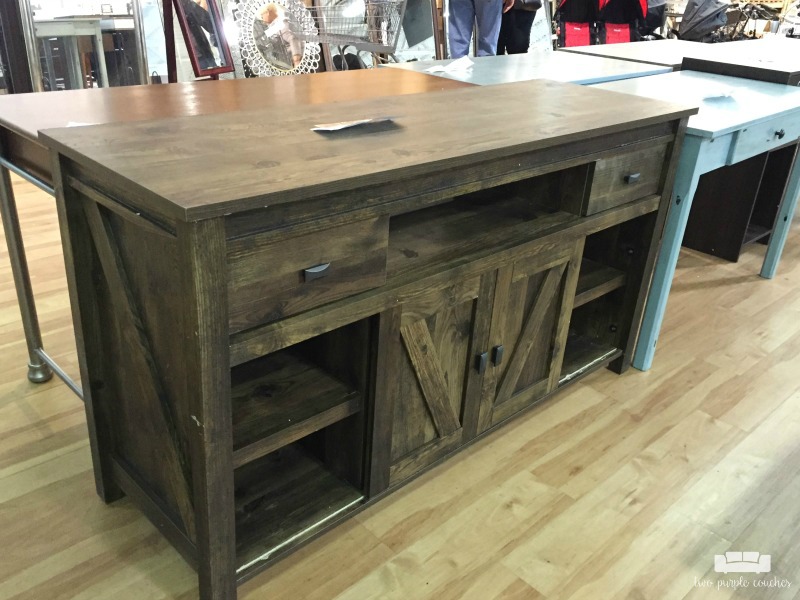 Now, let's talk about what everybody wants to know—when is the best time to shop at Bargains & Buyouts?? Their prime shopping days are Tuesdays – Saturdays, especially Fridays and Saturdays, for the best variety and selection. But if you're a major deal-hunter, consider stopping in early in the week, on Sundays and Mondays, as this is when they typically do the most re-stocking, and you're likely to get great deals on merchandise they're looking to move off the floor.
A word (or two) about deals – there are so many to be found! They run special sales throughout the week, such as 50% off lighting or 75% off rugs, but they also have a "blue tag" section, where you can get 50% off the tag price. And, they are always willing to negotiate the price of just about any item! And when I say negotiation, I don't mean to have to haggle your life away. Here's just one example of the amazing deals you can get: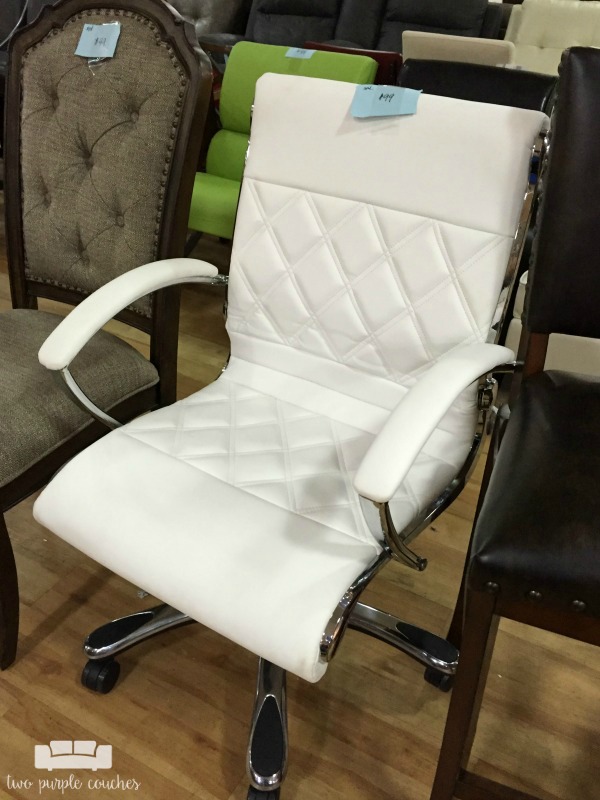 Once I spotted this white swivel chair, I knew it would be perfect for my One Room Challenge makeover. It was in the "blue tag" section for $99, which meant it was going for $49 that day. The sales associate that helped me offered to knock it down to $40. $40!?!??! I couldn't say "sold" fast enough! I've been eyeing chairs exactly like this online for anywhere from $150 – $250 and I brought this one home for $40!!! And it's every bit as comfortable as its pricier counterparts.
If you're local to the Greater Cincinnati area, mark your calendars! Bargains & Buyouts will be hosting their first in-store Customer Appreciation Event on October 29th. There will be gift card giveaways, prizes, refreshments and more! While you're there, ask to sign up for their Rewards Program—you'll save $5 for every $100 spent. If you've never been to Bargains & Buyouts before, this is the perfect opportunity to stop in and introduce yourselves! Tell them Emily from Two Purple Couches sent you 😉
Western Hills Location:
5150 Glencrossing Way
Cincinnati, Ohio 45238
Greenhills Location
50 Eswin Street
Cincinnati, Ohio 45218
You can also follow Bargains & Buyouts on Facebook and Instagram for updates on their latest sales, inventory & more.
Giveaway
Use the widget below to enter to win a $100 gift card! This giveaway is open to residents in the Greater Cincinnati area who are 18 and over.
a Rafflecopter giveaway