Chocolate coffee spoons with salted caramel are a delicious, indulgent treat. Follow this easy DIY recipe – they're perfect for Christmas parties and gifts!
Chocolate coffee spoons are the perfect addition to your holiday party dessert table or hot cocoa bar! These coffee spoons drizzled with caramel and coarse salt are sure to be a big hit, and they can be made in minutes!
Are you still on the hunt for party-ready holiday drinks, appetizers, and table ideas, to name a few? Well you are in the perfect spot today because my friends and I are hosting our 2nd Annual Virtual Holiday Cocktail Party, hosted by Vicki and Jenn of 2 Bees in a Pod.
We had so much fun with this virtual party idea last year that we decided to do it again! Scroll to the bottom of this post to see all kinds of ideas, from cocktail recipes to easy table centerpiece ideas, hostess gifts, sweet treats and more!
This pregnancy has been giving me a major sweet tooth, so I decided to create a simple and delicious indulgent treat—Salted Caramel and Chocolate Coffee Spoons! Yum, right? And the best part is they take just minutes to make, so if you're like me and always down to the wire getting food and bevvies ready for your guests, you can still get a sweet treat on the table!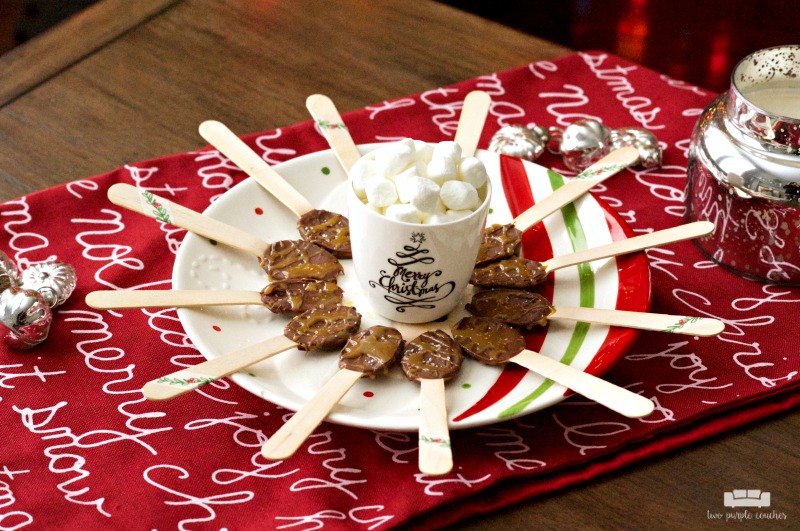 This post contains some affiliate links for your convenience. Click here to read my full disclosure policy. 
How to Make Salted Caramel and Chocolate Coffee Spoons
Materials & Ingredients Needed:
Christmas Washi Tape (optional)
Dark or milk chocolate baking chips
Caramel sauce
Coarse salt or sea salt
Directions:
1.) Melt chocolate baking chips according to package instructions and stir until smooth. Dip each wooden spoon into the chocolate, letting any excess drip off. Place on a sheet of parchment paper to cool.
2.) Once all of the spoons are dipped and cooled, warm the caramel sauce according to package instructions. Drizzle caramel sauce over each of the spoons. Then sprinkle with coarse salt. Allow the caramel to cool and set a bit before serving. You can place these in the refrigerator to speed up the cooling if you like.
3.) Optional – If you'd like to add some extra holiday spirit to your Salted Caramel and Chocolate Coffee Spoons, decorate your spoons with strips of Christmas washi tape. I wrapped the ends of a few spoons with a cute holly and ivy patterned tape.
Despite what the name implies, these Salted Caramel and Chocolate Coffee Spoons aren't limited to stirring into your coffee! They'd be a delicious addition to your favorite hot cocktail or to a hot cocoa bar. Plate them with a dish of marshmallows and let your guests help themselves!
Love this? Don't forget to bookmark it or pin it for later!
2017 Virtual Holiday Cocktail Party
Be sure to hop around and check out more fabulous ideas for your upcoming holiday parties!