Many thanks to Workman Publishing and The Blueprint Social for providing me with a copy of Washi Tape Crafts for review. All opinions and professions of love for washi tape are my own.
Washi tape and I have been great friends ever since I first discovered this incredible craft supply several years ago. So when I had the opportunity to review the new book Washi Tape Crafts: 110 Ways to Decorate Just About Anything (Workman; October 2015) by Amy Anderson, I jumped at the chance faster than you can find the heart-eyes emoji on your phone's keyboard. Yep, that's how much I love washi tape. And Amy's book does not disappoint!
Whether you've long been a fan of these fantastic rolls of playfully patterned tape, or are just discovering their versatile goodness, there is truly something in this book for everyone. Amy, who you may know from Mod Podge Rocks and Washi Tape Crafts, has included over 100 DIY washi tape project and craft ideas in her book. They range from big to small, simple to more complex, so no matter where you're starting, you can dive right in! And the best part is that the book comes with 10 rolls of adorable washi tape, so you don't even need to make a trip to the craft store before you get started!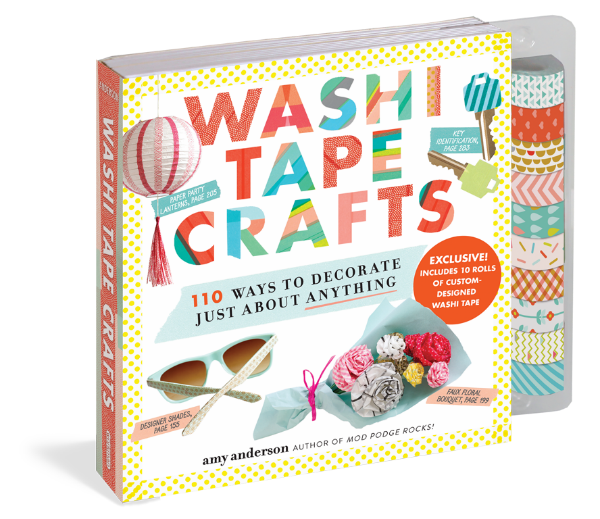 I've always stuck to relatively simple washi tape crafts, like this abstract art, easy gift tags, and these suuuuper simple magnetic knobs. But I think it's time to kick my washi tape skills up a notch, and Washi Tape Crafts is chock-full of new and unique ideas, like this cool faux wallpaper:
and this clever re-use of mint tins: (I have been hoarding these for a while… time to make them over into something new!)
and so, so much more!
I don't know where to start first!
Crafters – add this book to your holiday wishlist. Friends and relatives of crafters – buy this book for the crafter on your list. Then ask to borrow it later (wink). 
Happy crafting, friends!
Like this? Check out more washi tape ideas: