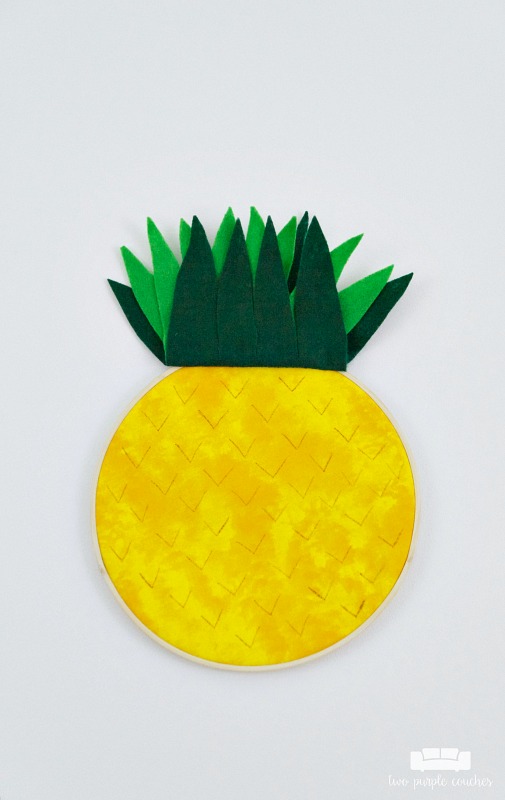 The pineapple craze is still going strong around here with this easy pineapple embroidery hoop art DIY!
This month's Create with Me Challenge material is embroidery hoops, and our group has gotten pretty creative with what we're making out of them! You can see all of our hoop creations at the bottom of this post.
As you may know, I've been on a pineapple kick since we returned from our anniversary trip to Kauai. (Did you see this pineapple garden flag I made recently?) As soon as I spotted the display of embroidery hoops in the craft store, my brain immediately went to pineapples. A bit of yellow fabric and green felt later, I had created this cute pineapple wall decor to brighten up our walls for summer. Let me show you how I did it…
This post contains some affiliate links for your convenience. Click here to read my full disclosure policy. 
How to make a pineapple embroidery hoop:
Materials Needed:
9-inch Embroidery hoop (or any size you prefer)
Yellow fabric
Two sheets of felt in dark and medium green
Small watercolor brush
Ribbon or twine
Hot glue gun
Scissors
Tutorial:
1.) Lay the outer section of the embroidery hoop on top of the yellow fabric and trace with a pencil, slightly larger than the hoop. You probably won't see the pencil lines, but you can flip the fabric over and trace the circle on the back to be sure. Cut out the fabric circle.
2.) Lay the fabric circle on top of the inner hoop. Add the outer hoop and tighten the closure to secure the fabric.
3.) Fold both pieces of green felt in half and trim each to 6″ long. Then begin cutting a leaf shape from the open edge up, stopping about 1/4″ from the fold.
4.) Open up the felt leaves and layer the lighter color on top of the darker color. Stagger the leaves slightly. Add a line of hot glue along the middle of the lighter green piece and fold it in half. Then add another line of hot glue and fold the darker green in half around the lighter green (like a taco).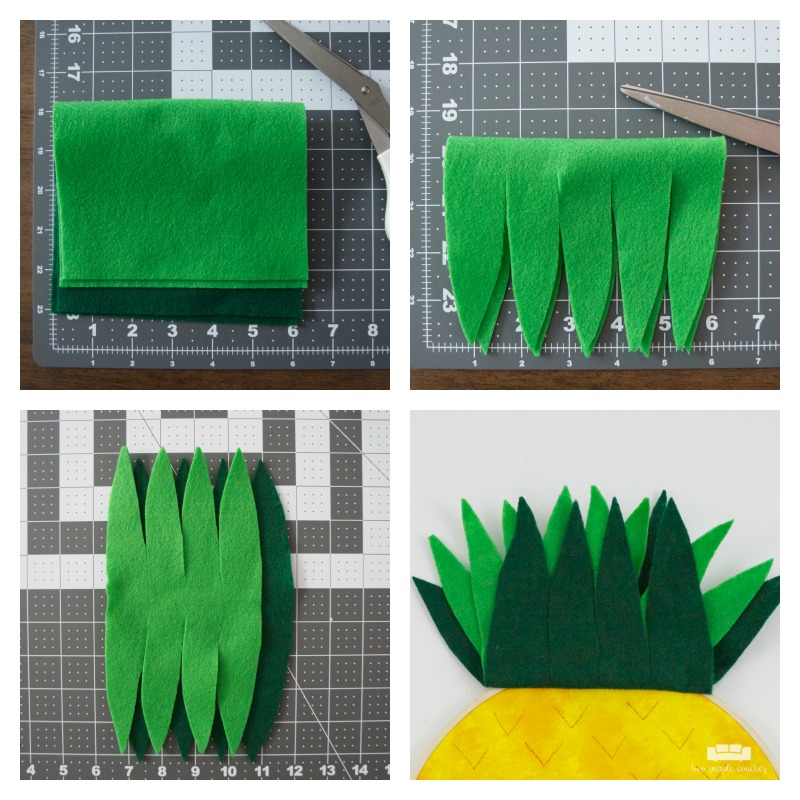 5.) Glue the felt leaves to the top of the embroidery hoop. You can leave them as they are, or arrange the leaves to spread them out a bit, securing with a dot or two of hot glue as you go.
6.) Wet a small paintbrush and pick up some brown and reddish-brown paint from the Watercolor set. Blend these two colors together on the included palette. Lightly paint rows of V shapes on the yellow fabric.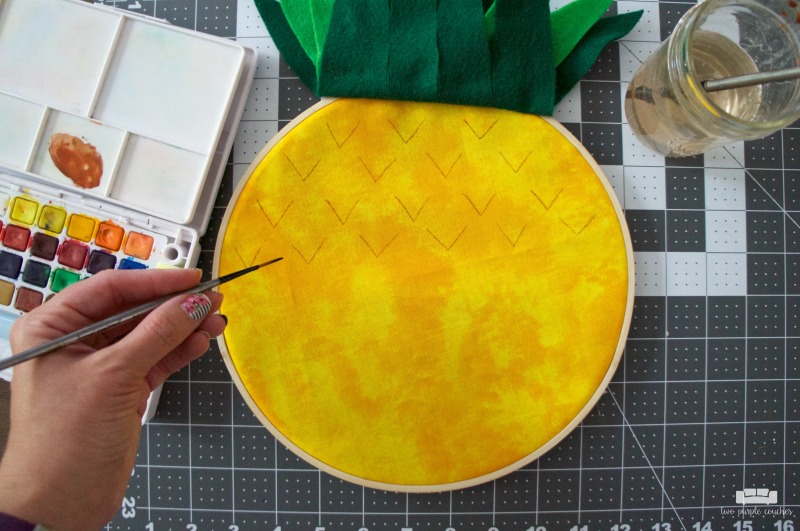 7.) Add a piece of ribbon or twine and hang up your new pineapple embroidery hoop art!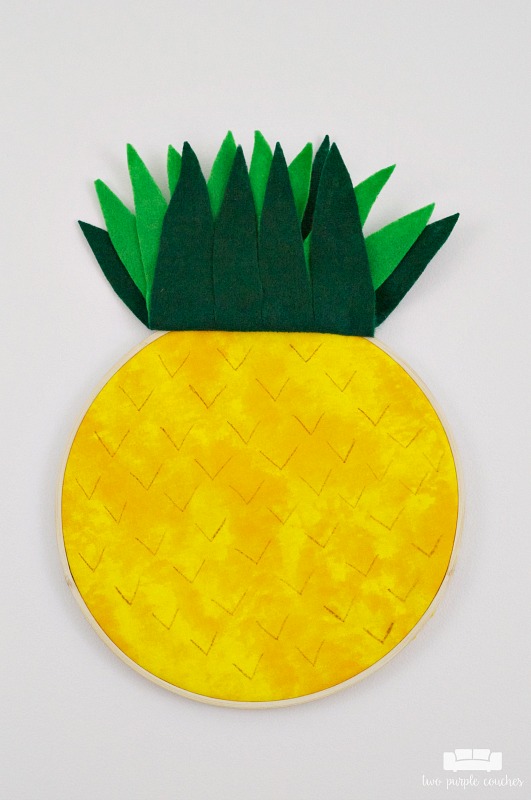 Isn't it cute? I'm really curious how many more pineapple projects I'll come up with! There seems to be a never-ending supply of pineapple inspiration in my head!
Oh, and another thing to love about this project—I made it, start-to-finish, in about an hour!
Create with Me: July Projects
Now be sure to hop around and check out these other creative embroidery hoop projects!