We did it! We actually did it! Last week, I really wasn't sure I'd have a finished room to share with you today, but somehow, it all came together in time. I couldn't be more thrilled with how this room turned out; it is exactly what I dreamed it would be, and even better. Are you ready to see my home office makeover reveal??
Before I dive into all of the photo goodness, I need to send out a few thank you's. First, to Linda of Calling It Home for organizing and hosting the One Room Challenge. She puts an incredible amount of effort into this event twice each year, and I love the community and support that this challenge creates. Second, thank you to my husband, Tom, for agreeing to do this crazy project on this crazy timeline. He dedicated countless nights and weekends to planning, measuring, cutting and building. He lost sleep and missed a few football games. But we did this entire project together, and that makes me even more proud of what we accomplished. I hope he's as thrilled with the results as I am! And last but not least, thank you to the amazing brands who partnered with me and provided me with products and/or sponsorship to help make this project possible!
Minted // Wagner // D. Lawless
Now let's get to the good part—the photos!
As a reminder, here's what my office looked like before we started…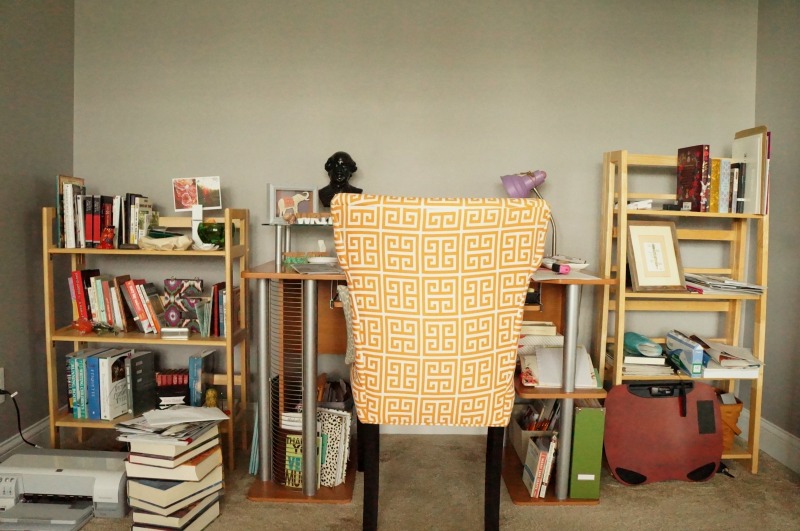 And here is the "after"…
I moved my desk to the center of this room. Does anyone else dislike working with their back to the doorway/window? I don't feel like I'm stuck in a corner, plus I can see the happenings out on our street throughout the day.
Here's a reminder of our vision for the window wall: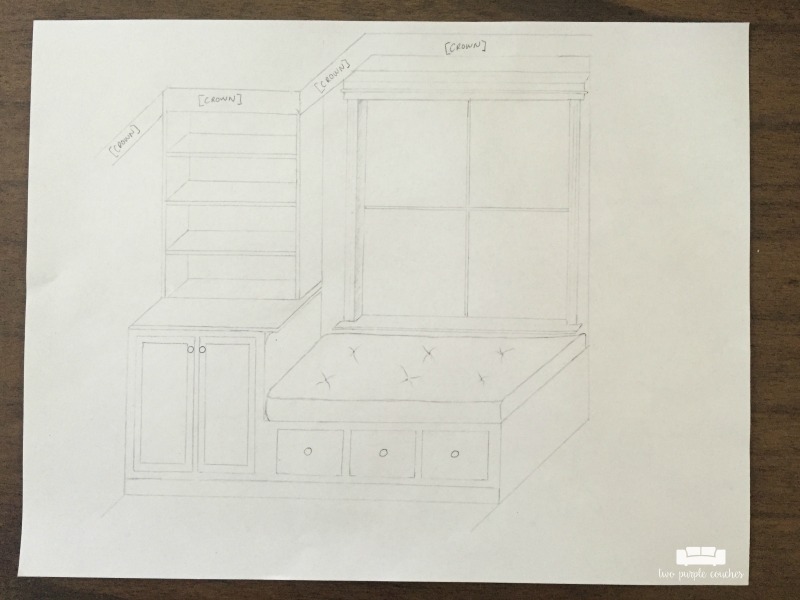 And here's how our built-in bench and cabinet turned out. We used PureBond Plywood for most of these pieces.
I am still in awe that we made these built-ins ourselves! This was by far and away the biggest DIY project/home improvement project we've taken on, ever!
Let's take a closer look at those shelves. This is just a fraction of my book collection, but I love, love, love that I have a spot to display some of my favorite novels, including my collection of vintage books. My mom made the "library" quilt for me for my birthday this year. She filled the shelves with some of my favorite titles, along with a few personal touches and jokes, like my love for owls, a photo of my bust of Shakespeare, and jokes about wine (she knows me so well).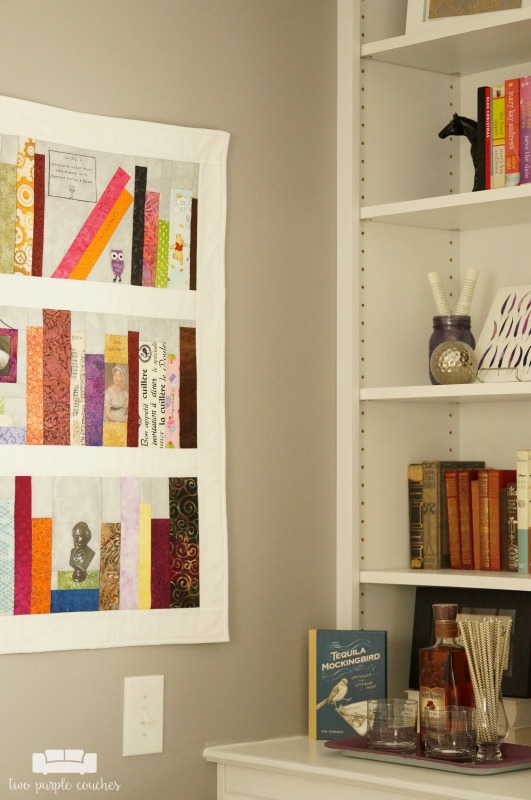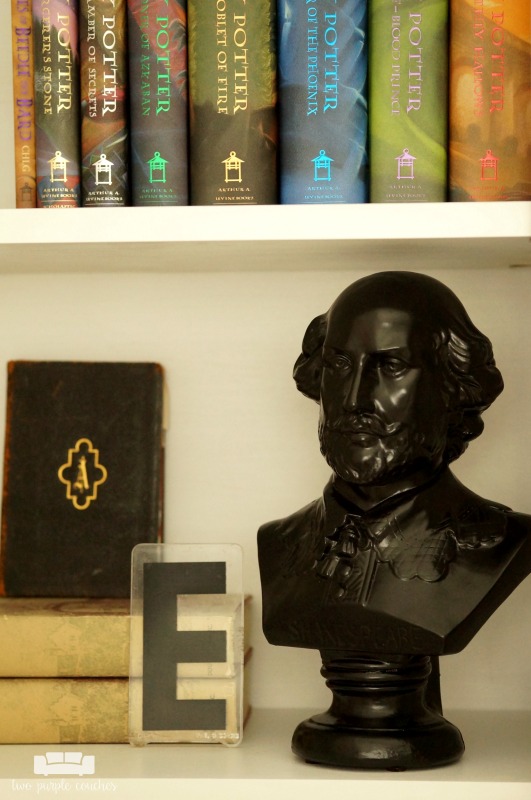 If you thought you spotted a bottle of bourbon a few photos up, you're correct. I added a mini bar to my library…
I knew I wanted a very sleek, modern style desk for my office to keep the lines feeling clean. I've only sat down here to work a couple of times so far, but so far I am very happy with it! I bet some of you are wondering what I'll do with no desk storage… that's what the cabinet and bench drawers are for.
Is this not the most perfect print for a blogger's office!? I've been hoarding it for a few years, just waiting to put it in my office!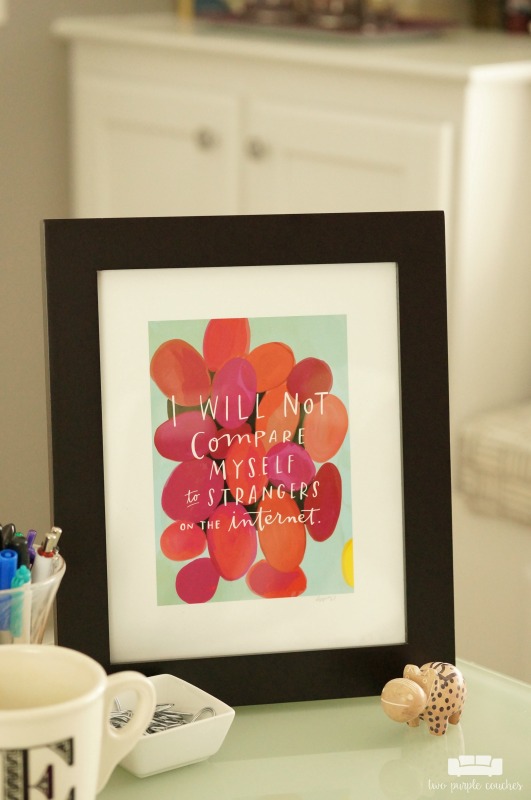 That about wraps up the tour for today! I am putting together a complete home office/library source list that I'll share with you guys in a few days. And there will also be several posts coming in the next few weeks detailing our building projects, sewing projects and the lessons we learned along the way. Thank you to Minted for providing the fabrics for my window bench cushion and throw pillows, to D. Lawless for the beautiful hardware and to Wagner for a paint sprayer to make painting all our DIY furniture a breeze!
If you want to start from the beginning, you can catch up on all of my One Room Challenge posts here:
Week 1 // Week 2 // Week 3 // Week 4 // Week 5
Just a little note… you may remember back in Week 2, I talked about our plan to install additional cabinets and bookcases along the wall opposite the window. Well, we ran out of time to do that work. It became pretty clear to me sometime between Weeks 4 and 5 that there was no way we'd be able to do both of these projects. We focused on completing the window side and then we'll focus on Part II. So, while this means I don't yet have a wall of bookshelves and a ladder to glide across a la Belle in Beauty and the Beast, I have a ginormous, comfortable window bench to curl up on while reading my favorite novels in the meantime!