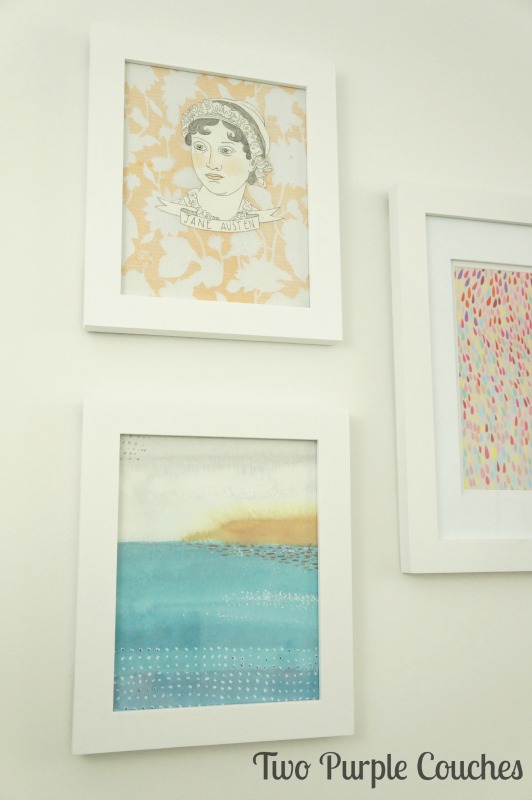 When I decided to throw my hat in the proverbial ring for this round of the One Room Challenge, six weeks to finish up my already-in-progress craft room makeover sounded like for-ev-er. Well, it's Week 5 and the panicky feelings are setting in! This past week, I was focused on prettying up my plain white walls, and I'm excited to give you a peek at my craft room artwork!
I've been collecting prints here and there that I intended to use in my home office. But since I changed gears a little (what else is new?) and decided to go with a magenta, tangerine and teal color palette in my craft room, I decided to hang the prints in there instead.
I used these prints to create a small gallery wall across from my craft table, so I have something inspiring to look at while I work.
From top left: Jane Austen print from The Diggingest Girl / Rain Print by Michel Valenton / Blog print (I think this was in a swag bag from Alt for Everyone?) / Make Something Amazing art by me / framed bag art.
On the wall behind my craft table, I wanted a something a little funky, so I decided to spell out "CREATE" with a variety of letters.
I'll show you how I made the various letters in posts to come, but I started with a combo of galvanized and chipboard letters from Michaels. To give each a unique look, I used faux flowers, watercolors, fabric and a whole bunch of circles punched out of the other side of the Anthropologie bag that I framed above. And then I kind of ran out of steam on the two metal "E"s; if you have suggestions, I'd love to hear them!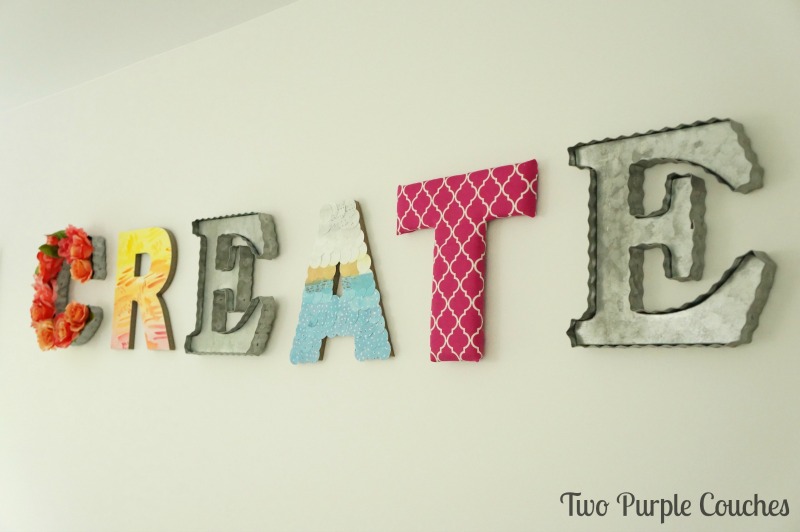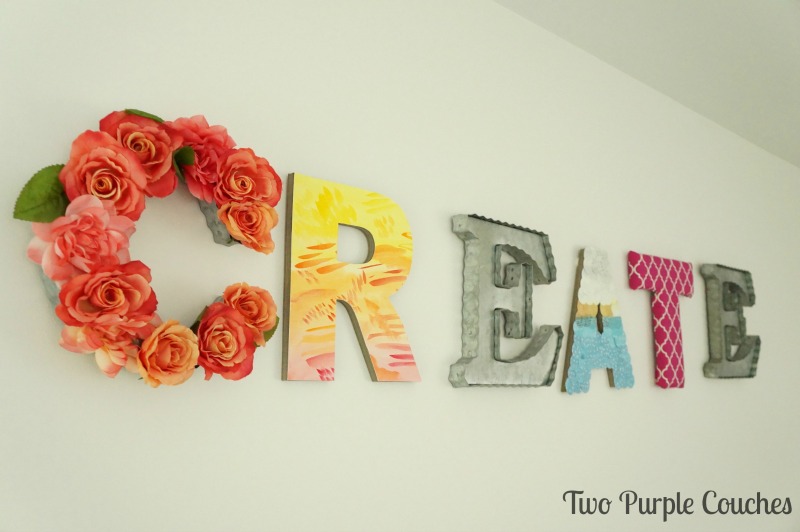 Here's what's still left to do before next week's full reveal:
paint the walls 
install a real light fixture
choose a craft table/work surface
install shelving unit or bookcases
space for sewing machine
storage solutions for various craft supplies & materials
create a photo studio in one corner
paint old cabinet for photo studio space/storage
make a magnetic display board (because why not add another project to the list heading into the last week!?!?)
wall art and colorful accents
Head on over to Calling It Home to check in on how my fellow guest participants are doing on their makeovers, and see how the Featured Designers spaces are coming. Or you can catch up on mine here:
Sharing with: Thoughts of Home Thursday