Today is an exciting day, friends!  The Fall One Room Challenge, hosted by Calling It Home, kicks off this week and I am back for another round as a Guest Participant (you can see this round's Featured Designer's here). This past spring, I turned a spare bedroom into a pretty and well-organized craft room. This time, I'll be taking on my home office makeover, a.k.a "the" project, a.k.a my dream.
If you've been reading my blog for a while, you've probably heard me mention my dream home office. I feel like "home office" is a limiting term because it's a really a home-office-slash-library. And I have been dreaming of this room since we started our house hunt, actually, even longer than that.
Remember the scene in Beauty and the Beast where Belle glides across the bookseller's shop on a rolling ladder? Yeah. That's how long I've been dreaming of having a library room in my house. When we built this house, we added walls and French doors to the living room space to turn it into a study, with the intent to eventually add built-ins and a window seat. I even have a Houzz Ideabook dedicated to this room.
Well, friends, that day—erm—6-week-long Challenge—has finally arrived!! I am beyond excited and also a bit nervous because we are doing all of the work ourselves, from building storage cabinets and bookcases to sewing a cushion for the window seat. And ideally, it will be completed by November 10th so that I have a post full of gorgeous "after" photos to share with you. I am accepting any and all good vibes, well-wishes, and encouragement—haha!
Let me show you where we're starting. This is what my office looks like now. I didn't even organize or de-clutter before I took these photos. Don't judge 😉 It'll make the "after" photos that much more impressive! And I have no idea why these photos came out kind of grainy, but please pardon that, too!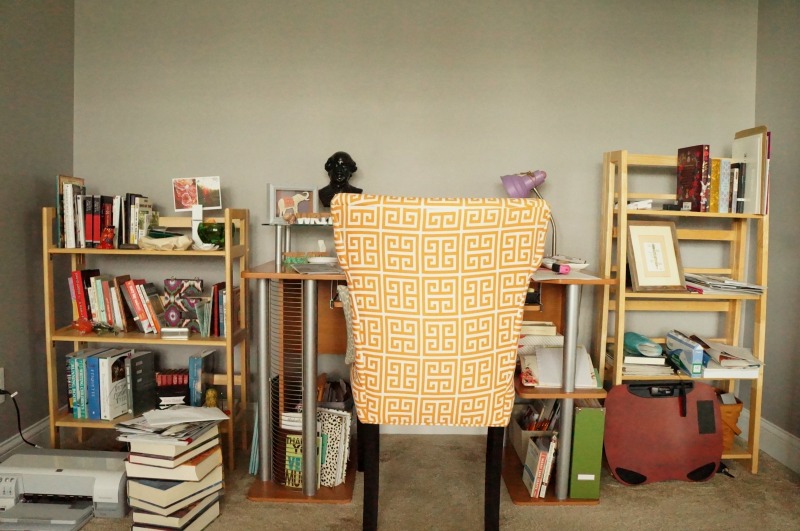 The plan for this wall is to add cabinets and top them with bookcases that will reach to the ceiling. And to not have piles of books and a printer on the floor.
Looking across the room…
On this wall, we'll be adding a long window seat and another cabinet-and-bookcase built-in to the left of the window.
The wall color is staying, though I'm sure we'll need to do some touch-ups and possibly paint another coat. We'll also be adding crown moulding to the whole room.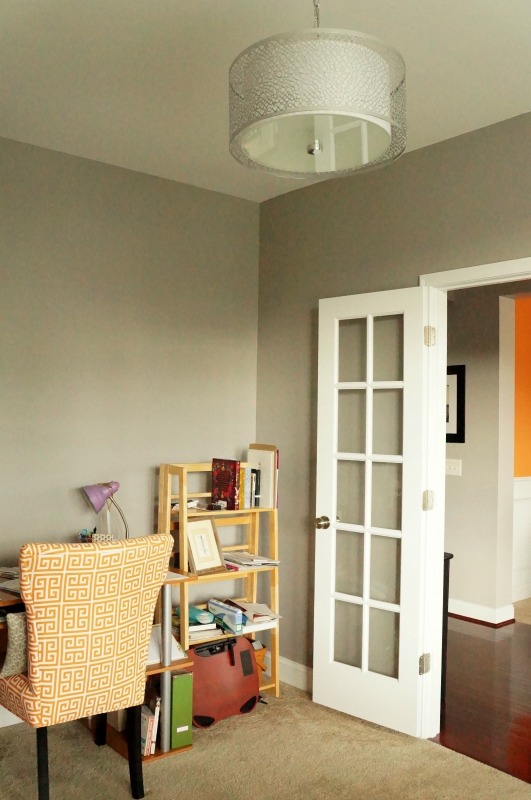 Some other elements in this room that are staying are the light fixture and this map art that is hung on the long wall opposite the French doors.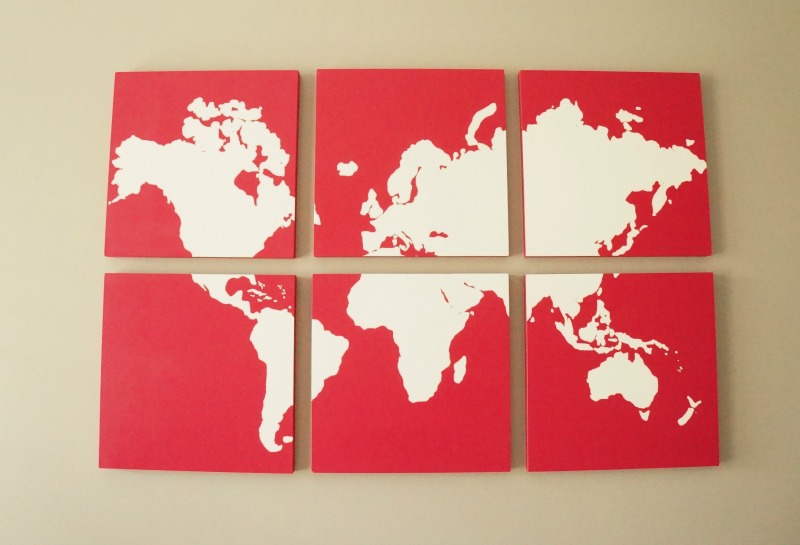 Over the years, I've been collecting artwork and decor for my office, and I already have a stash of fun pieces and tchotchkies to display on the shelves. I have a few surprises for this room up my sleeve, too. Can't give away all the fun details yet, can I? 😉
I am also super excited to be working with some fantastic sponsors along the way. The One Room Challenge is a great opportunity for brands and bloggers to partner together. By nature, I'm an introvert, so I find it challenging to put myself out there at times. But I did it, and it totally paid off! I'll be partnering with some awesome brands to bring my dream home office/library to life and I can't wait to talk more about this next week when I share my makeover design plan. Stay tuned!
Are you participating in the One Room Challenge? Let me know in the comments so we can cheer each other on!