This week our Room by Room Series is taking you on a master bedroom tour. Whether your style leans toward farmhouse, modern, boho or something in-between, we've got plenty of ideas to share!
I've shared snippets of our master bedroom here and there, like when it took us a while to choose the perfect shade of greige paint for the walls. Our master bedroom has gotten very little attention here on the blog because I've yet to finish the room to the point where I feel ready to share it. But that's the beauty of our Room by Room Series – it's all about showing you where we are right now! And right now, this room is colorful, cozy and still in need of a few finishing touches.
Our master bedroom is spacious, and feels even bigger because we opted to add a vaulted ceiling, which extends into our master bathroom as well. Our bedroom faces East, so we get tons of natural light. I love this feature, except at 6 a.m. during the summer months when our room is ridiculously bright and I'm trying to sleep!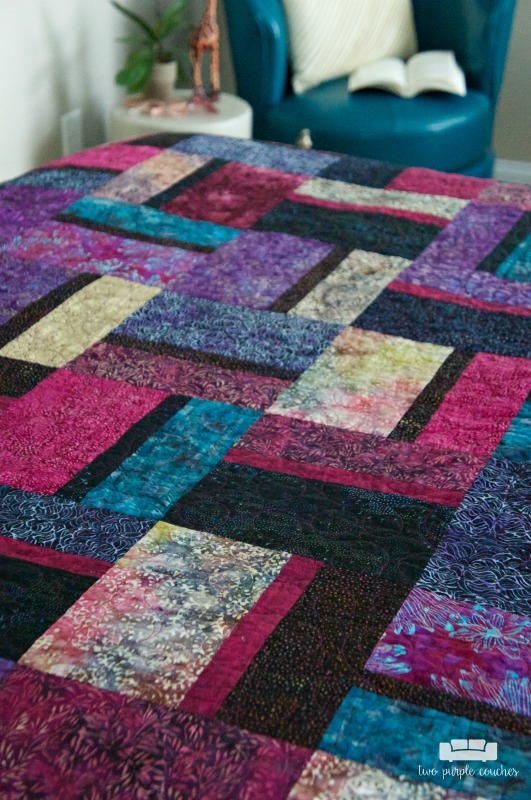 My mom handmade our bed quilt and I'm obsessed with it. I know lots of designers and decorators recommend a calm, neutral bedroom, but I'm just not one of those people. I believe color can still be warm and cozy. I picked out the pattern for our quilt and then my mom and I spent months shopping for the perfect fabrics. I have always been drawn to saturated jewel-tone batik fabrics, and that's exactly what I ended up with for our quilt. I adore it, and Tom even likes it too, despite the fact that there's a fair amount of pink in there. There's plenty of purple and blue, too.
Aside from painting the walls (they're Creamy Mushroom by Behr), the only other DIY project we've done in this room is to replace the window sills and add custom trim around all of the windows. Click here to learn how to replace a window sill. Click here to learn how to add custom trim.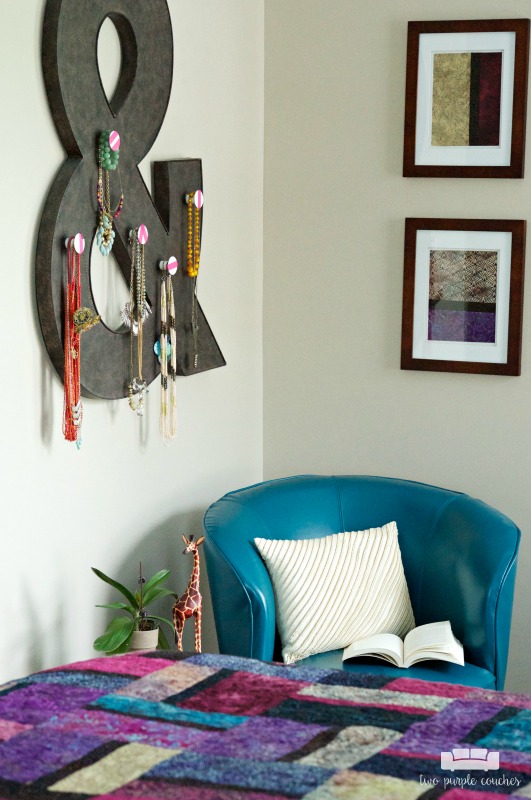 In the area to the left of our bed, I created a small reading/sitting nook. We found the teal swivel chair for a steal at the Grandin Road/Frontgate Outlet in West Chester, OH. The magnetic ampersand was a clearance find from Pier 1 that I turned into a jewelry holder. Click here to see my magnetic jewelry display.
Yes, that's the top of our dog's crate you see in the photo. Just keeping it real, folks! Molly isn't allowed to sleep in our bed, but she sleeps in our bedroom. The first night we had her home as a puppy, we tried keeping her crate in our bonus room down the hall, but she cried and whimpered so pitifully that we moved it into our bedroom and it's been there ever since.
I created this simple gallery wall using leftover pieces of fabric from our handmade bed quilt. These were initially going to be a placeholder until I found other artwork, but now that they're up, I love them as they are.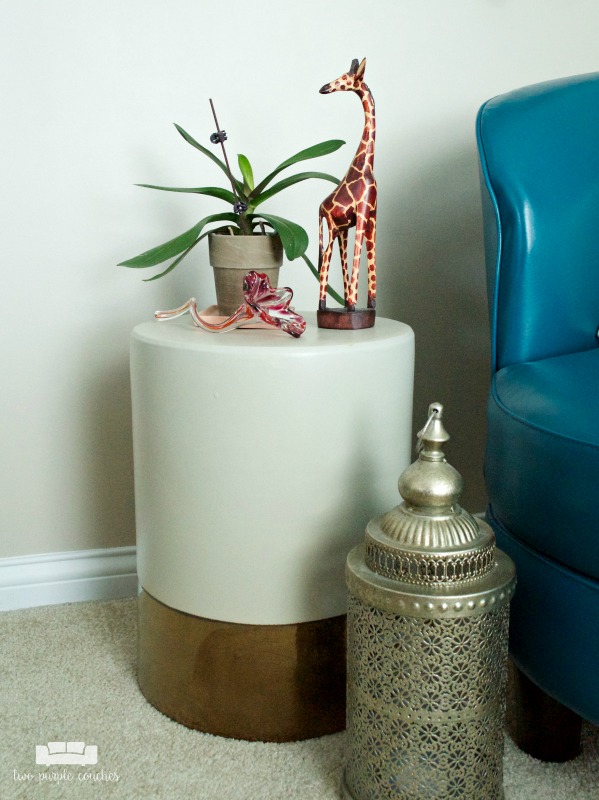 This modern side table came from Pier 1, along with the lantern. Can you tell that Pier 1 perfectly suits my modern/eclectic/boho style? I bought the giraffe statue at Disney's Animal Kingdom on one of our recent vacations, and the blown glass flower was made by my cousin.
Our bedroom furniture is matchy-matchy, and that's fine by me. We bought a full set of furniture a few months before we got married – a headboard, two nightstands, a dresser with mirror and a chest of drawers. We both love the design of the pieces along with the deep cherry color and the polished nickel hardware, and have no plans to replace any of it anytime soon!
Photographing this master bedroom tour has made me realize that I *may* be a jewelry hoarder. I've got all sorts of jewelry displays, bowls and trinket dishes in our bedroom! This cute dish was an easy thrift store craft I did a while back. And the framed art was another simple DIY. Click here to see my DIY jewelry dish. Click here to see the DIY quote art.
Looking across our bed, we've got a blank wall and the doorway to our master bathroom (also a work-in-progress). I'd like to add a bench to this wall at some point.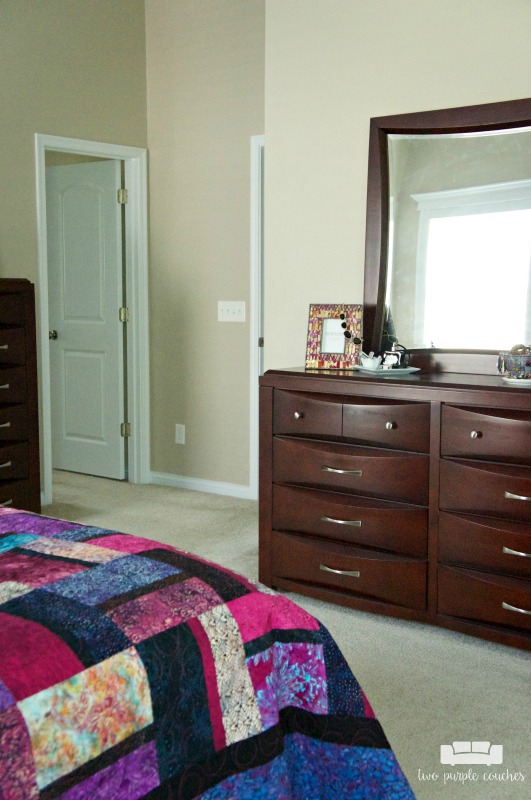 Pivot a little more, and you can see the doorway to our master closet along with my dresser. Again, you'll notice the jewelry display/storage trend I've got going on in here!
Still to do in our master bedroom:
Build or buy a bench for the short wall by our bathroom
Hang more art on the walls
Create our own wall decor to hang above our bed (we've had an idea for years but haven't started on it yet!)
If you've missed a week or two of our Room by Room series, catch up here:
Room by Room Series: Master Bedrooms