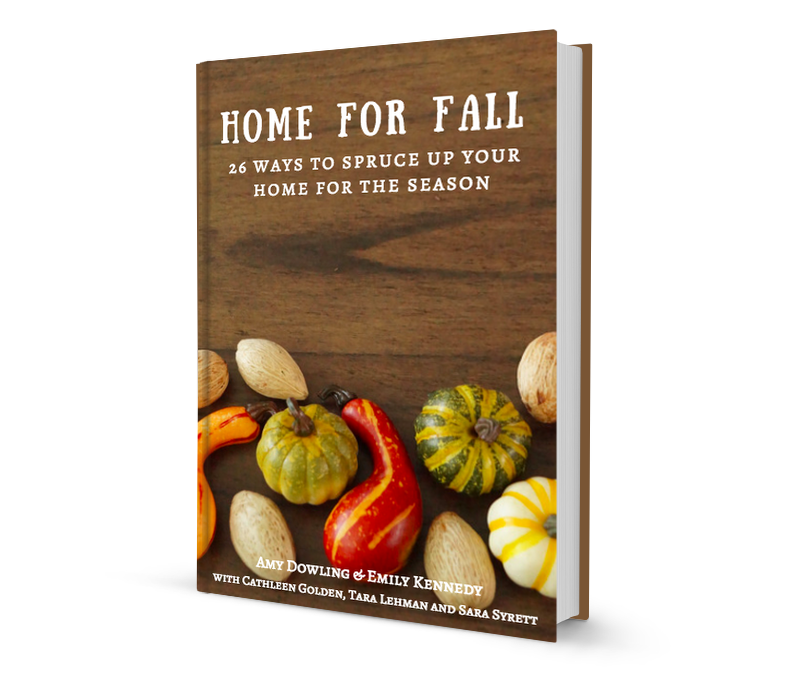 I know for most of you, summer is still in full swing. But before we know it, the leaves will begin to turn, the days will become shorter and a crispness will return to the night air. Yes, before we know it, friends,  the fall season will be upon us!
To me there is beauty to be found in each season, but there is something about fall that inspires a renewed sense of warmth and a yearning to turn my home into cozy retreat. I look forward to refreshing my decor, pulling out plush blankets, and baking up some special treats.
Do you feel the same way about the fall season?
If so, I have a very special, very exciting announcement to share with you—today is the day that Home for Fall, my very first e-Book, launches!
In case you missed the sneak peeks shared recently on Instagram, Facebook or Twitter, let me tell you more about Home for Fall and how it came to be. My good friend Amy approached me several months ago with the idea to put together a team of bloggers to write an e-Book. Since I was a little girl, I have dreamed of writing a book, and I knew this was kismet! Together, Amy and I pulled together a team of immensely creative and talented bloggers to create this book for you. Allow me to introduce these lovely ladies:
Amy Dowling, My Life from Home / Emily Kennedy, Two Purple Couches (that's me!)
Cat Golden, Pocketful of Posies / Tara Lehman, Lehman Lane / Sara Syrett, Twelve on Main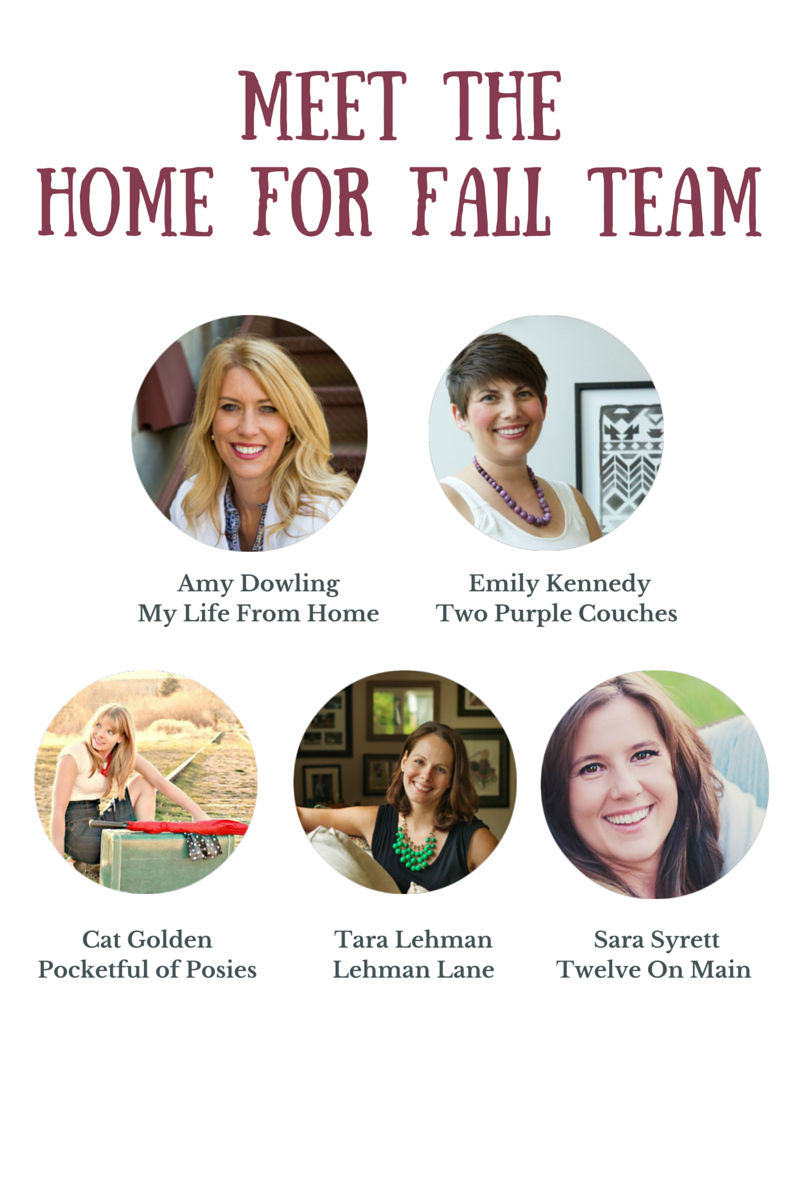 Over the past few months, we've come up with ideas for the home—both indoors and out—scrumptious recipes, and clever crafts to help you celebrate the warmth of the fall season.
I cannot tell you how inspired I am by all of the beautiful ideas shared in this book. And the best part is that you can take them and make them your own! No matter whether your style is rustic farmhouse or colorfully eclectic, you can put your personal spin on these ideas and bring them to life in a way that best suits your style. We want to get your creative juices flowing and get you excited to welcome the changes that the fall season brings!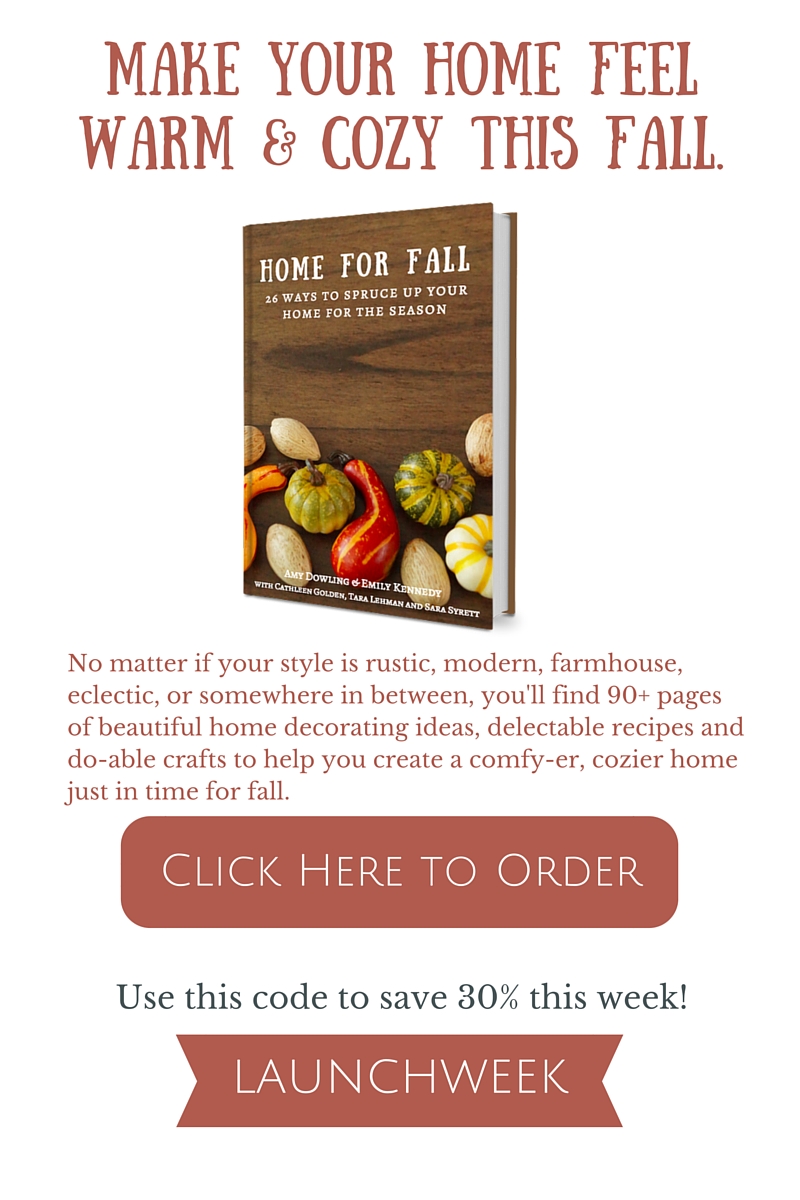 Within each of the five chapters in Home for Fall, you'll find indoor and outdoor home decorating ideas, seasonally-inspired crafts, and mouth-watering recipes, all designed to help you achieve the look and feel of a cozy fall retreat in your home. Personalize the do-it-yourself projects and crafts to suit your style and learn how to reimagine everyday items, like book pages and scrap fabric, to create a beautifully decorated home without breaking your budget. 
Each craft and do-it-yourself project includes a supply list and step-by-step instructions so you know exactly what you need to create and complete it. Whether you are a first-time crafter or a seasoned veteran, you'll find a variety of ideas and tips to keep you inspired throughout the season—from the moment the leaves begin to turn through the Thanksgiving holiday. We want this to be a creative resource that you can return to year after year for fresh ideas and renewed inspiration. 
And to help celebrate the launch of Home for Fall, we're offering a special 30% discount! Use the code LAUNCHWEEK at checkout to save. (Click here to order)
I have truly been awed and inspired by this e-Book and have loved working with these talented ladies to bring our ideas to life. I hope you will be, too!
Help us spread the word! Pin this image: