Home office design plans matter! From organizational storage to style ideas, how to plan a home office that works for you.
My home office design plans changed several times before I settled on the space I have now. But I picked up some valuable tips along the way that I thought I'd share for this week's Room by Room Series. Which, by the way, is our last one! Kudos if you've been following along with us all summer! I've so enjoyed this series and seeing how my blog friends plan for and decorate their homes – I hope you've enjoyed it, too! If you're still catching up, I've got links to each week at the bottom of this post.
I know some people move into a space with a clear-cut plan of how they want to decorate and organize it. I am not one of those people. From the day we toured a model of our home's floor plan, I had loosely formed ideas of what I wanted my home office to be. But as we've lived here and as I started using the space more frequently, some of those ideas remained and some evolved.
Last Fall, I threw my hat in the One Room Challenge ring and decided I was finally going to turn my home office design dreams into a reality. Click here to see my home office design plans and then Click here to see my full home office makeover reveal.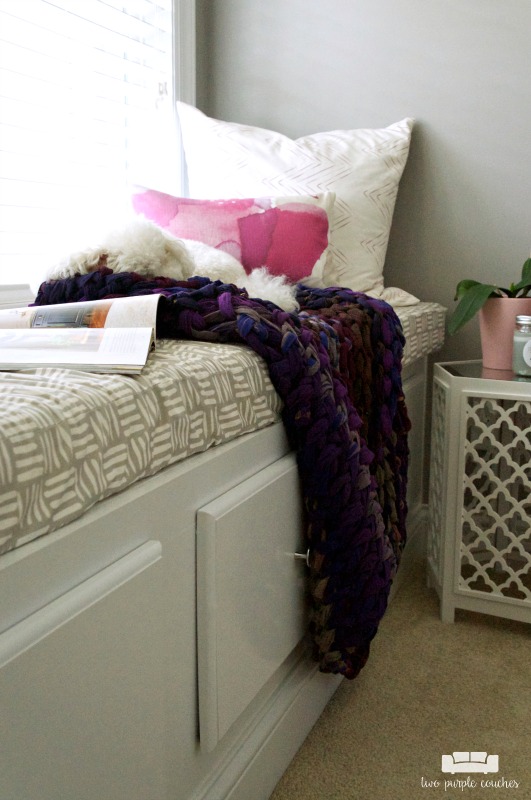 Together my husband and I planned out the room and built and installed nearly all of the furniture ourselves. Through the planning, building and installation process, I learned a lot about how I wanted the room to function. Here are some home office design tips that might help you, too…
Think about how you want to use the space.
I don't mean just "work in it" but really think about the kind of day-to-day work you'll be doing. Will you be using a computer, doing design work, hands-on art or crafting, packaging orders, photo or video editing, etc? Then think about the tools you'll need to accomplish this task or tasks. Do you need ample desk space, storage for materials or supplies, or wall space to hang inspiration boards or calendars?
It's totally okay to live and work in the space for a while to get a sense of what you really, really want. In fact, I would highly recommend you do this. My first visions for this room were as a library + writing space + craft room. (You might say I have lofty multifunctional goals). I wanted room to display my ever-growing book collection, storage for art and crafting supplies, and a cozy reading chair or window bench for relaxing and reading. This room was going to be my multi-purpose woman cave.
The more I tried to use this space for all of those things, the more I realized this didn't work for me. I was asking one room to be too many things, and in the process, I was creating more clutter instead of order and organization.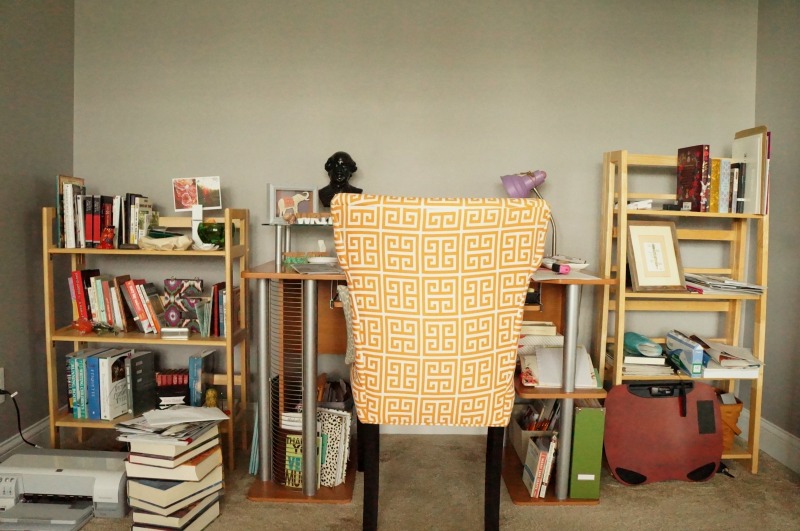 My desk and bookshelves were always littered with in-progress projects, meaning I had to shuffle everything around to get out my laptop to write. I was constantly sorting through stacks of things to find what I wanted. It was a mess! So I moved my craft room upstairs to a spare bedroom and focused on keeping this room as a library + office.
Devise solutions for your exact needs.
When my husband and I laid out our plans for my home office, our priorities were to create storage, seating and workspace. As much as I love the look of floor-to-ceiling bookshelves for a true library feel, creating a cabinet on the bottom half was much more practical. After all, not everything in my office is "pretty" enough to display.
We added a shelf inside the cabinet so I can store extra art, paperwork, files, etc. We built drawers into the window seat to create more storage. I keep my camera, laptop accessories and extra throws in each one. Click here to read more about how we built the drawers.
Keep your most-used supplies close at hand.
This post contains some affiliate links for your convenience. Click here to read my full disclosure policy. 
While I want the overall feel of my desk area to be clean and simple, I still want certain items within reach, namely my planner, a notepad or notebook, pens and washi tape. I started using The Happy Planner last year and I really like the flexibility it offers to customize your planner to your needs and schedule. Plus the stickers and accessories make it fun to get creative!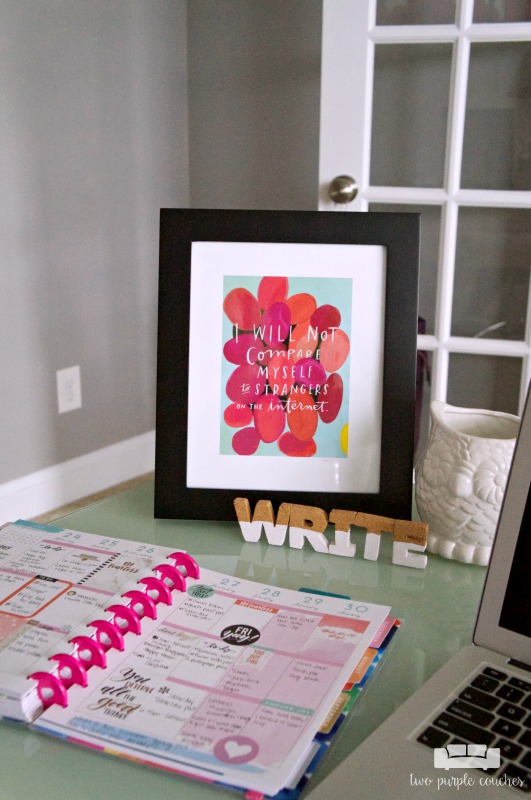 Like I mentioned last week, when it comes to organizing I am a one-trick pony. It's all about the bins. Inside my desk drawer, I use these Linus acrylic organizing trays to hold pens, markers, planner accessories, camera cables, my external hard drive, business cards, and notebooks.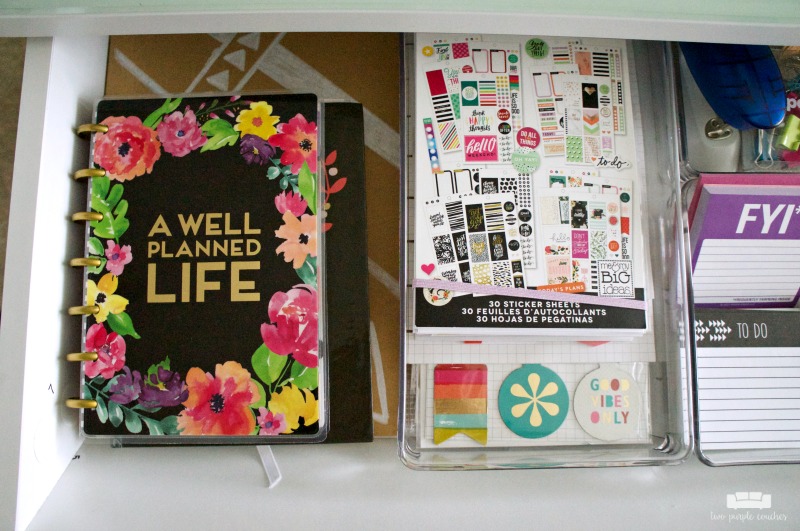 Fill it with what you love.
I've found I can't work in a space that doesn't feel like a reflection of me. I've been hoarding all sorts of art and decor to display in my office, and putting it all together during the ORC last October made me SO happy. This room is 110% me – from my miniature bust of Shakespeare to my vintage book collection to the abstract watercolor-esque throw pillows. This room holds everything I love. Click here to view the full source list for my home office.
Whether you have a collection you want to display, special artwork, or just prefer a vase of fresh flowers nearby, add those special personal touches to your home office to make it a space you'll look forward to working in each day.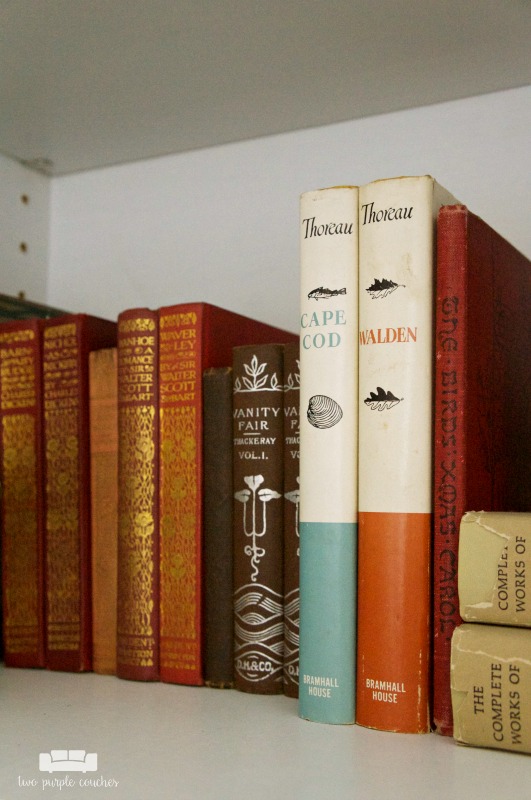 Many thanks to my dear friend Amy from My Life from Home for creating and organizing this series this summer. If you've missed a week or two of our Room by Room series, catch up here: