Oh the weather outside is frightful, but the fire is so delightful!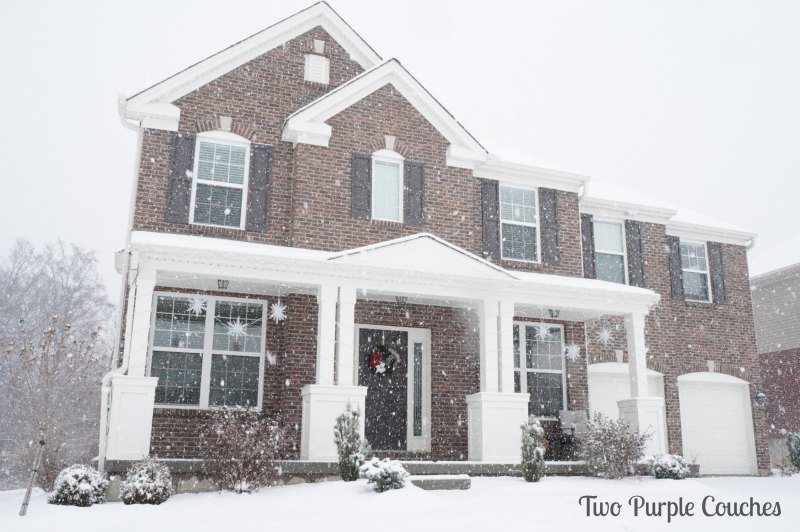 It's a bit blustery outside this evening! Won't you come in, warm up, and enjoy a jolly little holiday home tour? I'm just getting started with my Christmas preparations, but I'd love if you'd join me for a while!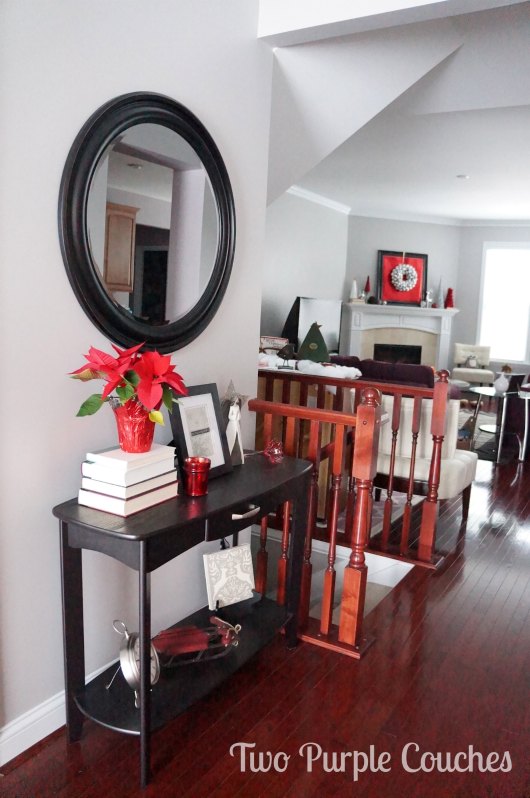 My entryway got spruced up for the season with a fresh poinsettia, red mercury glass, a shimmering angel, and a festive print by Dear Wilde Handmade.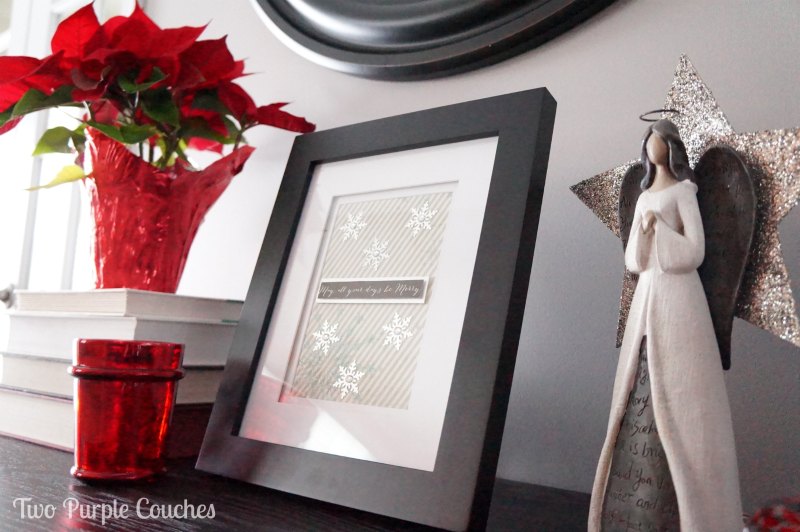 The bottom shelf is a bit more festive, too, with a red sled and a pretty gray canvas print by All Things Grow.
Come on into the family room and make yourself comfortable! There's a furry throw on the couch if you're feeling chilly. How do you like our tree? We're going for an "au naturale" look this year… kidding, kidding! We just haven't had time to decorate yet! With all that snow outside, I expect we'll have plenty of time to decorate this weekend!
Don't mind the sleepy pup; she loves that cozy throw as much as I do!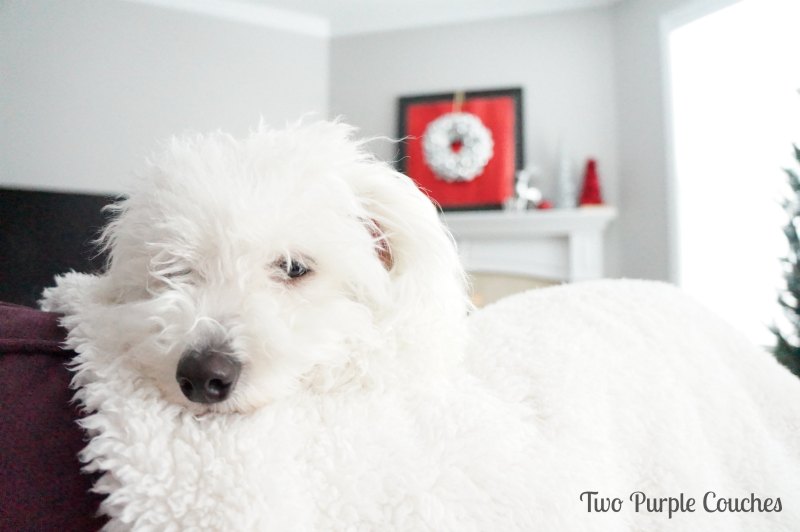 The ornament wreath may look familiar; it's the same one I made last year. I would make one of these every year if I had enough places to hang them. I absolutely love how it looks, and how much sparkle and shine you get from all the different ornaments and angles. Clearly, Glitter and I are good friends, especially around the holidays!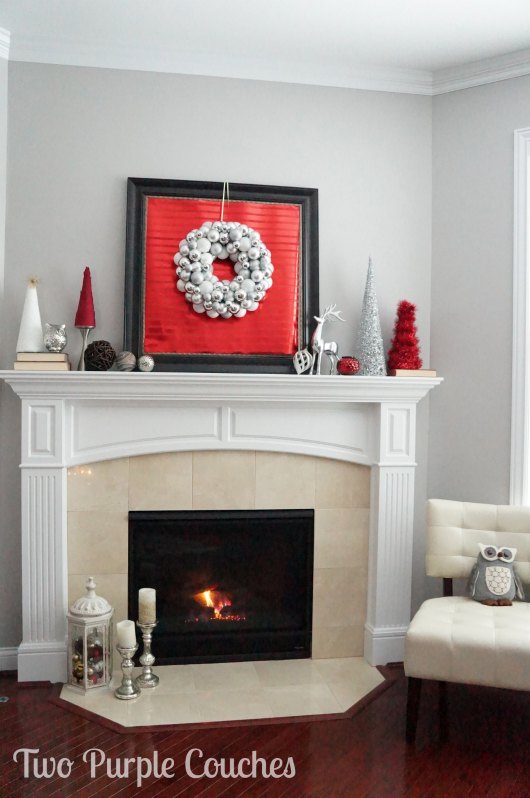 I have to admit – my decor didn't turn out quite the way I was hoping it would. I really wanted to go heavy on the "flashy neutrals" as I like to call them, with lots of silver, sparkle, and mercury glass mixed with whites, for a "winter wonderland" feel. However, once I got all the silvery stuff up on the mantel, it kind of died against our new gray paint. It really needed something to make it pop, and red seemed to do the trick! It's starting to grow on me 🙂 What do you think?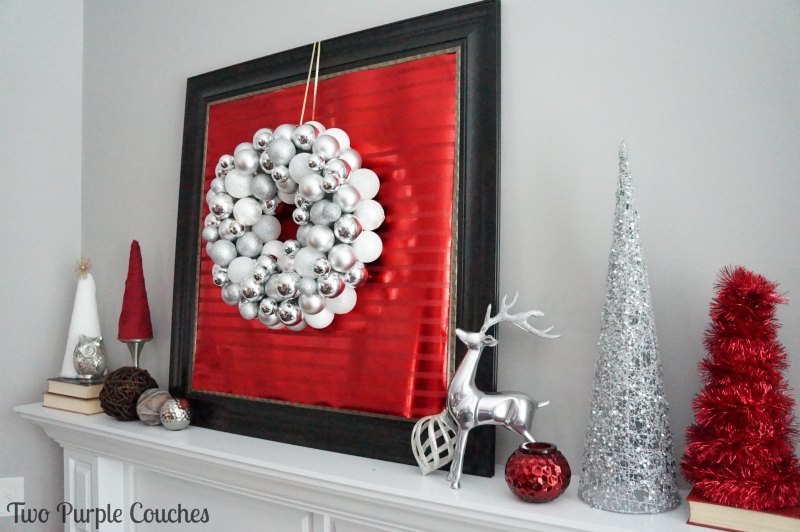 Back to the details… a Christmas display wouldn't be complete without reindeer. Someone's gotta help Santa get around! (Did you know you get bonus points for glitterized antlers?)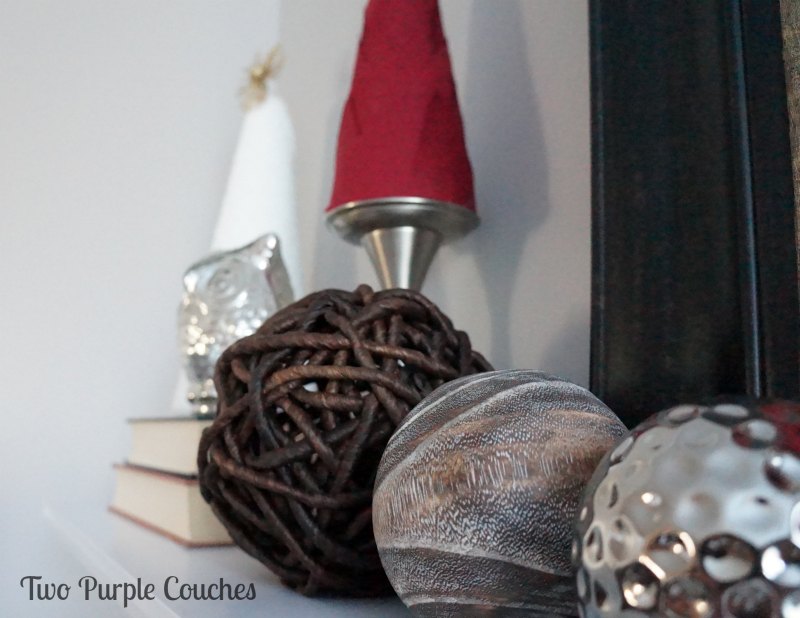 I kept several of same items I used in my Fall decor; I think the natural textures add a touch of realness. And I'm already thinking ahead to next year – I may go even heavier on the "rustic woodlands" scale and get some more bark and wood grain in the mix. But still with glitter. Maybe glitterized wood grain? It could work…
(ps, I made the white tree above and the red tinsel tree myself. And it was sooo simple! Check out the details here.)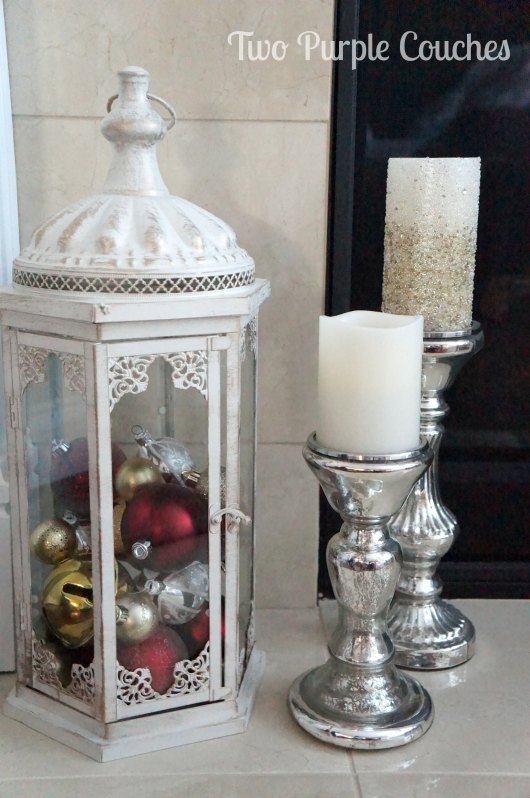 It certainly wouldn't be the holidays without some ornaments crammed artfully into a lantern! But really, I've been wanting to do this for a while, and I finally have a nice, big lantern to stuff full of shiny, sparkly (see a trend, here?) ornaments. And then pair it with mercury glass candle holders. :::swoon:::
I have a growing collection of tea light holders, mostly in mercury glass (are you surprised?). I thought they'd look cool arranged on top of a wood disc. And I think I was right!
And they're so festive when lit! I love turning off the lights, and just letting our fireplace and candles warm our room at night.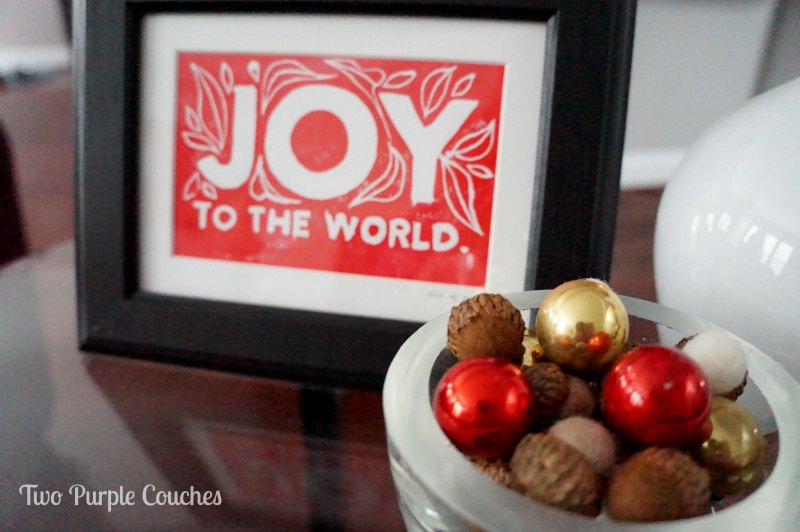 I added some vintage glass mini-ornaments into my bowl of felted acorns. I like the mix of shine, texture, and the natural caps. I bought the pretty red block print from a friend at work.
And last, but not least, a little display atop my piano! Where I will most certainly entertain you with a few classic carols.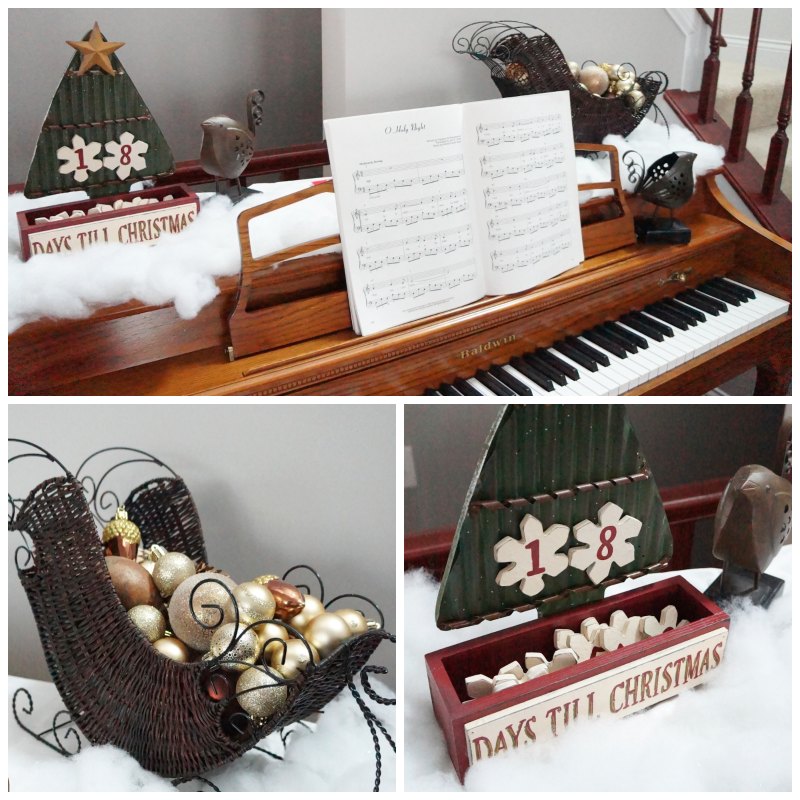 I hope you enjoyed my holly jolly tour!
Have a holly, jolly Christmas,
and when you walk down the street,
say hello to friends you know
and everyone you meet.
And, oh by golly have a holly, jolly Christmas this year!
Want to see more Christmas decor goodness? How about DIY-ing a few pretty trees made from Styrofoam cones, or covering existing artwork to create the simplest-ever Christmas card display!? If you love ornament wreaths as much as I do, check out how I made the sparkly silver-and-white wreath as seen on my mantel!
There are plenty more homes to see and decorating inspiration to soak up! 24, to be exact! Check out the other great tours happening tonight, then go back and catch the ones you may have missed earlier this week!
Here's a peak at what you'll find…
Tuesday, December 3rd
1) Krista from The Happy Housie 2) Laura from The Turquoise Home
3) Amy from Commona My House 4) Abby from Just a Girl and Her Blog
5) April from House by Hoff 6) Shayna from The Wood Grain Cottage
Wednesday, December 4th
1) Jenna from Rain on a Tin Roof 2) Jen from Migonis Home
3) Rachel from Maison de Pax 4) Jamie from So Much Better With Age
5) Molly from The Poor Sophisticate 6)Tanya from Twelve O Eight
Thursday, December 5th
1) Amy from The Blissful Bee 2) Heather from The Southern State of Mind
3) Candace of Vintage News Junkie 4) Lauren from The Thinking Closet
5) Amber from Averie Lane 6) Sarah from Life on Virginia Street
Friday, December 6th
1) Chelsea from Making Home Base 2) Aniko from Place of My Taste
3) Christy from Confessions of a Serial Do-It-Yourselfer 4) Corey from Tiny Sidekick
5) Patricia from Little Cottage on the Pond 6) Emily from Two Purple Couches
Sharing with: Share It Sunday / Jennifer Rizzo