One of my favorite things about summer is that it's peach season, and I've been itching to make a peachy sangria. So that's just what I've come up with for this week's Summer Sippers recipe – a ginger and peach sangria that screams summer with its peachy goodness and homemade ginger simple syrup!
If the phrase "homemade ginger simple syrup" scares you, don't let it. I used to think the same thing. Simple syrups are just that—simple! If you can boil water, you can make a simple syrup. Plus, you can create all sorts of different flavors using fruits and herbs.
Ginger and Peach Sangria Recipe:
1 750-ml bottle of riesling
1/2 c peach schnapps
1/2 c ginger simple syrup
2 peaches, sliced
1 lemon, sliced
1/3 mango, chopped
club soda
For the ginger simple syrup:
1 c sugar
1 c water
1-inch piece of fresh ginger, peeled and sliced
Combine sugar and water in a saucepan and heat just until it boils and all the sugar has dissolved. Turn off heat, add fresh ginger and allow mixture to cool completely. Strain into a mason jar or storage container and refrigerate until ready to use.
Combine all ingredients, except club soda, in a pitcher and refrigerate several hours or overnight. To serve, pour sangria into glasses and top with a splash or two of club soda.
The ginger flavor in this sangria is subtle but it's a nice complement to the crisp riesling and peach schnapps. And one thing I love about sangria is how adaptable it is; if you prefer more or less peach schnapps or ginger simple syrup flavor, feel free to adjust this recipe to your tastes!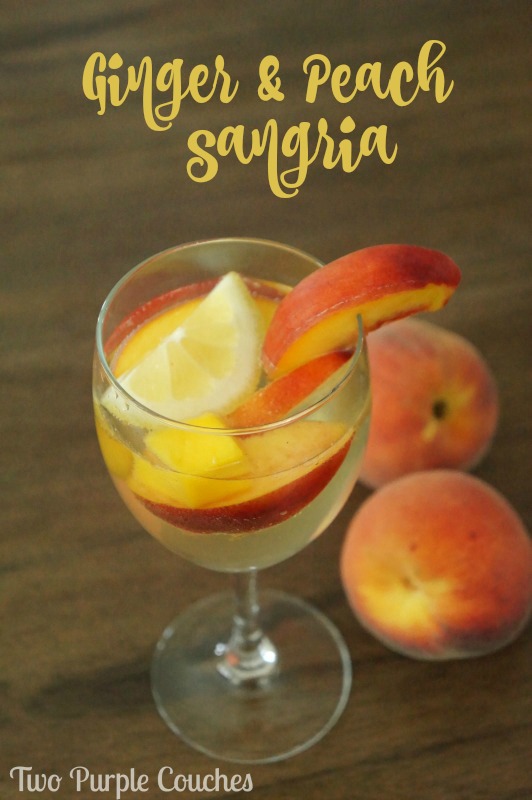 If you want to catch up on all of my Summer Sipper recipes, check them out here: Week 1 / Week 2 / Week 3 / Week 4
Sharing with: You Link It, We Make It
And don't miss the drinks that Weekend Craft, Keeping Up with Mrs. Smith and Ivory Bell Floral have crafted this week: