I've got some more fall goodness up my sleeve today! I have been working on sprucing up our front porch for fall, and I am excited to be joining the Fall Garden Tour Blog Hop hosted by my friend Tara at Lehman Lane. Be sure to stick around to the end of this post, because there are 18 other bloggers sharing their fall porch decor and fall gardens! Yay!
If this is your first time stopping by Two Purple Couches—welcome! I am so happy to have you join me for this tour. My husband and I built our house in 2011 and over the past few years, we've been discovering our style and adding personal touches to our home. I am a lover of color and do-able DIY projects, some of which you'll see during my fall porch tour!
This is the first fall I've gone "all out" to decorate our porch, and I couldn't be happier with how it turned out. The entire exterior of our home is brown—brown brick, brown shutters, brown door, tan siding… you get the picture. So I like to add lots of color through flowers and plantings. I zeroed in on purples (my fave color, if you haven't guessed!) and yellows for fall with some orange pumpkins thrown in for good measure 😉 In addition to mums, I added color with pansies, suntory, aster, lavender plectranthus and cabbage.
I made this owl wreath a few years ago and it continues to be one of my favorite (and most popular) projects. You can find the tutorial for it here.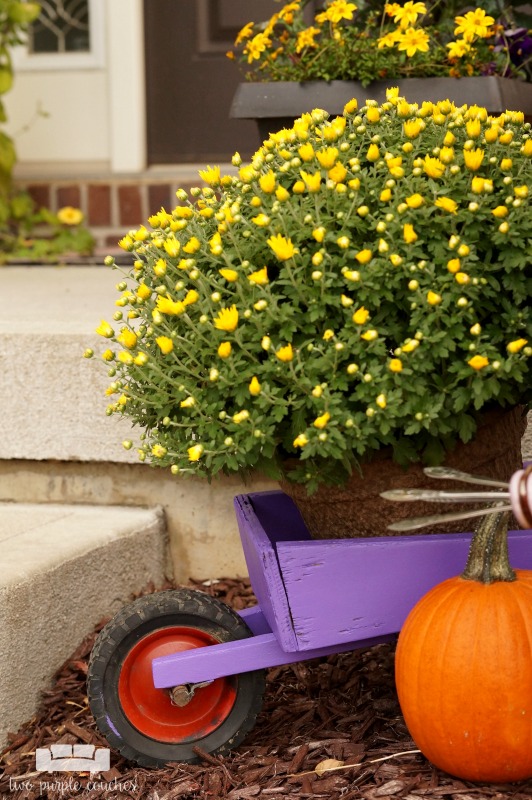 My dad's aunt built this sweet little wheelbarrow for me when I was a kid. It's taken a beating from the elements over the years, so I cleaned it up and gave it a fresh coat of durable outdoor paint. Let me know if you'd like me to write a full blog post about it!
This "happy harvest" garden flag was a project I created for my Home for Fall e-book that came out last month (psst – you can save 30% off the list price right now with code FALLYALL!)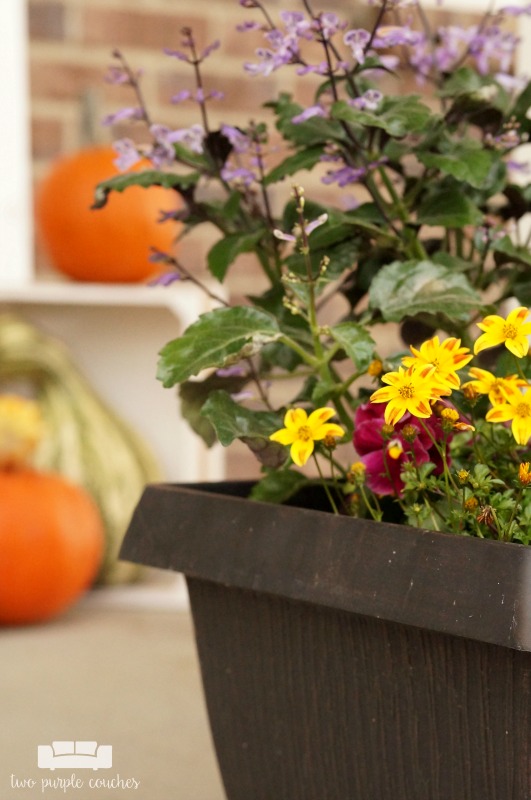 The galvanized bucket was a find from this year's Country Living Fair! My dad has always used a bucket kind of like this one for gardening and it reminded me of him and childhood days following him around our garden.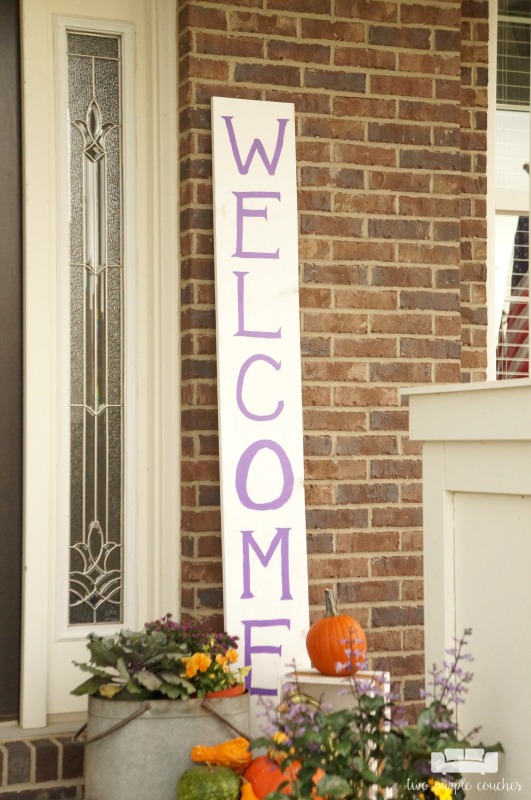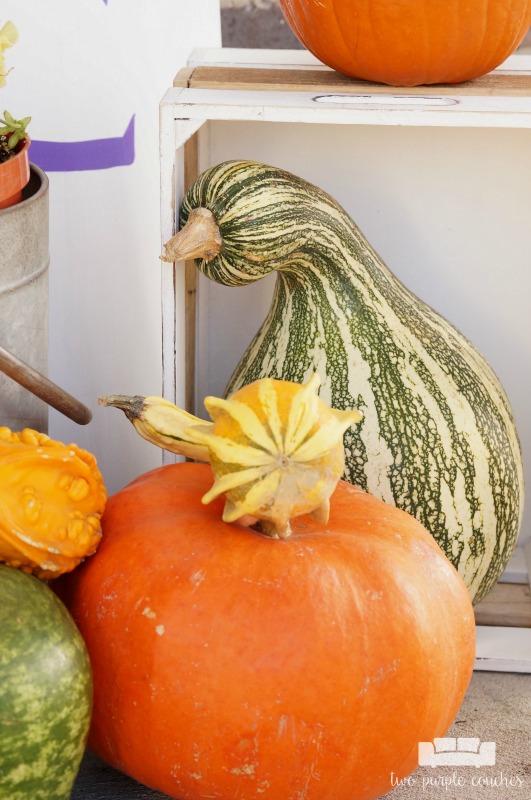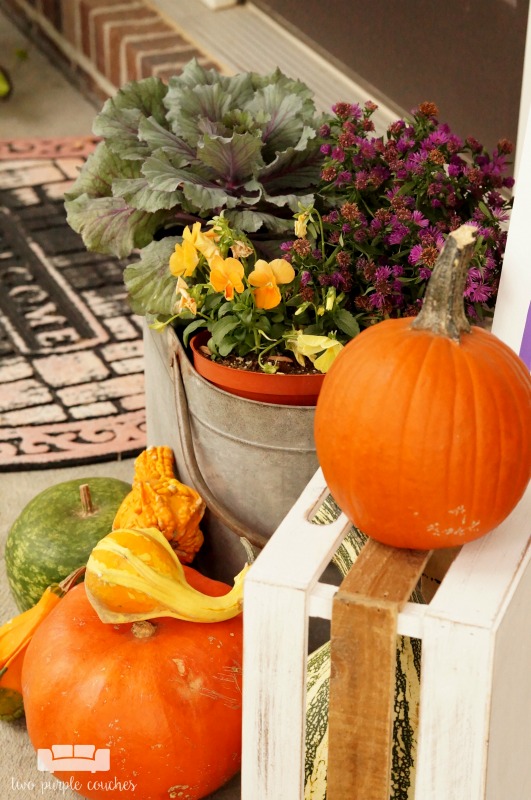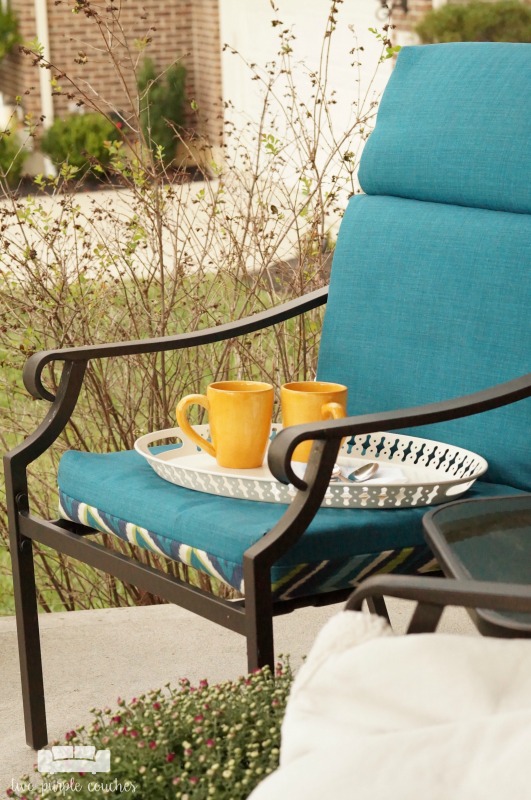 That wraps up my fall porch decor tour! I hope you enjoyed it! If you'd like some interior inspiration, check out my fall home tour here.
I hope you're still in the mood for outdoor inspiration, because there are 18 more porch and garden tours being shared each day this week! Check them out below.
Fall Outdoor Hop
Monday
Lehman Lane / 2 Bees in a Pod – Vicki's House / My Life from Home / North Country Nest
Tuesday
Our Crafty Mom / Twelve on Main / Little Bits of Home / Beauteeful Living / Fun Home Things
Wednesday
Simple Nature Décor / Timeless Creations / Refresh Living / UnCookie Cutter
Thursday
2 Purple Couches / Our House Now a Home / Knock it Off Kim / Green with Décor
Friday