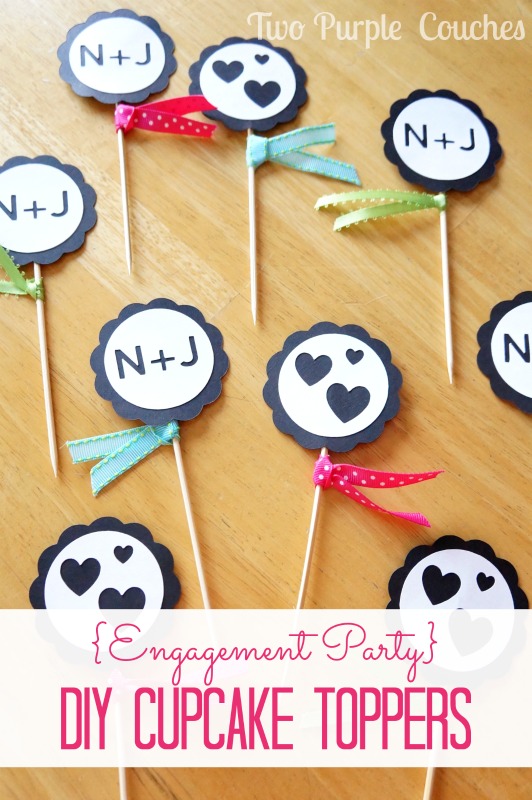 I'm joining up with the Silhouette Challenge today! And I think you'll like today's collection of projects, because the theme of this month's Challenge is PARTY! And who doesn't like to party!?I'm sharing how I made these cute engagement-themed cupcake toppers for my brother-in-law's engagement party.
Before we escaped to Hilton Head, SC for a little R 'n R back in March, we had to throw a party! This was a pretty special party—not only were we celebrating an engagement, but we were also celebrating my future sister-in-law's birthday! And actually, that was the only thing the guests thought we were celebrating. We threw a sort of double-surprise party… the guests thought it was a surprise birthday party. But before the birthday girl arrived, my brother-in-law, Joe, popped the question! As you can guess, there was a lot of laughing and shouting and excitement once they showed up to the party and his new fiancee was sporting a sparkly new accessory! We're so excited for them, and I am particularly excited to plan a wedding shower and help Nicole craft wedding decorations (and, of course, gain my first sister!).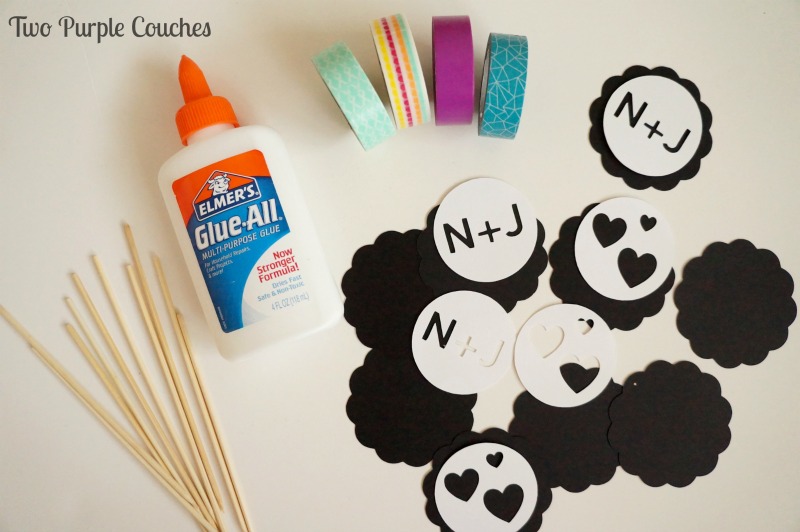 But before we get into all that, let me show you how I made these cute cupcake toppers. I hunted around on Pinterest and Etsy to get ideas for shapes and sizes for my toppers. I decided to go with a scalloped background shape and plain circles for the inner shape.
I used Silhouette Studio to make all of my shapes. For the scalloped circle, I found a vector shape online and imported it into Silhouette Studio. I drew the inner circle myself, then added the monograms of the guests of honor. The hearts were an overlapping shape I already had, so I simply ungrouped them and arranged them inside the circle.
I cut them out in two batches, then began to assemble my toppers. I glued the white circles inside of the black ones, then used washi tape to secure the skewer sticks to the backs. I decided they needed a pop of color, so I rummaged through my ribbon stash and found some bright colors to match the "confetti" sprinkles that topped the cupcakes. I looped a bit of ribbon around each skewer, and the toppers were finished!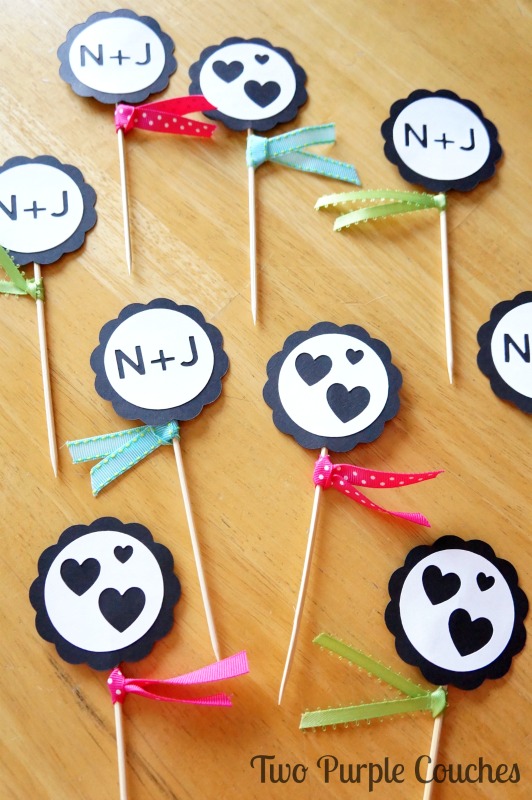 Half of the cupcakes were adorned with our toppers and half received some cute faux engagement rings. They were a hit! (And they were delicious!)
The whole birthday/engagement party was a huge success. Everyone had an awesome time, including the birthday girl/new bride-to-be!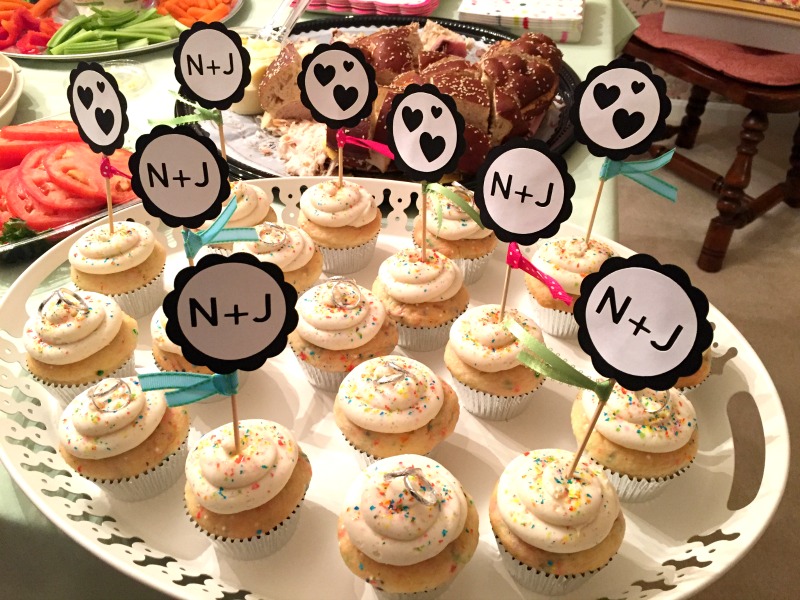 Want to Check Out More Silhouette Projects?
My Silhouette Challenge buddies and I are all sharing projects on our blogs today, so peruse the projects below for a wealth of Silhouette inspiration!
1. Two Purple Couches // 2. Practically Functional // 3. Crafty Bonds // 4. Dragonfly & Lily Pads // 5. From Whine to Whine // 6. Simply Kelly Designs // 7. unOriginal Mom // 8. MamaSonshine // 9. Get Silvered // 10. Made in a Day // 11. Weekend Craft // 12. Little Blue's Room // 13. The Stamp Doc // 14. The Thinking Closet // 15. Cupcakes&Crowbars // 16. Where The Smiles Have Been // 17. DIYJustCuz // 18. My Paper Craze