DIY this elegant, easy Christmas centerpiece for your table! All you need are cranberries, greenery, and a simple glass vase and candle.
You want your Christmas centerpiece to be the star of your holiday table, right? But you don't have to spend a lot of time or money to come up with an elegant idea. A simple trip to your local grocery for fresh cranberries and vase filler from the floral department is all you need to create a stunning natural DIY centerpiece!
If you saw yesterday's Christmas decor tour of my dining room, then you already caught a glimpse of this simple and oh-so-pretty Christmas centerpiece. Today I'm going to share an easy tutorial to show you how to make your own version to decoration your table for holiday dinners and parties.
The great thing about this Christmas centerpiece, besides the fact that it's inexpensive, is that it's also adaptable to what you're able to find in your area. If you're coming up empty handed in your grocer's floral section, you can create this look using evergreen trimmings or faux greenery from the craft store!
This post contains some affiliate links for your convenience. Click here to read my full disclosure policy. 
How to Make a Natural Christmas Centerpiece:
Materials Needed:
Live Greenery

I purchased two bunches of Leather Leaf from my local grocery's floral section. If you can't find Leather Leaf, fresh or faux Cedar branches or Eucalyptus would work well.

Baby's Breath
Fresh cranberries
Embroidery hoop

Any size between 9″ and 12″ should work, depending on the size of your hurricane vase, or whatever you plan to place in the center of the ring.

Wire cutters
Hurricane vase
Pillar candle
Tutorial:
1.) Start by separating your embroidery hoop. You'll only need one ring to make this Christmas centerpiece; either the interior or exterior hoop will work. Then use the floral snips to begin trimming off small stems and fronds of the greenery. I'd recommend laying out a drop cloth or old placemat on your work surface as this project can get messy!
2.) Cut a small piece of floral wire. Select a stem of greenery and wire it to the hoop. Select another stem and overlap it slightly on the first piece, securing both with floral wire.
3.) Continue overlapping and wiring stems of greenery until the hoop is filled to your liking. I snipped a few smaller stems to tuck into holes and bare spots.
Then snip off sprigs of Baby's Breath and tuck these into the center of the greenery. You shouldn't need to wire these in, but you can if you'd like. It took me under an hour to put this Christmas centerpiece together.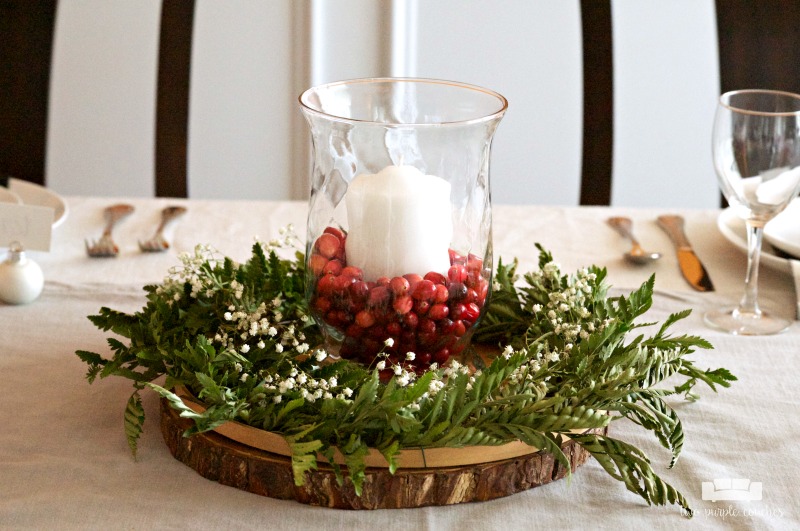 4.) Place a pillar candle in a hurricane vase and add fresh cranberries about halfway up the candle. Place in the center of the greenery and your natural Christmas centerpiece is complete!
It should go without saying that because this Christmas centerpiece is made with real greenery, it will not last forever! If you'd like to display this for a specific party or dinner, I'd suggest making it the night before or even the morning of. You can keep the greenery and Baby's Breath in a vase of water for a day or two until you're ready to use them.
Love this? Don't forget to pin it or bookmark it!