Confession: I'm surprising myself left and right with my updated Fall mantel decor. Firstly, these decorations were up before the month of September even began. I'm never this ahead-of-the-game. I used a lot of lighter wood tones, which I rarely do, and some new flea market finds. I don't even know who I am anymore!
But I totally love how this Fall mantel decor came together. And I think it's perfect for "Early Fall". It's light, bright and full of texture! Oh, and purple, of course (wink).
My old mantel decor had been up since, ahem… January. To say I've been neglecting my decor this Spring and Summer would be an understatement. With my surgery and recovery time, updating my decor for the seasons was the last thing on my mind. But I'm glad to be getting back into the seasonal swing of things and adding some fresh Fall touches around the house. It's time for something new!
Last month, my girlfriends and I headed down to Burlington, Kentucky for the monthly Burlington Antique Show and Flea Market. The last time I went to this show, I came home with a side table that got a special makeover, and a feature in HGTV Magazine! This time, I came home with an old wooden beer crate and a pile of various wooden spools. I wasn't sure what I was going to do with them until I started redecorating my mantel—and then I got really inspired!
There's something I love about the tones and textures in these old wood spools. They'd work for any season of the year, but there's something about texture and Fall that go hand-in-hand in my mind.
I knew these items would pair perfectly with some of my existing decor. So I dug out my bin of Fall decorations and started mixing in my old favorites with these wooden spools.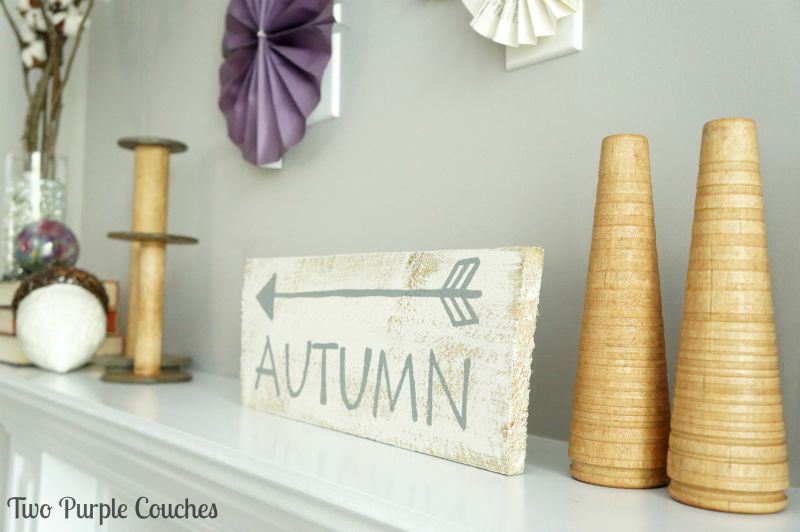 And of course I couldn't abandon my signature color—purple! I've talked before about my struggle of decorating with traditional Fall colors. Last year I went with a bright yellow palette (you can check it out here), but this year I thought it would be a neat twist to incorporate purples with all these light woods and neutrals.
One way I mixed in purples was with these fabric-and–wood-block pumpkins that I made recently. I'll be sharing a full tutorial on how I made these with VRAI Magazine later this month, so be sure to check back for that (wink). Update: You can find the tutorial right here. 
I loved my paper pinwheels too much to take them down (learn how to make them here). I edited them a bit, keeping a couple of the purple pinwheels and then working in the smaller book page pinwheels.
This decor is a bit non-traditional for Fall, but I love it, and that's all that matters!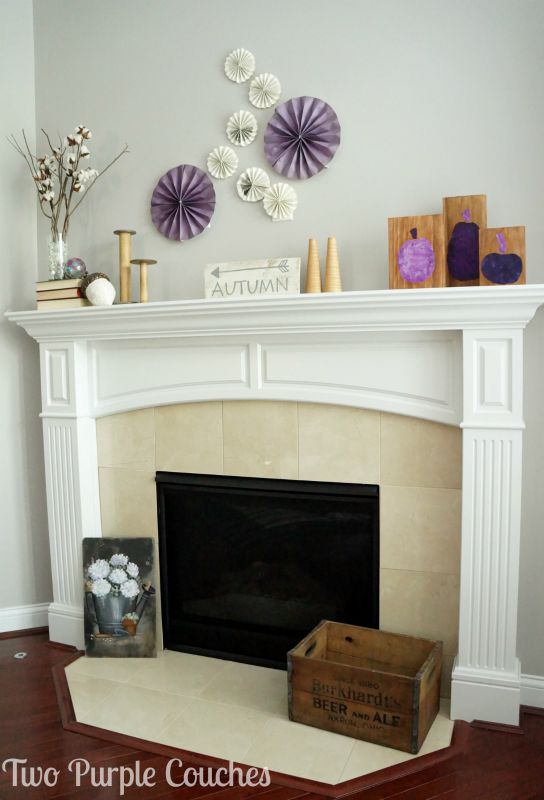 Sharing with: Merry Monday / Awesome Things Tuesday / Work It Wednesday