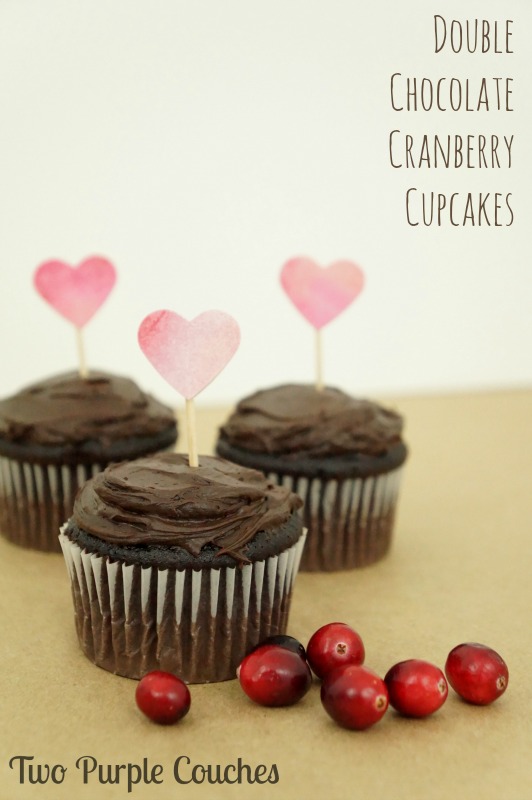 Chocolate is one of my weaknesses. Especially if it falls into the category of dark, bittersweet, double, fudgey or cake. Then just stick a fork in me—or rather into one of these double chocolate cranberry cupcakes—because I'm done.
It all started with a box of chocolate cake mix I found in the pantry. While the hubs and I have been making a concerted effort this year to cut out extraneous sugar and sweets, I couldn't just let this poor box of cake mix go to waste. Plus, we were heading to a friend's house for dinner and I was going to bring the dessert. I'd still get to enjoy a bit of chocolate, but not be burdened with (or guilted into) eating 24 cupcakes myself. (But I'd totally be up for the challenge…)
Then I was reminded of the bag of fresh cranberries I bought around the holidays and hadn't used yet. Suddenly, I had an idea for a delicious sweet-and-tart combination!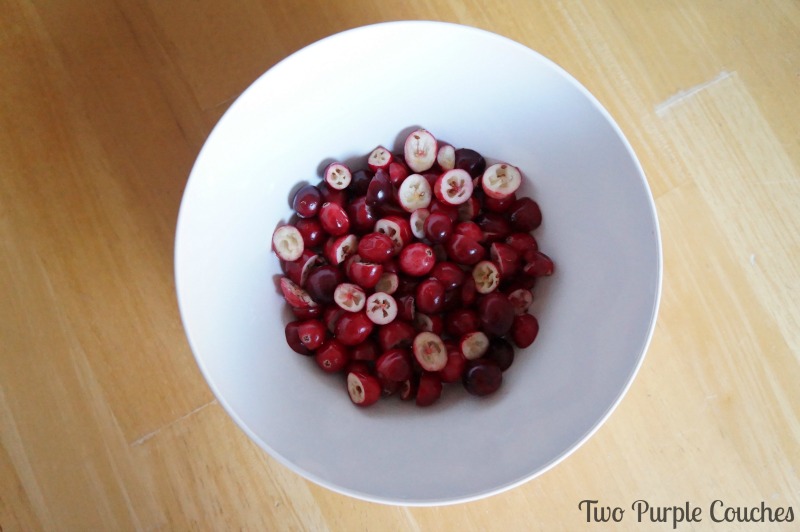 These double chocolate cranberry cupcakes came together very easily. I added about half a cup of chopped fresh cranberries to the cake mix, made according to the box instruction. In hindsight, I wish I'd added more cranberries, more like one cup, as just a half a cup kind of got lost in the batter.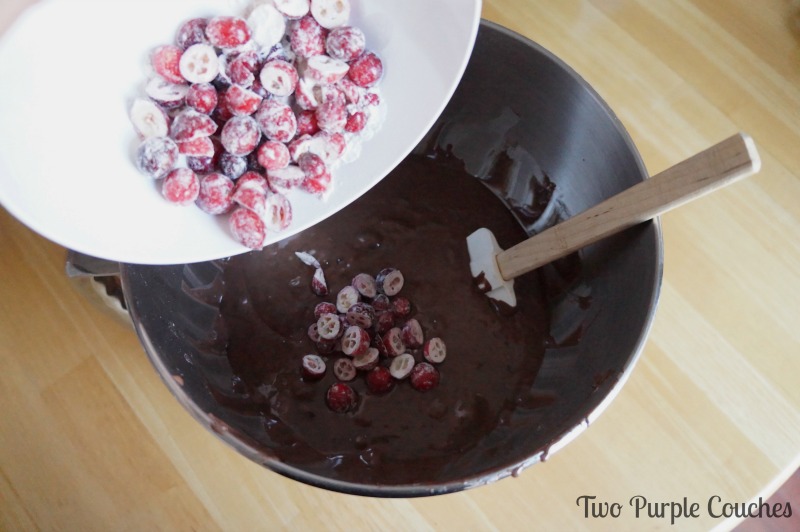 I tossed the chopped cranberries with a bit of flour before adding them to the batter. I've read that this is supposed to help keep them from sinking to the bottom. Then I folded them into the batter and used a cookie scoop to portion the batter into cupcake tins lined with foil papers. Bake according to box instructions. Once the cupcakes were completely cooled, I frosted them with dark chocolate icing. Because double chocolate is always better than single chocolate in my book!
I also wanted to add a splash of Valentine's Day fun to these cupcakes, so I make these pretty heart toppers for my double chocolate cranberry cupcakes. I'll be sharing how I made these later this week!
In my book, you can't go wrong with chocolate cupcakes with chocolate icing, but the cranberries help kick things up a notch in the flavor and texture arena. They cook down and pop while baking, so the texture becomes something like a juicier dried cranberry when you bite into them. Again, I wish I'd been more generous with the amount of cranberries I added to the cupcake batter!
These double chocolate cranberry cupcakes are a treat we definitely savored!
Love chocolate? You might also like this recipe: