I often find myself roaming the aisles of home decor stores solely for inspiration. Do you ever do that? I know there's a good chance that I can make my own versions for less than what the price tag says, especially when it comes to artwork! Like this watercolor and vinyl quote art, for instance…
While at HomeGoods recently, I spotted a whole section of quote art. Some were on canvas, some were framed prints, but all carried a price tag of at least $15 and up. While some of the prices certainly weren't breaking the bank, I knew I had an empty frame and gold vinyl at home, and could make my own version in any color combination I chose. So that's exactly what I did! (wink)
Quote art might just be my favorite type of art. There's something about having inspirational words and mantras right in front of you each day that helps me remember to stay on task or not to sweat the small stuff. And the best party about making your own is that you can customize it with your favorite phrases and reminders!
I love how this watercolor and vinyl quote art turned out, and I loved the process of making it. Watercolor has become my new favorite medium, thanks to a recent creative mini-retreat inspired by my friend Jennie's new workbook. (I'm sharing the details about how I got started with watercoloring here).
To make the watercolor circles print, I used 140lb watercolor paper (cut to fit my 8″x10″ frame), my set of Koi watercolor paints and round cookie/fondant cutters in various sizes. You could also freehand your circles, but I wanted mine to be crisp.
I didn't trace the circles, but placed a cookie cutter on my paper, picked up some color with my brush and traced the circle directly with my brush. I stuck to the yellow-peach-orange-pink family of colors and mixed my own shades using the empty palettes. This gave me a much richer range of colors than just picking up exactly what comes in the paint palette. Plus I just like experimenting with different combos!

When my page was filled with circles, I moved onto making my vinyl quote in Silhouette Studio. I knew I wanted a font with a hand-written look, and ended up selecting Mawns Handwriting (free for personal use) from dafont.com. I played around with the dimensions each word individually until I got them to the size I wanted, roughly 1.5″ tall and 4-5″ long. Then I tried something new to help with the cutting process – I drew "weeding boxes" around each of my words using the Rectangle tool. This made it a lot easier to weed out the negative space around my letters versus fighting with the whole section of vinyl on my mat.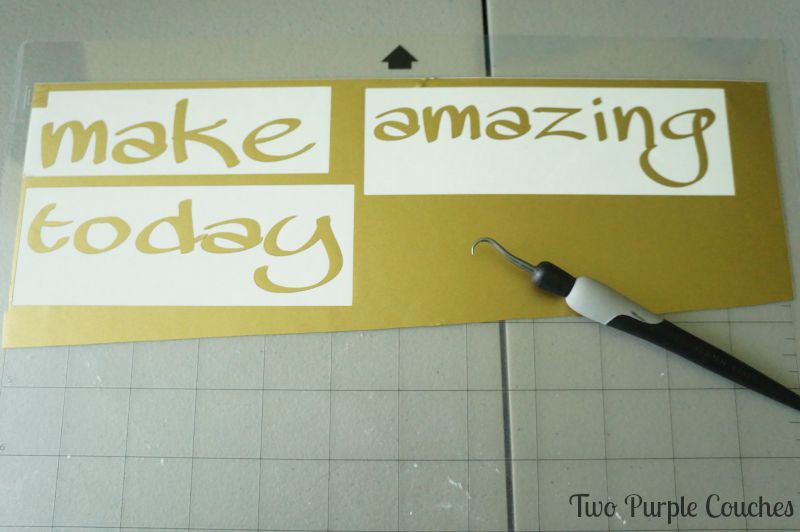 Also, does anyone have any idea why my blade never seems to cut through both the vinyl and the adhesive backing? I've had this happen on several vinyl projects, so I wind up removing the vinyl I don't want and then picking up what I do want with transfer tape. This process has been working fine, I just find it strange that my blade never seems to cut through both layers! (The blade was set to the suggestion for Silhouette brand vinyl, too)
Okay, now back to the tutorial… Once the words were cut and weeded, I picked them up with a piece of transfer tape and positioned them on the middle of the glass for the frame. I found it helpful to place the watercolor print on a table, then the glass (sans frame) to get a good view at how this whole thing would come together.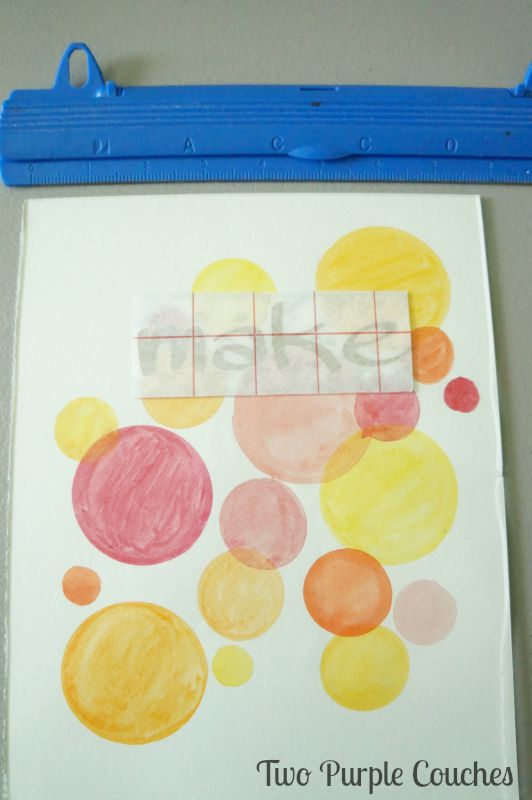 It may be easier to start with the middle word first, get that centered and then place the remaining words above and below it. I had every intention of doing this, but didn't remember until I'd already placed "make" onto the glass. Oops! Oh well! It still worked out fine!
I can't help but drool a bit over those citrus-y colors. This is one of my favorite palettes, and this print will pair perfectly with my tangerine-and-magenta office!
Oh, and guess what? Today is Silhouette Challenge Day for August! This month's theme is Home Decor, which means there are a bunch more ideas coming your way!
Want to Check Out More Silhouette Projects?
My Silhouette Challenge buddies and I are all sharing projects on our blogs today, so peruse the projects below for a wealth of Silhouette inspiration!
1. Whatcha Workin' On? // 2. Two Purple Couches // 3. Made in a Day // 4. Ginger Snap Crafts // 5. Architecture of a Mom // 6. Simply Kelly Designs // 7. Crafty Bonds // 8. Practically Functional // 9. DailyDwelling // 10. DIY Just Cuz {Sam} // 11. unOriginal Mom // 12. Decor Adventures // 13. Creative Ramblings // 14. My Paper Craze // 15. Where The Smiles Have Been // 16. Get Silvered // 17. DIYJustCuz {Brittany} // 18. Weekend Craft // 19. Create & Babble
Sharing with: Something To Talk About /  Inspire or Be Inspired  / Welcome Home Wednesdays