In case you missed it, I shared this over on my friend Jenna's blog, Rain on a Tin Roof, last week. But it's just too cool not to share with you, too!
I gotta say, I'm pretty pleased with how this DIY turned out. This is probably one of my favorite projects next to my side table makeover.
Legend has it that my Grandma took this old staircase spindle and made it into a candlestick holder. (I'd like to think I come from a long line of clever diyers and upcyclers, so we're going with this story.) I, however, don't burn many candlesticks. Or any, to be exact. I have a hard time remembering to turn on my flameless candles. But, I knew I could make this into something cool. And after seeing numerous clever ideas for necklace organization on Pinterest, it hit me that this spindle would be an awesome way to corral and display my ever-growing jewelry collection.
I started off by lightly sanding and painting the spindle in Tropical Oasis by Valspar. After two coats, she was ready for the finishing touches. Here's where I have to give some credit where it's due – to my husband. He kept suggesting that I shape pieces of wire to sprout out of top. I realized he was right, and that this would look pretty cool.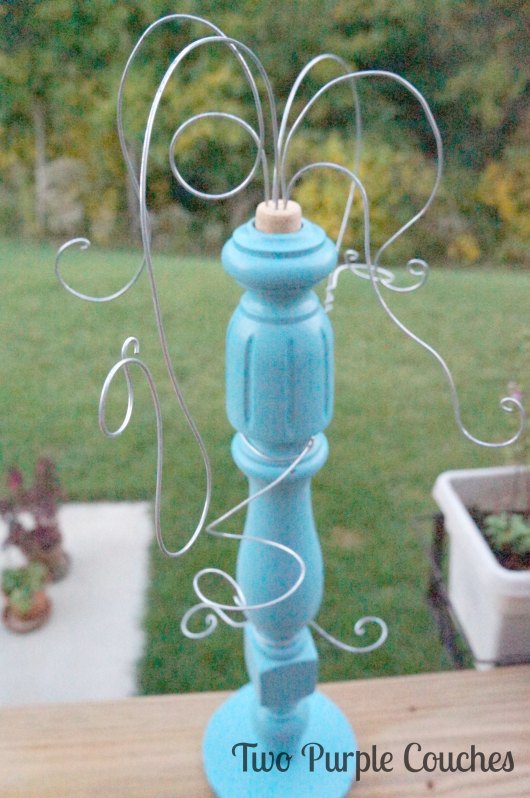 We used wine bottles to shape our pieces of wire, making some larger and smaller curves. (Yes, the fancier ones are his.) Then I jammed a wine cork into the former candlestick hole, and inserted the wire pieces into the cork. Easy-peasy!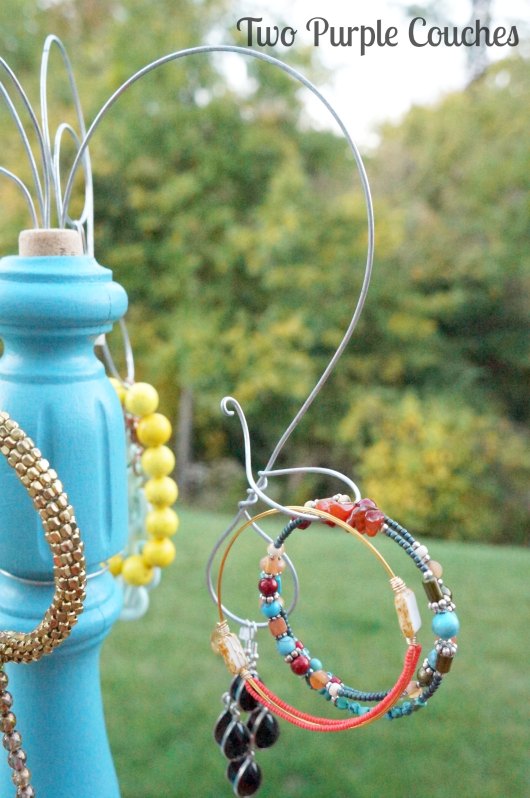 And now I have a bright, bold, kinda quirky way to show off my favorite jewelry!
Sharing with:
Share It Sunday