Surprise! I've tried yet another Darby Smart craft! Okay, probably not that surprising if you've been around here for a little while.

As much as I love to while the hours away in craft stores, I also love the concept of Darby Smart – i.e. giving you just the supplies to you need to get a project done. And hopefully mitigating some tendency to hoard craft supplies. (Please don't tell me I'm the only one who accumulates tons of different craft supplies, and maybe only uses some of them once??)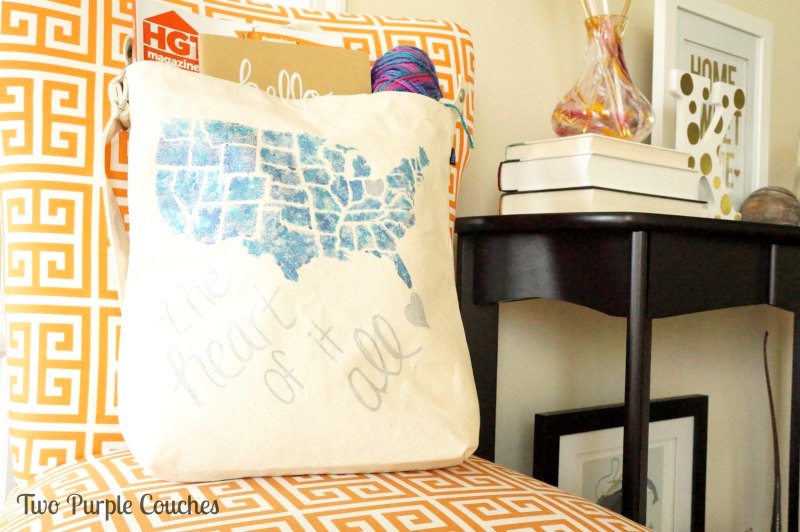 This "State-ment" Tote kit caught my eye. Well, who are we kidding? I pretty much bought it for its punny name. But, I was thinking of diying a tote bag anyway, so why not try out this kit? Turns out that the tote is extremely sturdy, durable and roomy! And I liked the idea of showing some state pride. I feel like Ohio gets overlooked sometimes. Poor Ohio.
The kit I ordered came with the USA stencil, along with a few different types of paints and paint pens so I could pick and choose what I wanted to create my look.
For the majority of the stencil, I loved the idea of a kind of paint-splattered watercolor look, mixing up the provided teal and blue paints. They were supposed to be spray-able, but the sprayers got clogged after a few squirts, and were a bit messy. So I poured the paints into a plastic dish and used a brush to dab on and mix the colors.
I decided to highlight Ohio by filling it in with the provided silver paint pen. Then I added the old state slogan – "the heart of it all" with a silver paint pen.
Lil old Ohio is getting some love! And I'm really happy with the swirly/splattery effect of the teal and blue paint.
You can see the previous Darby Smart projects I've done here and here.
Have you diy'd a cool tote bag recently? Or maybe tried a Darby Smart kit? What do you think?
*I solemnly swear I am in no way affiliated with this site, nor was I paid to write this post. The opinions above are my own, about an awesome site/brand/product/artist that I want to share with you*
Linking up with:
Work It Wednesday