Paper lantern ice cream cones are an easy DIY decoration for a baby shower or ice cream party. Learn how to make them with this simple tutorial.
Hosting an ice cream social or ice cream themed shower? These paper lantern ice cream cones make the sweetest DIY party decorations! My simple tutorial will show you how to make your own ice cream party decor using paper lanterns and a few other materials.
If you saw the recap of the ice cream themed baby shower I hosted, then you got a glimpse of these cute paper lantern ice cream cones. Click here to see more from the Here's the Scoop Baby Shower. They added scoops of fun to our ice cream party & were fairly easy to DIY. Keep reading for the full instructions…
This post contains some affiliate links for your convenience. Click here to read my full disclosure policy.
How to make paper lantern ice cream cones
Materials Needed:
Paper lanterns (9.5″)
Construction paper in a variety of colors
Paper trimmer

This is optional, but saves time for cutting the construction paper sprinkles

Brown marker
Ruler (optional)
Scissors
Hot glue gun
Stapler
Tutorial:
1.) Carefully assemble the paper lantern according to the package instructions. Work with the top of the lantern facing you.
2.) Cut construction paper into strips measuring about 0.5-inches wide by 2-inches long. Use a variety of colors to coordinate with your party colors. Instead of the traditional rainbow, I opted for more pastel-inspired pinks, purple, yellow, cream and mint to fit the ice cream baby shower I was throwing for a little girl on the way. I used my Fiskars Paper Trimmer and was able to cut plenty of sprinkles in a short amount of time.
3.) Use the Double-sided Tape Runner to attach each sprinkle to the top of each paper lantern. Cover about 1/3 of the lantern with sprinkles.
4.) To make the cones for your paper lantern ice cream cones, start by making a template. (I searched online for instructions on how to make a cone and scaled it to fit my paper lanterns). Trace it onto the Postal Wrapping Paper to make as many cones as you need and cut out with scissors. Use a brown marker and a ruler (optional) to draw a grid on each cone so it looks like a sugar cone once assembled.
5.) Assemble cones and secure with double-sided tape runner and a staple or two.
6.) Use a hot glue gun to attach each paper lantern "scoop of ice cream" to a cone. Allow glue to dry overnight before hanging up the paper lantern ice cream cones.
I hung a few of these paper lantern ice cream cones around our house. I saved two to hang from the construction paper awning I made to fit over this chalkboard, which I turned into a Scoop Shop sign. They looked so cute, I was a little sad to take them down after the baby shower!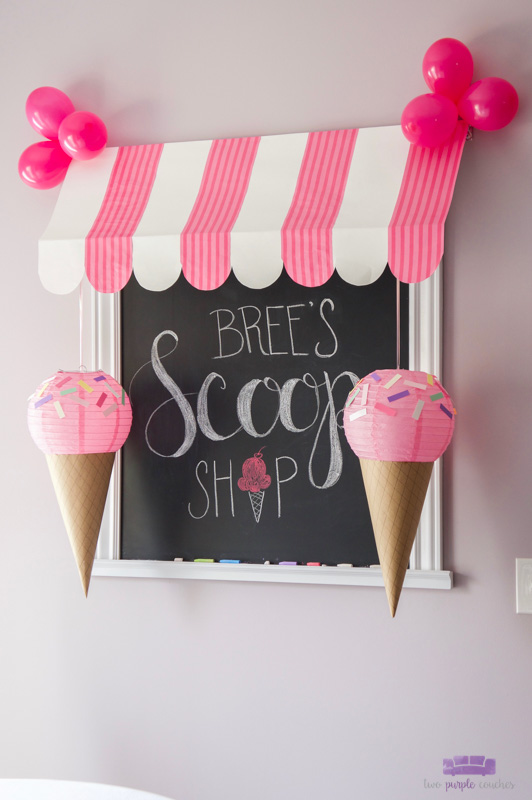 Want to see another cute paper lantern DIY project? Check out these Paper Lantern Jellyfish I made for my daughter's narwhal-themed first birthday.
Love this? Don't forget to Pin It and Bookmark It!