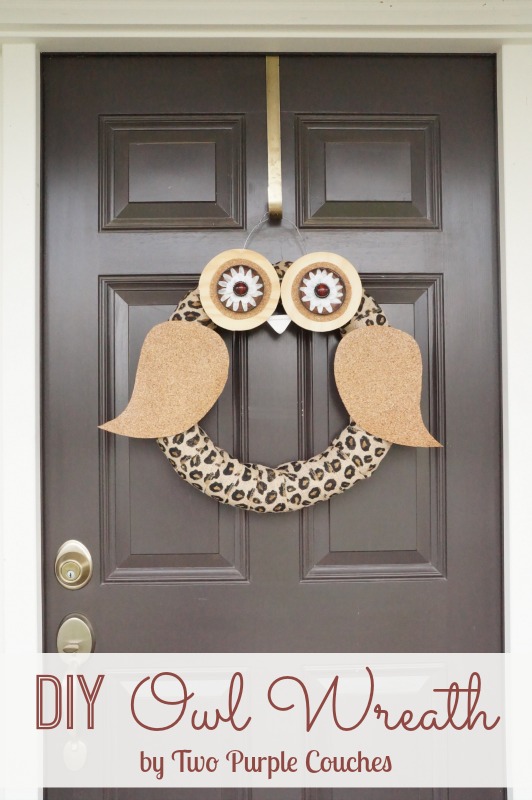 Some seasons, you're feeling your wreaths, and others, you aren't. That's the case this Fall. I'm just not feeling the Fall wreath I made a few years ago. But when I came across an idea for a DIY owl wreath, I knew I'd found my next crafts project!
I love owls. I think we've talked about my love for owls here and there. And I think I've got at least one owl in nearly every room in our home. So why should my front door miss out on all the fun??
I spotted this owl wreath in the September issue of Country Living Magazine as, appropriately enough, the hubs and I were traveling to Columbus, Ohio for the Country Living Fair. And as soon as I saw it, I knew I'd found my next wreath project.
My twist? I wasn't going to purchase a single thing to make this wreath. I have so many bins and bags full of crafting supplies, and I was determined to make up my own version without spending a dime. It was a fun challenge, and my wallet is happy to say that I succeeded! I dug through every bin, bag and box I've got, and even our pile of scrap wood, to make up my owl buddy.
If you don't have bins full of craft supplies or a scrap wood pile, no worries! I'll show you what I used so you can source materials to make your own DIY owl wreath. This post contains some affiliate links for your convenience. Click here to read my full disclosure policy. 
How to make a DIY Owl Wreath:
Materials Needed:
printed burlap ribbon

I used a leopard-printed ribbon, but you could use a different printed burlap ribbon or plain burlap ribbon.

two disks of scrap wood
scrap piece of window trim
jar lids
faux flower petals
two bottle caps
two large wooden beads
hot glue gun and glue sticks
Outdoor Mod Podge

If you plan to hang this wreath on your front door or anywhere outside, be sure to get the Mod Podge for Outdoor Use. Regular Mod Podge may not withstand the elements.
Tutorial:
1.) Wrap the wreath in burlap ribbon. Secure the ribbon with a few drops of hot glue as you go. I recently "inherited" a bag full of printed burlap ribbon from Tom's aunt (Thanks Nancy!!). You saw me put some of the zebra-printed ribbon to use in my Swap It Like It's Hot project. I thought the leopard-printed ribbon would be sort of a fun take on a Spotted Owl. Tee hee.
Step 2: Assemble the eyes. This step is really like three steps in one. Start with the eye base by hot gluing the cork disks to the wooden disks. To make the inner eyes, hot glue loose faux flower petals inside each jar lid. I used the lids to salsa jars, but you could use any lid, including a mason jar lid. I glued down the outer circle of petals first—these are from faux gerbera daisies—and then the inner circle of smaller, rounded petals. Once dry, I added a bottlecap and a large wooden bead to each.
Once the inner eye is assembled, hot glue to the cork-and-wood eye base.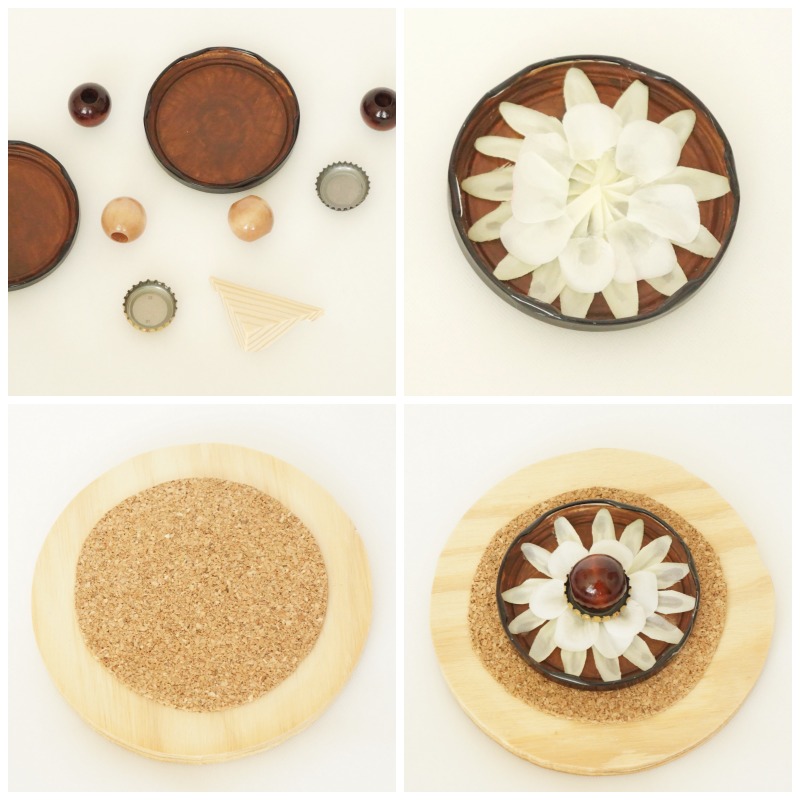 Step 3: Add a nose. I used a triangular piece of scrap trim from our master bedroom window project. I love how the ridges of this trim piece sort of look like a beak!
Step 4: Add the wings. Cut each teardrop-shaped wing from a roll or sheet of craft cork. Mine kept curling in on themselves, so I braced the backs by adding a couple of pieces of paint sticks with hot glue. Then I brushed the cork wings with a coat of Outdoor Mod Podge since the front of our house experiences a fair amount of rain and wind, and I want this wreath to last for a while. Use hot glue to attach the wings to the burlap-wrapped wreath.
Once all of the glue is dried and the pieces are securely attached to the wreath, string a wire through the burlap and you're ready to hang your cute new DIY owl wreath!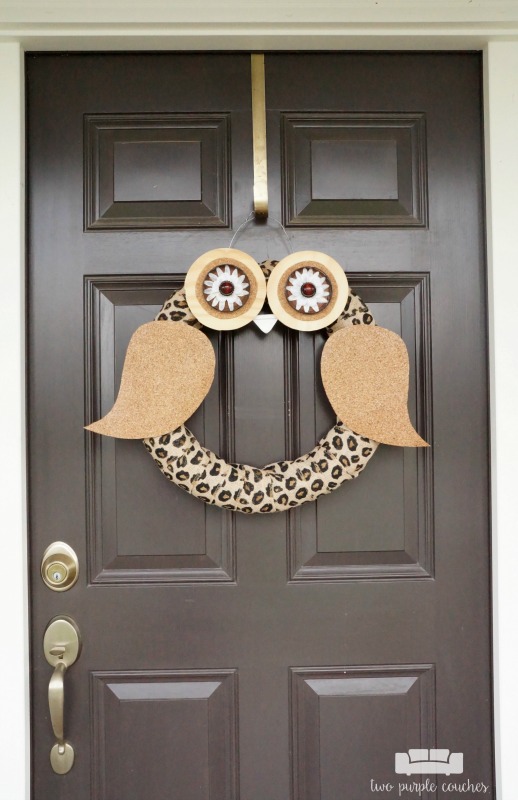 Doesn't he look perfectly at home on our front door!? I'm seriously tempted to make three more of these: one for winter, spring & summer. Can you imagine an owl wearing a Santa hat at Christmas, or wrapped with brightly-colored burlap ribbon for the summer? Ahhh… the possibilities are endless!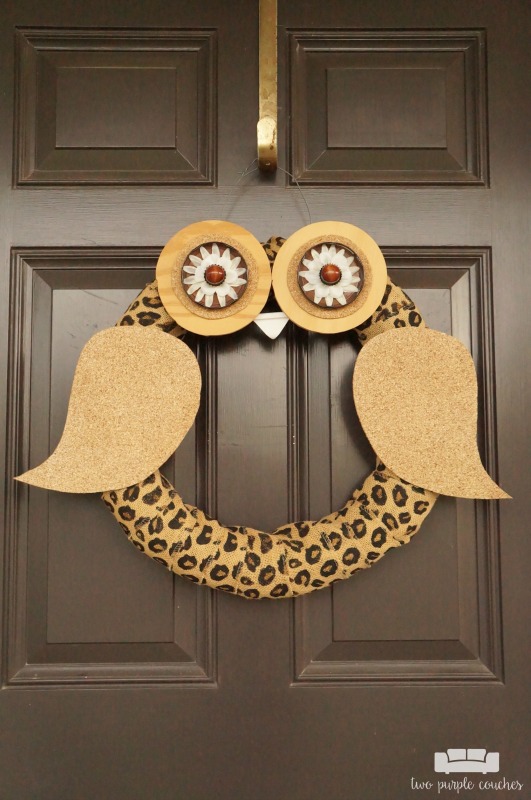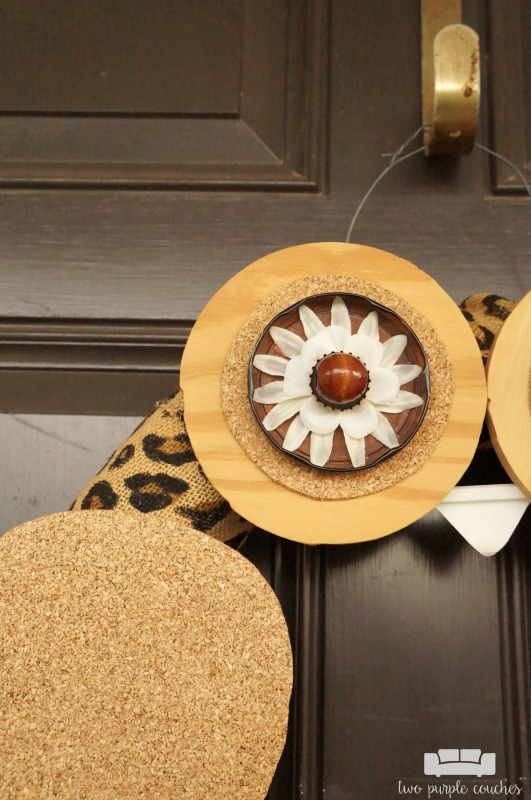 Sharing with: Creative Spark / Work It Wednesday / Outside the Box / Weekend Re-Treat / Share It Sunday / Monday Funday / Submarine Sunday / Dream Create Inspire Link
Love this? Check out more Fall door decor: