Happy New Year, my friends! I hope your year is off to a creative start! I got some fantastic new art supplies for Christmas and have been enjoying experimenting with them. I used them to create my first official craft project of 2016—this DIY journal cover.
I want to learn more hand-lettering techniques this year, and I think one way I'll stick to it is to have a dedicated notebook to practice. I've had a few plain white hard-cover journals for years, but have never decided what I wanted to do with them.
As part of my hand-lettering goal, I am following along with A Hand-Lettered New Year from Amy Latta of One Artsy Mama. Each day there is a journal-style prompt and lettering challenge.
But before I could dive into the daily challenges, I needed to spruce up one of these plain-Jane journal covers!
I received some Staedtler pigment liners and Faber Castell Gelatos® for Christmas. The Gelatos® sort of feel like oil pastels when you use them on paper, but they are super versatile. To make this journal cover, I used water to blend them, with sort of gives an effect like watercolor paints! So cool! I can't wait to experiment more with these!
But, I am getting ahead of myself. Let me show you how I made my journal cover.
What I used:
Staedtler pigment liners in 0.8 and 0.2 tips
Faber Castell Gelatos® in Watermelon, Peach and Guava
Glittered cardstock and circle punch
paintbrush and water
pencil
ruler
How I made my journal cover:
I came across this quote while searching for inspiration on Pinterest, and I knew it was the perfect sentiment for my journal. I decided to start with the lettering: evenly measuring four lines down the height of the journal and sketching each letter in pencil.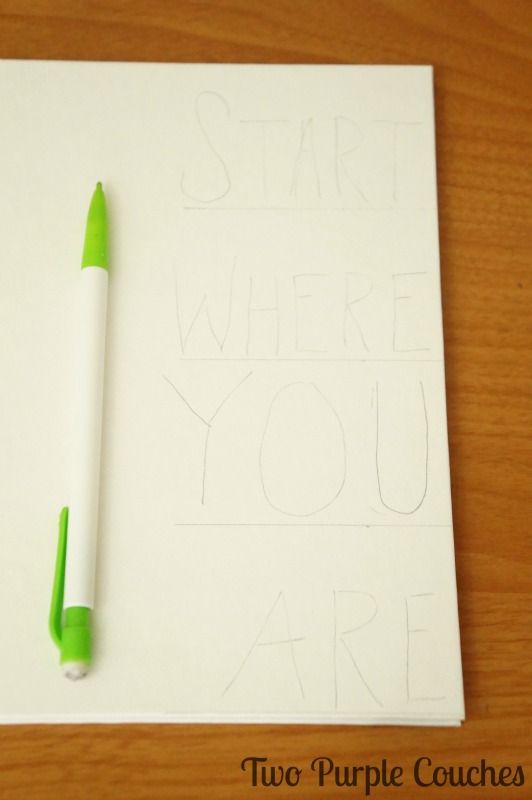 Then I went over the pencil sketches with a pigment liner. I used the 0.8 tip for all of the letters and a 0.2 tip for the embellishments.
Once the lettering was done, I picked out the Gelatos® I wanted. I selected the colors Watermelon, Peach and Guava. I love lots of colors, but these pink and peachy hues are ones I come back to time and time again.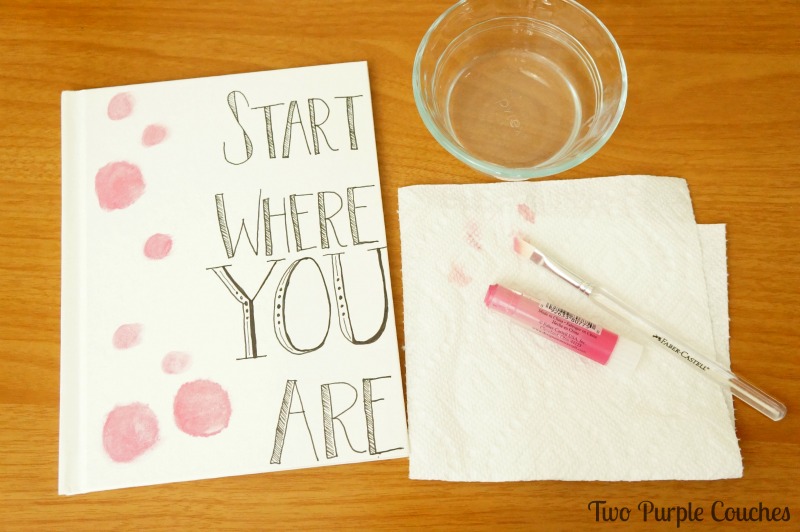 Starting with the Watermelon color, I drew several circles in various sizes. Then I grabbed a paintbrush, and this is where things get really cool! Lightly dip a brush in water and begin working it into the color. It becomes really creamy and creates an effect similar to watercolor paints.
I did this with the next two colors and played with overlapping and blending some of them together to create different tones and effects.
I wanted one last bit of embellishment to my DIY journal cover, so I added a few circles of glitter cardstock "confetti". And now my journal is all ready for this month's hand-lettering prompts!
I find that I am better at sticking with challenges when I have a dedicated space for them. This notebook doesn't have a ton of pages, but it should get me through this month's worth of prompts. Then I may switch over to a larger sketchbook.
Do you have any creative goals for this year? I'd love to hear what they are!