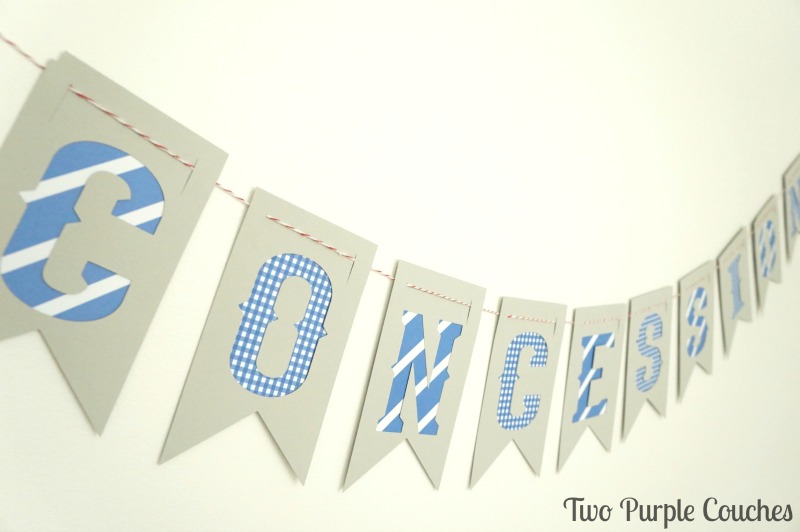 I'm back with more baby shower DIY projects today! This was one of my favorite details from the baseball themed baby shower – the Concessions banner. It's such a fun and simple way to turn the food table into part of the theme!
This is a pretty easy project, especially if you have a cutting machine like a Silhouette or Cricut. I used my Silhouette Cameo to make the letter flags, and then layered them onto pieces of patterned paper.
I've got a generic banner flag shape saved as an .svg file, which saves me a lot of time when I want to make a new banner. Then I can save off different versions for different projects, like the ravens banner I made for Halloween or the L-O-V-E banner I made for Valentine's Day.
I wanted the letters in my banner to fit the shower's baseball theme, so I wanted them to have a little vintage-slash-sports detail. I found a font called Stadium 1946 that I thought would be perfect.
Once I had each letter laid out inside each banner flag, I grouped them together and sent them through my Cameo to be cut out. Then I cut out small squares of patterned paper to place behind each flag, creating the layered look.
To hang the banner, I threaded each flag onto twine and taped it to the front of the food table!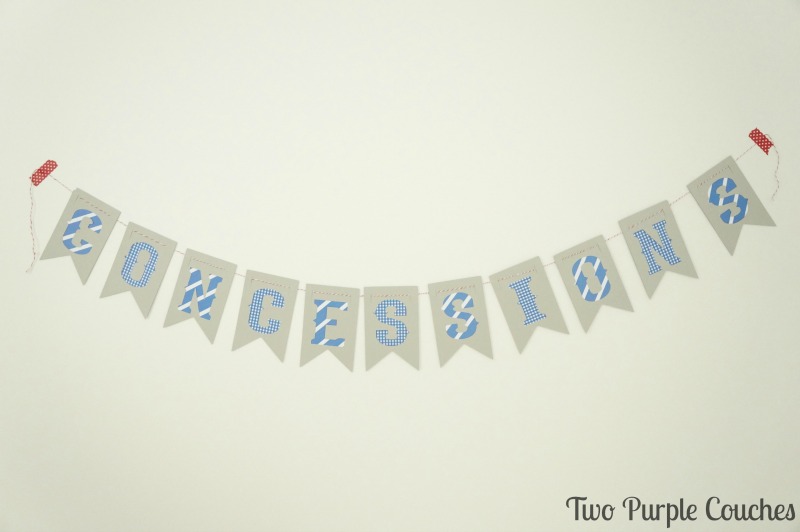 It was a little tricky to capture the banner on the food table, but it turned out great!
I love the way the gray and blue banner bounces off the bright red table cloth, and I think it really brought the whole food table—ahem, I mean Concessions stand—together!
Baseball Baby Shower Series
Here is the full collection of baseball-themed baby shower projects and tutorials for you to reference. These projects would also work well for a baseball or sports-themed birthday party. I hope you find some inspiration 🙂