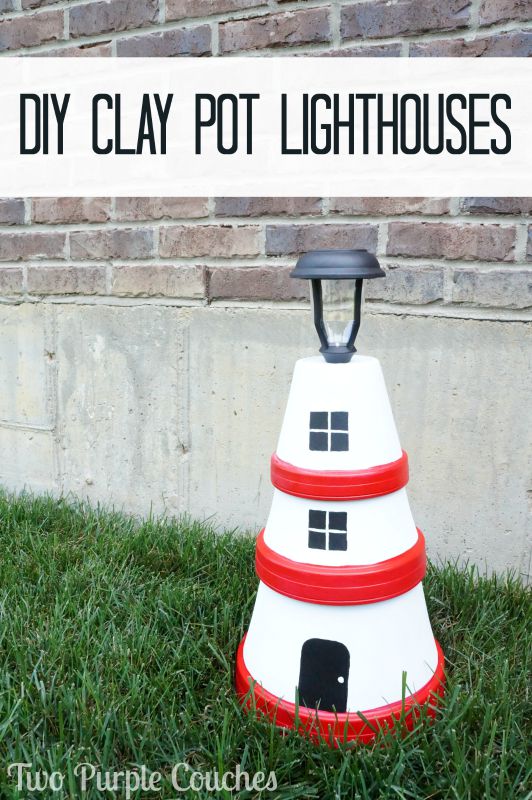 Some men like to display memorabilia of their favorite sports team. Some men are all about their fishing gear. Somewhere along the line, my dad developed an admiration for lighthouses. And it's become sort of a family joke ever since.
So when I first came across these Clay Pot Lighthouses, I knew Dad needed one for his garden.
The concept to make these is pretty simple: you need at least two, preferably three or more, terra cotta clay pots in ascending sizes. I'd suggest playing around with them in the store before buying so you can see how they'll stack together. I purchased a 6″ pot, an 8″ pot and a 10″ pot.
Since this lighthouse will live outside, I wanted to be sure to use outdoor-safe paints so it will stand up to the elements. I started by giving all three pots a few coats of spray primer, followed by a few coats of outdoor spray paint in white.
Once dry, I used Patio Paint in Geranium Red on the rims of each pot. I needed three coats to get good coverage without any splotches or brushstrokes. I also found that a foam brush made the paint go on more smoothly than a bristle brush.
Now my pots were ready for details and assembly! I made templates for the door and windows from an empty cereal box, then painted them in with black Patio Paint. I used Gorilla Glue to attach each pot together – just a thin line of glue along the inside rim of the middle and top pots.
Now, the feature that excited me most was the light at the top. My vision was to use a solar light for the top of the lighthouse, but the challenge was that I needed it to fit through the hole at the bottom of the 6″ pot. I finally found the right-sized solar light at Target. Whew!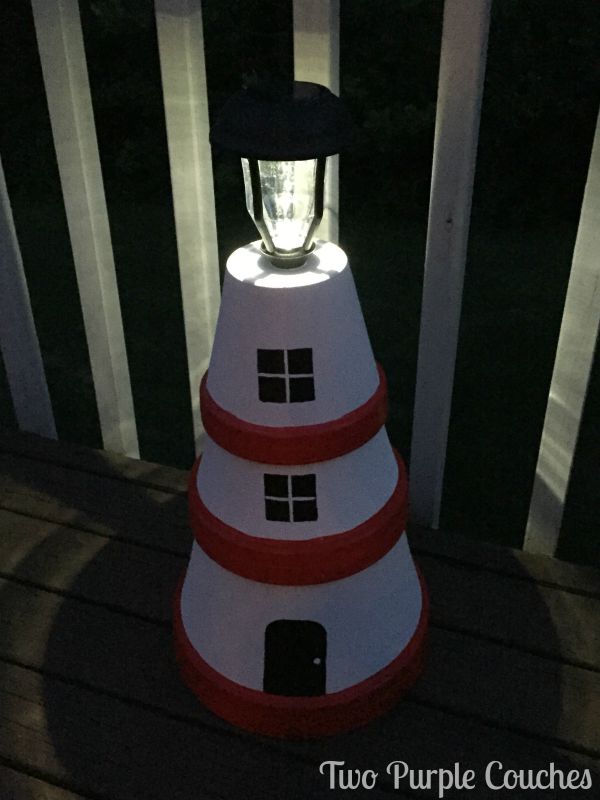 Dad loves his new lighthouse garden art and I was excited to see the solar light in action while we enjoyed dessert on their deck after his birthday dinner earlier this week. I may need to make one of these for our own garden, it's that cute!
Sharing with: Something To Talk About / Weekend Retreat