Welcome to Week 4 of our Room by Room Series. This week is all about bedrooms, but I'm taking a slight detour to show you how I turned one of our spare bedrooms into a craft room!
When my husband and I built our home, we chose a 4-bedroom floor plan. While we may or may not have up to three kids to fill said bedrooms, we wanted to give ourselves space to grow into. Plus we know that 4-bedroom homes tend to see the best return on re-sale value in our area. We also knew we'd need a room to turn into an office for my husband since he works from home every Friday. We decided before moving in which of the rooms would be his office. The other two became dumping grounds for random boxes, Christmas decorations, un-used home decor items, spare furniture, you name it!
I initially intended my office on the first floor to also function as a craft room. But as I've gotten more and more interested in crafting (i.e. as I've accumulated more and more crafting materials and machines), I realized that I wanted a space to make and a space to work. I decided to take over the smallest of our three extra bedrooms and turn it into a craft room for the One Room Challenge back in Spring 2016. You can see my Craft Room Reveal here.
Now that I've had a year to work in my craft room, I realized a major pitfall in my initial furniture placement – having my craft table in the center of the room just wasn't work. It was in the way and made it hard to maneuver around the room. I also needed more shelving for storage and re-organized my supplies to make them easier to access when I need them. Let me give you a tour of my revamped craft room!
This post contains some affiliate links for your convenience. Click here to read my full disclosure policy. 
These two wire shelving units hold the supplies I use most often: paints, adhesives, fabric, my Silhouette Cameo, rolls of vinyl, paper punches, beads and more. I purchased these shelving units at Michaels, but you can find similar options here.
My mom and I have a running thing with otters. She made the quilt for me several years ago. The speaker on the top shelf is a Bose Soundlink and it's awesome. It's a Bluetooth speaker that connects wirelessly to your phone and the sound quality is fantastic. I use it to listen to music or podcasts while I'm crafting. Anyone else can't stand to work in silence?
I used to have my paints divided up, but now they're all on the same shelf. My collection of craft acrylics are in a small tote, and the rest of my paints are stacked. I divided my brushes into mason jars (watercolor brushes, foam brushes, regular paint brushes) so I can easily grab what I need for a project. I made the glitter-dipped "create" letters a few years ago – find the tutorial here.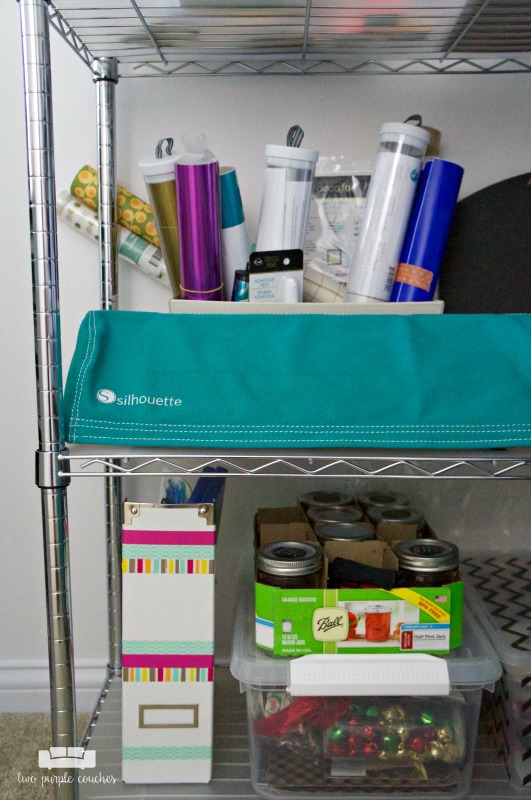 I have my Silhouette Cameo and all my vinyl rolls, stencil material and transfer paper on one shelf. Below it are mason jars and small holiday craft materials like jingle bells, washi tape and holiday ribbon.
Next to the shelving units is my craft table. It's the Crea Craft Table from Wayfair. I chose it because it offers lots of storage, and I liked that you could assemble the sides in different ways to suit your crafting needs. I bought the chair years ago (it's one of two) for my original office design, but it wound up working better in my craft room.
I made the C-R-E-A-T-E letters (here, here, here and here) as well as the magnetic display board beneath them (here).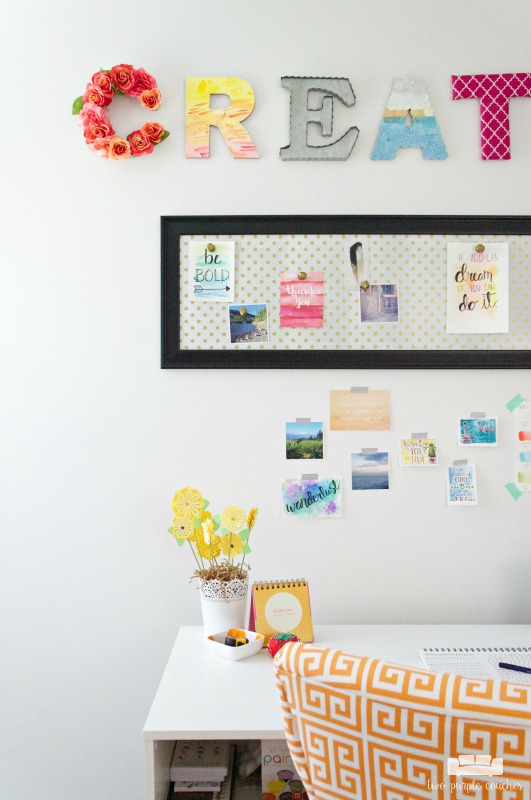 I made this paper bouquet with my Silhouette several years ago. It was time consuming, but turned out really cute!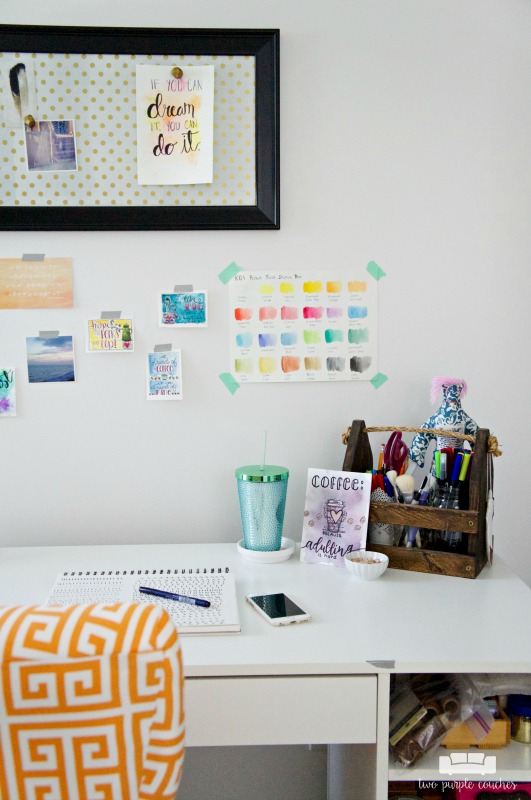 If you don't own a Dammit Doll, consider treating yourself. They are perfect to have on hand when you're experiencing a #craftfail. This was another gift from my mom—she knows me well, haha!
I wish I could take credit for the beautiful coffee art, but I can't! It was a gift from my Snap Secret Sister (Carisa of Inky Fairy Designs).
Moving to the other side of the room, I've set up a couple of old bookshelves for additional storage. I've had these both since college. They're not the prettiest, or the biggest, but they work perfectly for holding spare books, yarn, printer, supplies and my magazine collection.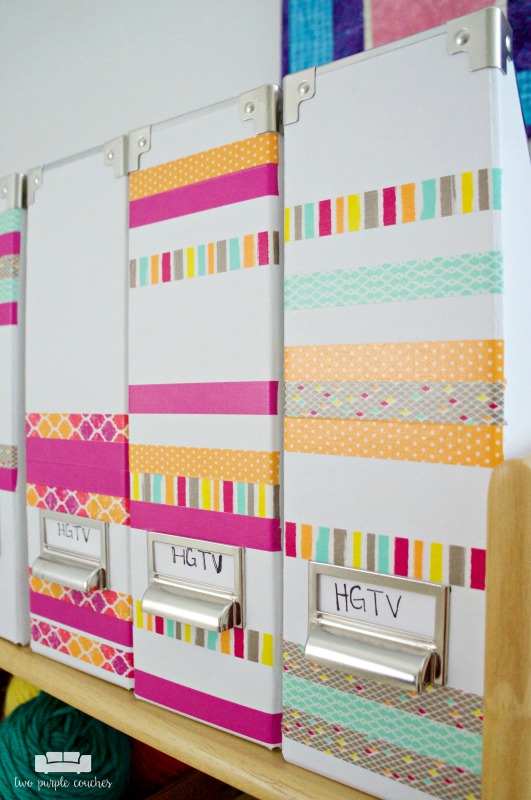 These washi tape magazine holders only took a few minutes to make!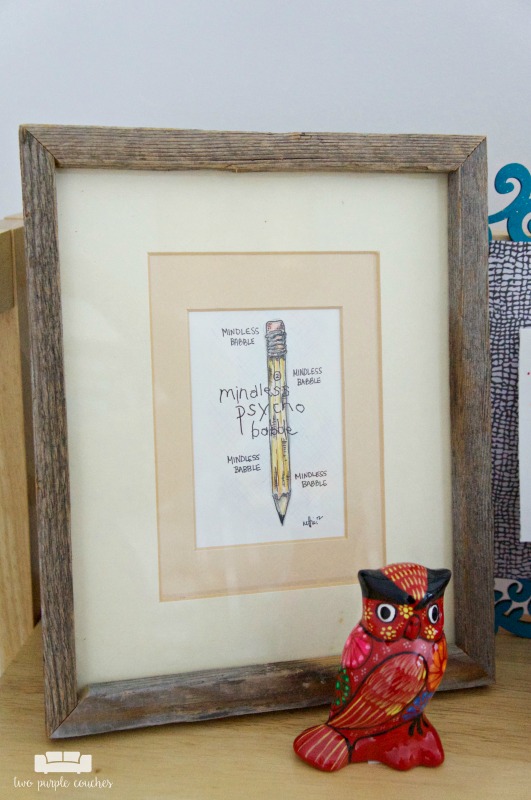 On the wall behind my craft table is my small gallery wall with some of my favorite prints. I do miss being able to look at this wall for inspiration while I'm working, but it was time to turn the desk around!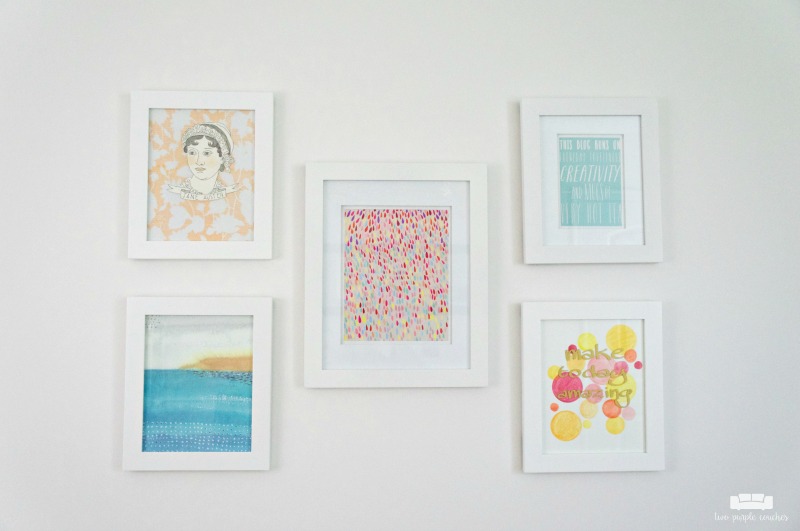 I shared more about the art I picked in this post. I made the one in the bottom right corner with vinyl and watercolors (see it here).
As for future plans for this room, I don't really have any! More/more efficient storage for my crafting supplies would be nice. The long-long term plan is to eventually finish out our basement, and I'd love to designate a large part of it to a custom crafting space with a big table/island and plenty of storage. But who knows if/when that'll ever happen! I hope you enjoyed my spare bedroom-turned-craft room tour. I know it's not the most gorgeous craft room ever, but it holds (most of) my supplies and gets the job done!
If you'd like to catch up on the room tours we've shared so far, you can find them here:
Room by Room Series: Bedrooms