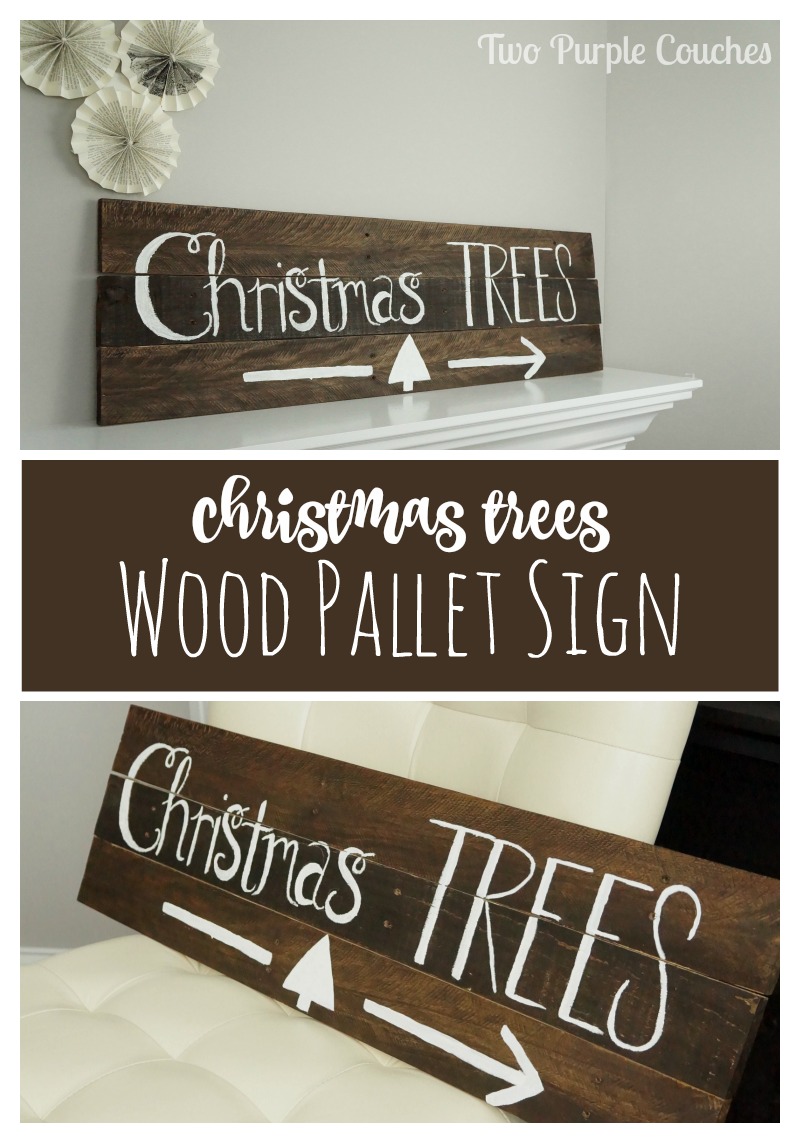 Today is Day 5 of our Holiday Craft Party and we're sharing some spectacular holiday home decor ideas! And I'm super excited to be sharing my Christmas Trees pallet wood sign; this sign turned out so, so cute, and I may have already started decorating my mantel because of it!
But, I'm getting ahead of myself. First things first—I'm going to show you how to make a pallet wood sign!
Okay, I have a confession here… can you guys believe this is my first-ever pallet wood project? I know, I know, it's crazy! There have been two wood pallets sitting in our garage for, oh, about a year now. I fully intended on breaking them down this summer, but never got around to it.
I was rummaging through our scrap wood pile in the basement looking for something that would work for this project when Tom suggested we bust up one of the pallets. And by we, I mean he. Because that thing was tough to get apart. Maybe because we didn't have the proper tools (someone will be getting a crowbar for Christmas!). But we (ahem, Tom), improvised and eventually he worked three boards loose so I could turn them into this adorable holiday pallet wood sign.
To dismantle the pallet, we yanked out as many nails as we could (which was NOT easy without a crowbar or prybar), and then ended up using a circular saw to cut through three of the boards. This gave me enough wood to put my pallet sign together.
The assembly was pretty simple: after sanding each of the boards with an orbital sander, I laid them on the floor with the back sides facing me. Then I applied wood glue to two pieces of scrap wood and laid these across the pallet boards. I added a few weights to each (heavy books would work as well) so there'd be enough pressure for the glue to set.
After drying overnight, my pallet wood sign was ready for the next step: stain! I am loving the stained look lately, especially when paired with paint. I used the same combo for my wood plank map. I gave the front of the sign one light coat of Minwax wood stain in Espresso. I always use a rolled-up sock for staining; you get a nice coverage without having to sop up a bunch of excess stain. I also stained the side and top edges to finish it off.
The stain needed to dry for 8 hours, so I used some of that time to sketch out ideas for my sign. I wanted a combo of scripty and clean type, so I played around with different styles.
Yes, I hand-painted the lettering on this sign. If this idea makes you break into a cold sweat, by all means, use a stencil. I could have created a stencil with my Silhouette, but I love hand-painting. I find it relaxing. And I discovered a good trick—use chalk to lightly write out the words, then go over the chalk sketch with paint.
I always struggle with getting the right spacing between letters and words, so using the chalk first was really helpful. I could wipe away any wonkiness and re-write it until I got it the way I wanted.
I used a multi-surface satin acrylic craft paint in white, going over each letter several times to beef them up and add some of the calligraphy-esque details. The bottom needed a little somethin', so I painted a simple triangular tree and the arrow.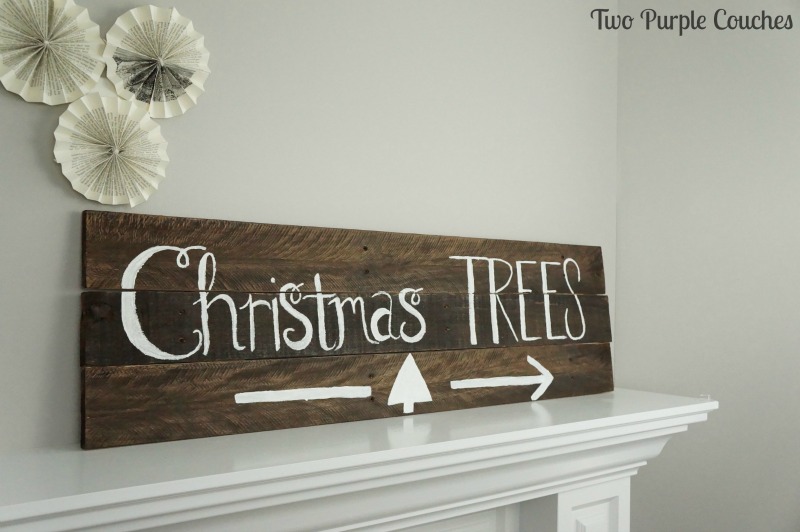 We get a live tree for Christmas, and this sign reminds me of our fun annual tradition. Each year, We go to the same tree lot with my in-laws. My mother-in-law brings cookies to share and we love hunting for the best tree to take home. The people who run the lot know us, and have actually started reserving trees for us! They know what height each of us needs, and how discerning we are with our tree selection! So they always put away a few of their best trees for us to choose from. Now that is service!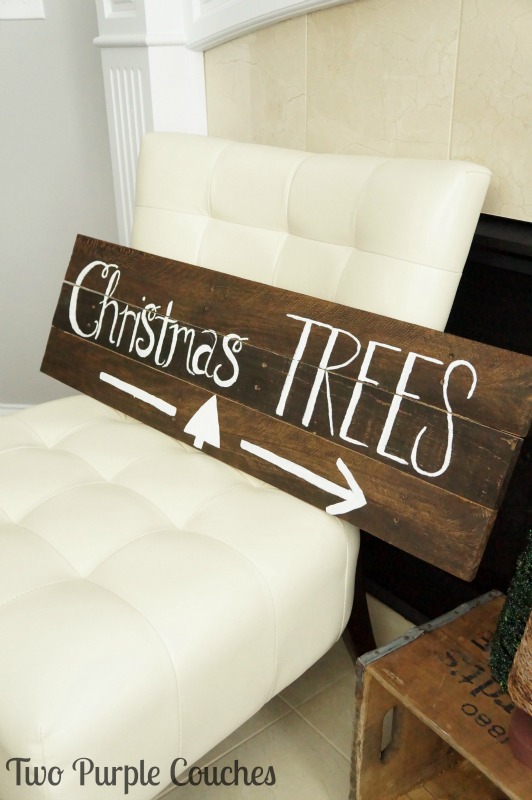 Don't miss the other creative and Christmasy home decor ideas:
Colorful & Glittery Christmas Sign: Making Spirits Bright! by Where The Smiles Have Been
Shimmery DIY Snowflake Garland by The House Down The Lane
Shutter Holiday Card Holder by Weekend Craft
Lighted Glass Block Christmas Present by Simply Kelly Designs
Christmas Trees Pallet Wood Sign by Two Purple Couches
Have you entered our giveaway yet! There's just a few hours left, so be sure you enter! You don't want to miss out on our awesome prizes—there are 3 prizes for 3 lucky winners. One of two $50 gift certificates to Michaels (provided by our wonderful group of crafty bloggers) and one $50 gift certificate to Minted.com (provided by Minted—thanks guys!!).
Love this holiday decor idea? Then you might also like: