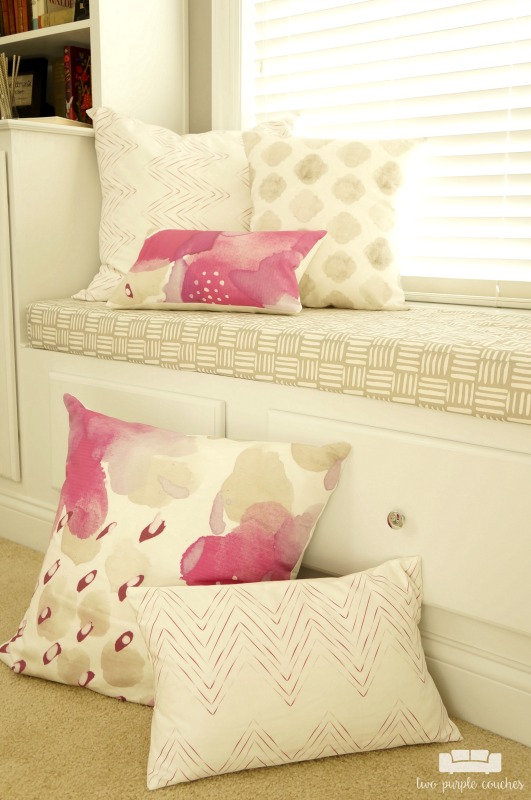 Thank you to Minted for sponsoring this post. All content and opinions expressed here are my own. Click here to read my full disclosure policy. 
I have always loved looking at fabrics. This is probably due to the many hours spent at fabric stores with my mom as a kid, but I've always loved walking the aisles and imagining different fabrics paired together. This love translates well into home decor, especially when it comes to picking out throw pillows (because I can never have too many of these, no matter what my husband might say), and I was super excited for this phase of my home office makeover. I knew I wanted to mix several different prints and patterns, and today I'm going to share some tips to help you choose coordinating home decor fabrics for your next makeover or project!
I was absolutely thrilled to have the opportunity to partner with Minted on this part of my office/library makeover project. You might be familiar with Minted's stationery, cards and art prints, but did you know they also have a collection of amazing home decor fabrics and textiles, also designed by independent artists? I've been ogling their fabric selection for months and knew the unique, artistic patterns were exactly the look I was going for in my office.
I knew I'd need a bench cushion and several throw pillows for my office. Initially, I was thinking a mix of black-and-white patterns, but that changed as I started browsing through Minted's home decor fabrics. One print in particular jumped out at me and as soon as I saw it, I knew it was perfect. And this brings me to my first tip for selecting coordinating home decor fabrics…
This post contains affiliate links for your convenience. Click here to read my full disclosure policy. 
Choose a focal point (or large scale) print or pattern. For me, it was this abstract, watercolor-inspired Summer Fun Fabric designed by Simona Cavallaro. The colors were exactly what I wanted, and the watercolor style fits perfectly with my recent obsession and the modern, artsy style I was hoping to achieve. Once I landed on this fabric, I started hunting for three coordinating prints and patterns.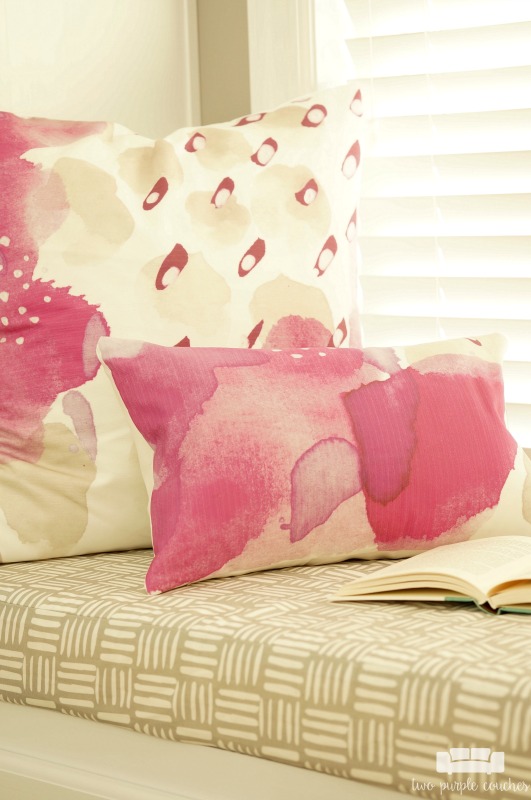 As much as I wanted to use this print on the large cushion for our seven-foot-long bench, I worried that it would be too much. Because the bench is so long and already a big statement piece in the room, I didn't want the fabric to overpower it. So I decided on a jumbo-sized throw pillow and a rectangular lumbar pillow instead.
Choose one to two medium-scale prints or patterns. With my inspiration fabric selection, I started looking for prints or patterns in complementary colors with a medium-sized print or pattern.
I found this Zig Zag pattern by Lindsay Megahed in the perfect shade of fuschia/magenta to coordinate with the large abstract print. This pattern provides a nice pop of color without being too heavy. And I also love the hand-drawn quality of this pattern and the irregularities it has.
The second medium-scale pattern I picked was this gorgeous watercolor-y Faded Quatrefoil in grey by Olivia Raufman. The color blends perfectly with the splotches of grey in the abstract print. You already know I'm a huge fan of anything watercolor, but did you also know that quatrefoils are a favorite pattern of mine? Yep, this one was definitely going in my cart!
Choose one to two small-scale prints or patterns. Lastly, I needed a smaller-scale pattern to use for the bench cushion cover.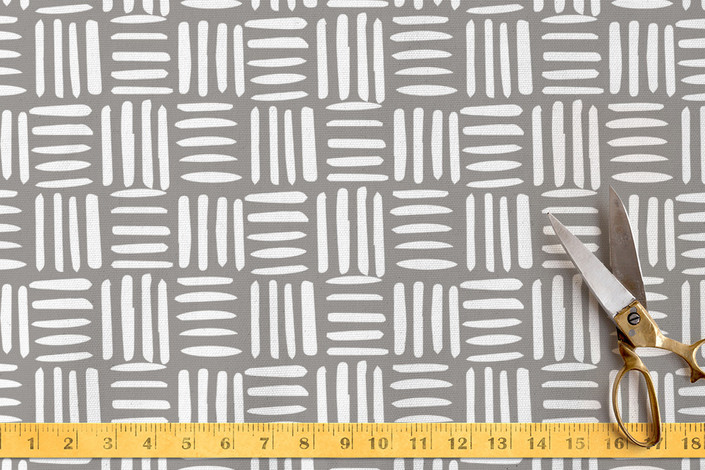 I chose this white-on-grey Mod Hatch by Snow and Ivy. I liked the neutrality of it, and the grey actually matches the wall color perfectly! I think something with a darker background will hold up better to daily use than a pattern with a white background. Our dog has already claimed the bench cushion as *her* spot, and I'm confident that this fabric will stand up to her daily wear and tear.
Making the cushion cover & throw pillows
I sewed the cushion cover and all of the throw pillow covers myself.
For the throw pillows:
The throw pillows were pretty simple, and I followed my own tutorial (found here) for an envelope-style cover. I wanted to conserve my pretty fabrics, so I bought some plain white cotton fabric to use on the backs of the pillow covers.
For the bench cushion and cover:
My mom and I worked on the bench cushion cover together. We followed this tutorial from Brittany at Pretty Handy Girl pretty closely, though we decided to omit the piping. Given the large size of this cushion, I think if I were to do another cover, I would approach it a bit differently next time. Watching my mom and I wrestle the batting-covered foam into the cover was a sight to behold, I am sure!
If you're looking for unique fabric for a home decor project, pillows, table linens or even an artsy lampshade, be sure to check out Minted!
Do you find it easy or challenging to pair home decor fabrics? I'd love to hear your favorite tips in the comments!
Love this? Don't forget to pin it!