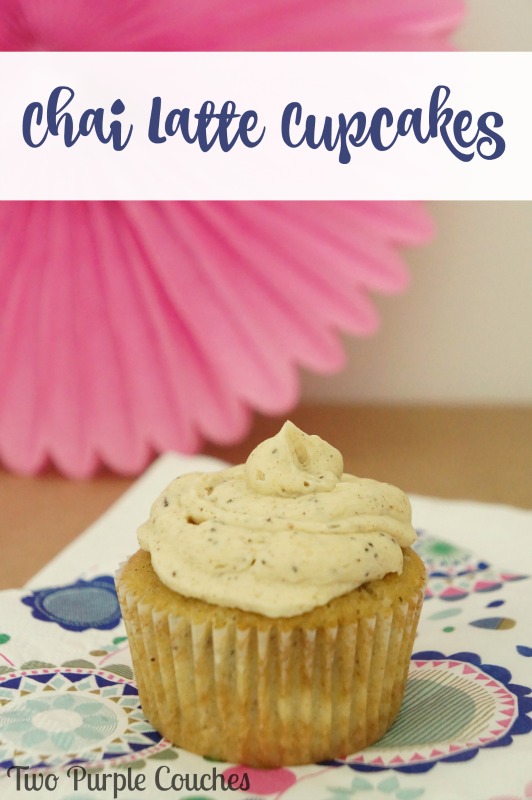 Today I am thrilled to be teaming up with a wonderful group of bloggers for a very special event. We're throwing a virtual baby shower for one of our own. Our sweet friend Lauren Lanker of The Thinking Closet, and her husband Mark, are expecting their first baby (a sweet little girl) this June. If you're new to the idea of a virtual shower, it is similar to a real shower but instead of one person hosting, each of us divvied up food, decorations, games and gift ideas. (you can find all of our recipes, projects and ideas at the bottom of this post).
Every shower needs a yummy dessert, right? I know Lauren loves chai lattes, so I set out to find a fantastic chai latte cupcake recipe to share. If you like chai lattes, I think you'll love these cupcakes—they are that good!
Before I dive into the recipe for these chai latte cupcakes, I'd like to tell you about our guest of honor, in case you haven't met her before. Lauren is one of my earliest blog friends, and the first one I ever met in real life. She was the very first familiar face I spotted at my first Haven conference in 2013, and we struck up conversation like old friends. The following year, we bumped into each other waiting in line to check into the hotel and shared tons of laughs that weekend.
We even got to catch up over pastries and lattes at Disney's Boardwalk while my family was on vacation there.
Lauren is one of the sweetest, most encouraging and genuinely joyful people I've ever met, and I am so lucky to call her a friend.
Now, let me tell you all about these yummy chai latte cupcakes! I started with this recipe from The Novice Chef and made a few modifications along the way.
I didn't have any ground cardamom for the spice mixture, so I decided take a gamble and add one teabag of black chai tea (un-brewed) and altered some of the other spice measurements (noted in the recipe below). For the icing, I added 1 tbsp of chai tea latte concentrate instead of milk.
These cupcakes taste JUST like a chai tea latte, maybe even better! They are incredibly delicious, and the perfect treat for indulging our momma-to-be.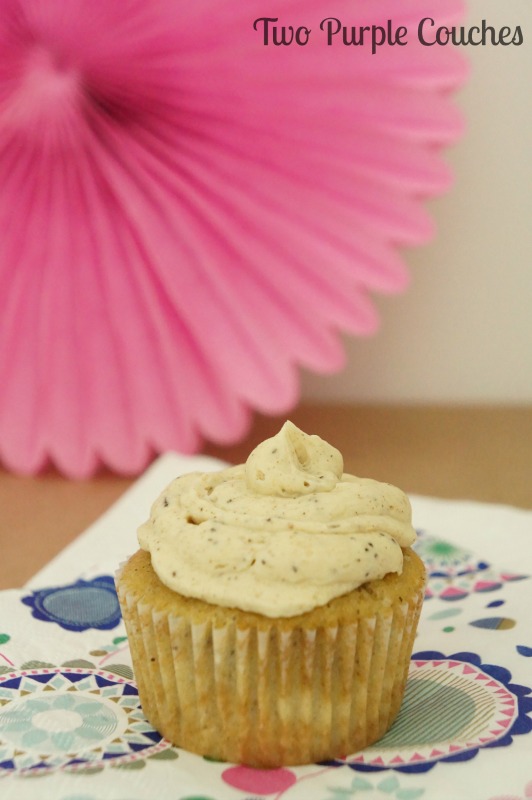 Chai Tea Latte Cupcakes
Chai Latte Cupcakes
Author:
Two Purple Couches
These yummy chai tea latte cupcakes taste just like the drink - spiced and vanilla-y.
Ingredients
For the chai tea spice mix:
1 tea bag of black chai tea (un-brewed)
1 teaspoon ground cinnamon
¼ - ½ teaspoon ground ginger
⅛ - ¼ teaspoon ground cloves
⅛ - ¼ teaspoon ground nutmeg
For the cake:
1 stick butter, at room temperature
1 cup sugar
2 teaspoons vanilla extract
2 eggs
½ quantity chai tea spice mix
1¼ cups flour
½ cup buttermilk
½ teaspoon baking soda
½ teaspoon apple cider vinegar
For the buttercream icing:
2 sticks butter
1 teaspoon vanilla extract
2 cups powdered sugar
½ quantity chai tea spice mix
1-2 tbsp chai tea latte concentrate, as needed
Instructions
For the cake:
Mix the chai tea spices in a small bowl.
Preheat oven to 325 degrees.
Cream together butter and sugar. Add the vanilla and beat in one egg at a time. Stir in half the quantity of the chai tea spice mix. Alternately fold in flour and buttermilk, stirring until combined. Do not over-mix. In a separate bowl, mix together baking soda and vinegar, then add to cake batter.
Scoop into prepared cupcake tin until ¾ full. Bake 15-20 minutes or until a toothpick comes out clean.
For the buttercream icing:
In a stand mixer, beat butter until creamy. On low, mix in vanilla and the rest of the chai tea spice mixture. Carefully add powdered sugar, about ½ cup at a time. If the icing seems thick, add 1-2 tbsp of chai tea latte concentrate until buttercream reaches desired consistency. Spread or pipe onto cooled cupcakes.
Notes
Adapted from The Novice Chef Blog
Baby Shower Cupcake Toppers
Lauren is one of the first bloggers who got me interested in Silhouette crafts, and I still routinely refer to her tutorials. So of course, I had to break out my Silhouette Cameo to craft some adorable cupcake toppers for her chai latte cupcakes! I already had these baby clothes shapes saved from the baby clothesline gift wrap I made recently, and I thought these would make absolutely perfect cupcake toppers for Lauren's virtual shower celebration.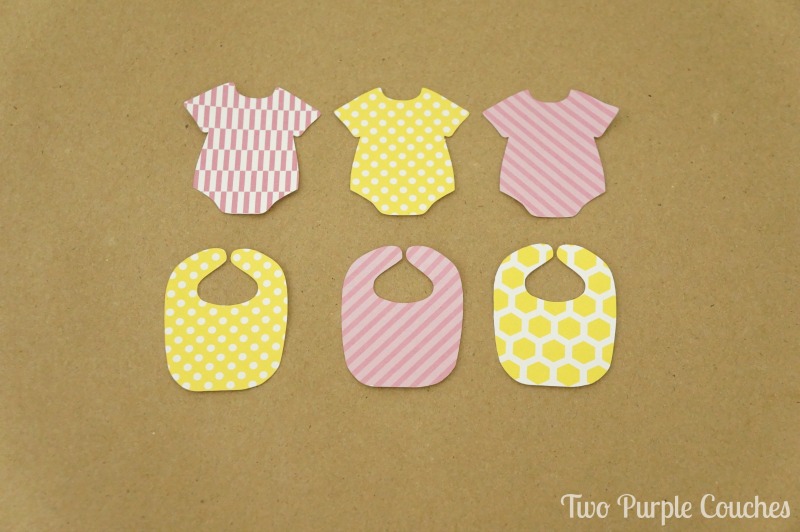 I adjusted the sizes of the onesie and bib in Silhouette Studio and used up some smaller scraps of pretty patterned papers from my stash. Once the shapes were cut and weeded, I taped a toothpick to the back of each and popped them onto the cupcakes.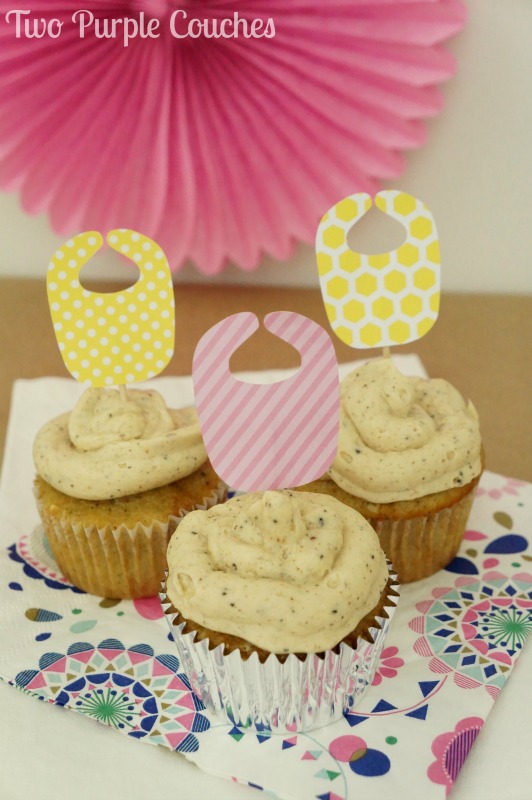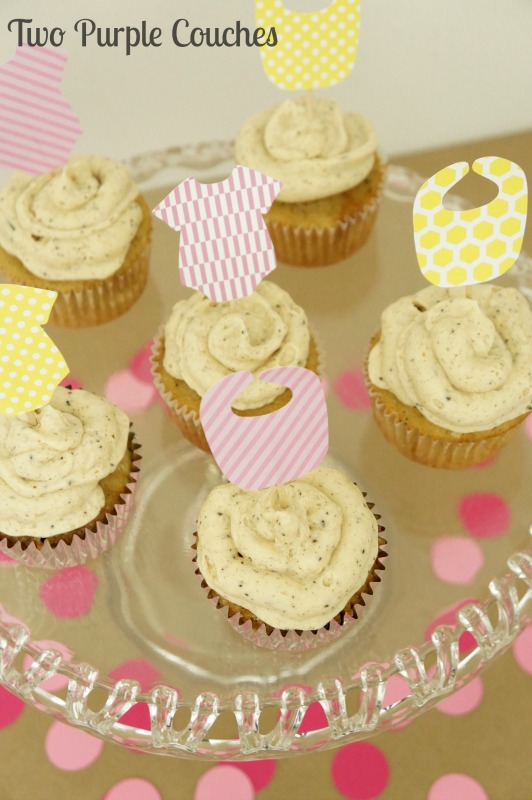 Aren't they sweet!?
Sharing with: Welcome Home Wednesdays / Work It Wednesday / Wow Me Wednesday / You Link It, We Make It
Don't go yet! This baby shower is just getting started!
Below you'll find links to everything from food and decor to games and gifts for Lauren's virtual baby shower. Please grab a cupcake and stay for a while!
I'd also like to send a huge thank you out to Meredith of UnOriginal Mom for organizing this shower hop!
1.Chai Latte Cupcakes with Cupcake Toppers by Two Purple Couches
2.Guacamole Shrimp Bites from Katie's Cucina
1.Customizable Baby Shower Invites by Tried & True
2.Baby Nursery Art by One Artsy Mama
3."It's a Girl!" Printable Bunting Banner by Just a Girl and Her Blog
4.Baby Shower Decoration Ideas by Southern Couture
1.Onesie Making Station by unOriginal Mom
2.Free Printable Baby Shower Game – Alphabet Cards by Cutesy Crafts
3.Printable Baby Word Search by Simply Kelly Designs
4.Name That Rockin' Lullaby Baby Shower Game + Free Printable by Where the Smiles Have Been
1.Emergency Diaper Kit with Free Printable by From Wine to Whine
2.DIY No-Sew Baby Headband by Practically Functional
3.Personalized Onesie Tutorial by Ginger Snap Crafts
4.Personalized Onesie Dress by Create & Babble
5.Crochet Scalloped Earflap Hat and Flower by Repeat Crafter Me
6.Starfish Nursery "Love You" in Etched Glass Frame by Whatcha Workin' On?
7.Knit Bow Baby Headband by It Happens in a Blink
8.Super Sweet Month by Month Baby Stickers by Tori Grant Designs
9.Fearfully and Wonderfully Made Onesie by Sew Woodsy