Monograms make a sweet, personalized touch for any shower or party, but especially for a bridal shower. I created this chalkboard-style monogram decor for the garden party bridal shower I threw last month (see all the shower goodness here). And it was oh-so-easy!
Monograms and letter art are all the rage, and I say, keep it coming! I love incorporating monograms and letters into my decor. It's a fun way to personalize a space, and there are so many ways you can decorate letters to match your style and make them your own. For the shower, I knew I wanted this monogram decor to play off of the cute plates I'd purchased because I loved their chalkboard style designs.
Here's what I used to make my monogram letters:
plain cardboard or chipboard letters
chalkboard paint
paint pens
How to make chalkboard-style monogram decor:
I found these plain letters in the clearance section at Michaels earlier this year and scooped them up as quickly as I could! I think they cost me about $0.79!! After two coats of chalkboard paint, they were ready for embellishing.
I drew inspiration from the party plates to add the embellishments. Using Sharpie paint pens, I added green vines and pink heart-shaped flowers on the "N" and the "J":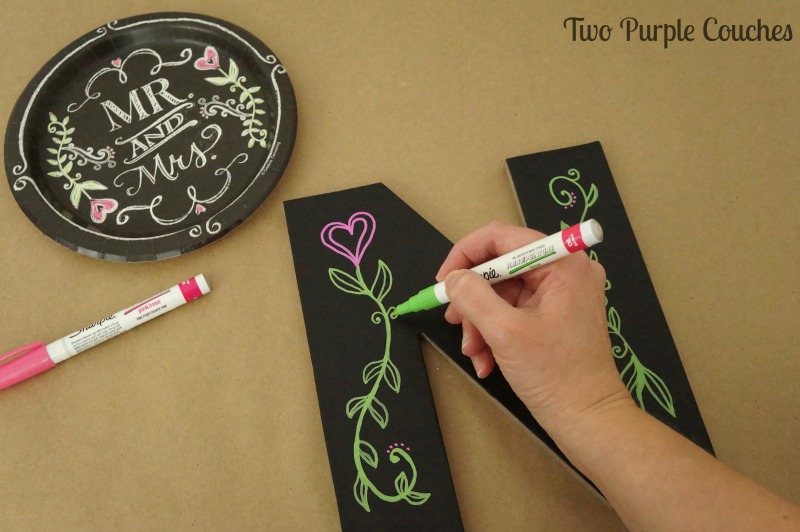 For the ampersand, I used a white paint pen to add scrolls and flourishes:
Within minutes, my monogram decor was ready to display!
I added the letters to the center of our mantel, along with a simple chalkboard-style banner I created with the couple's wedding date: