Build your baby's library with a book themed baby shower! From decorations and games to favors and food, this storybook theme works for boys or girls.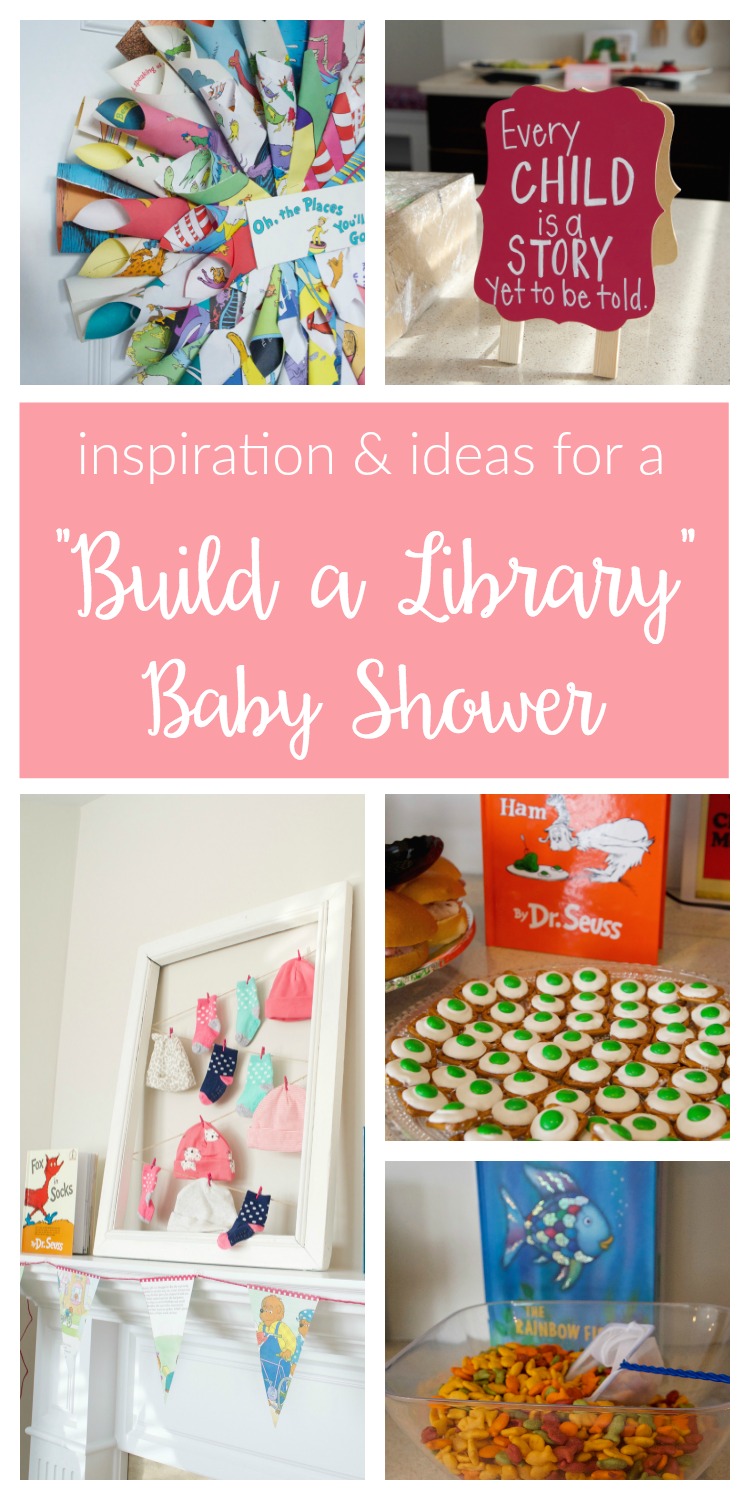 I think my SIL may have begun planning my book themed baby shower the moment we announced that I was pregnant. And she couldn't have landed on a more perfect theme, seeing as I was an English major and have always been a bookwork. (If you've been a reader for a while, you know how much my home office/library means to me).
From the book themed invitations to her decorations, games, food and favors, each and every detail was perfectly paired with some of my favorite childhood books! I arrived extra early the day of the shower to take a bunch of pictures, because I knew I'd want to share all of the cute details with you!
You may remember a couple of years ago, I had a blast planning my SIL's garden party bridal shower, and now it was her turn to plan and throw a party! We have so much in common – we both love to read, shop and craft—and I knew how excited she was to dive into planning and crafting for my shower. So let me take you on a tour of my book themed baby shower!
My SIL made most of the decorations from old books (she promises no brand new books were harmed in the making of my baby shower decorations), from the amazing book page wreath hung on her front door to a pinwheel garland, book page banners, and more.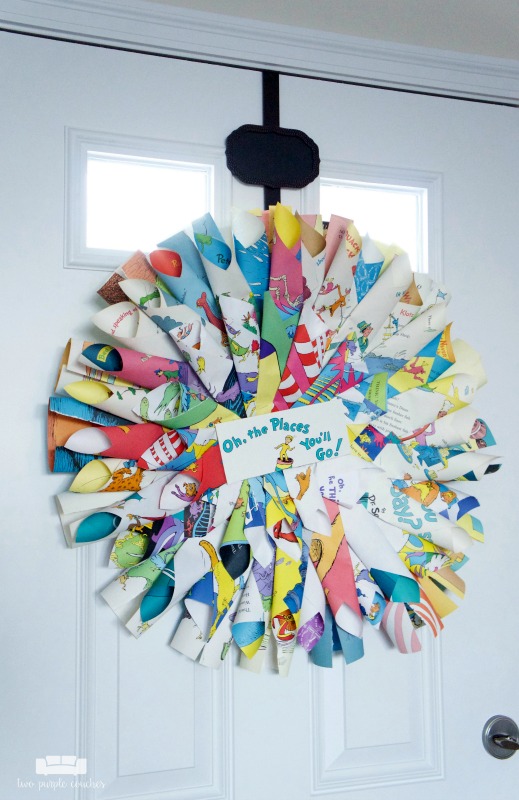 When guests arrived, their first stop was an easy game to guess how many fish were in the jar, inspired by One Fish, Two Fish, Red Fish, Blue Fish. This table also held the favors—the cutest sugar cookies to go along with If You Give a Mouse a Cookie!
I love how she incorporated so many book titles into the decorations, like this laundry line of hats and socks (all of which I got to bring home with me for our baby girl).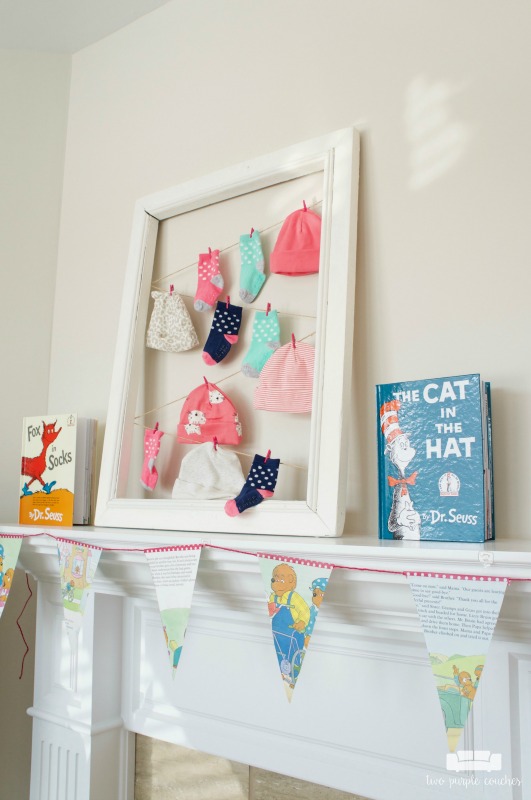 My MIL made this adorable "bookworm" using a rattle toy, socks, rolled-up diapers, and small board books.
And then there was the food spread! I was so tickled by all of the book-themed foods and drinks inspired by so many childhood classics: Green Eggs and Ham, Cloudy with a Chance of Meatballs, Hop on Pop, Rainbow Fish, The Stinky Cheese Man, The Very Hungry Caterpillar, and  Pinkalicious lemonade.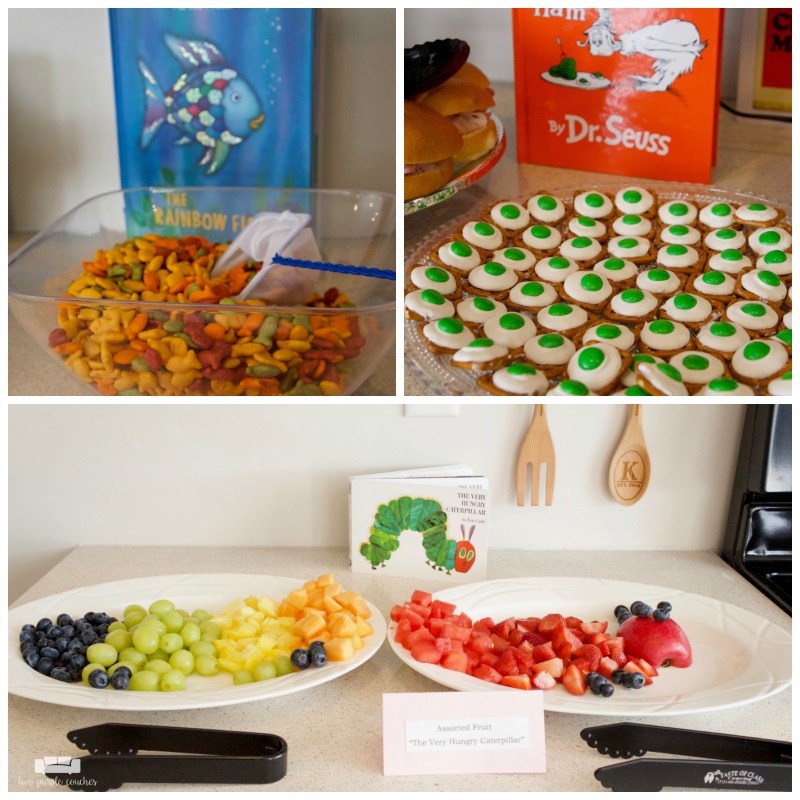 To help us "build a library" for our baby girl, guests were asked to bring a book in lieu of a card. I also got to bring home all of the books on display. The final tally came to a whopping 42 books! I sure hope this girl comes out ready to be a reader 😉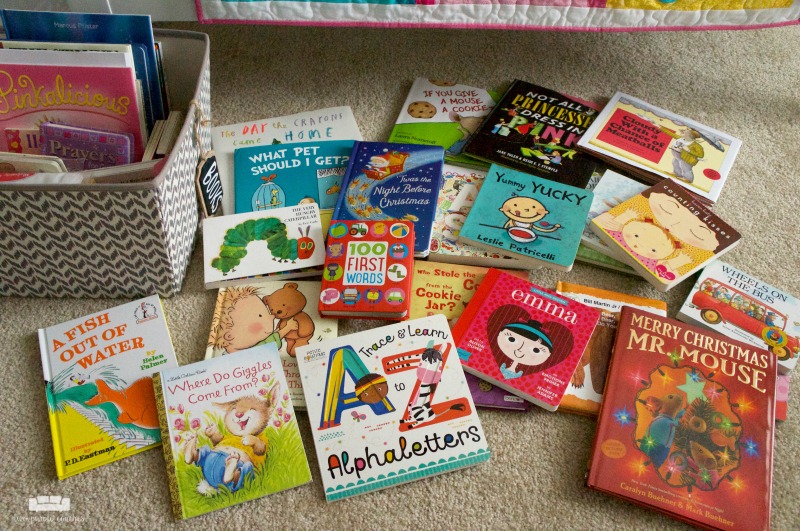 These are just a few of the books – the rest are stacked in that canvas tote my SIL got for us to stash all the books in. I hope the hubs is ready to build a few more bookcases, because we're going to need them!
We were showered with so many wonderful gifts, from cute clothes and sheets to the crib mattress, a stroller, changing pad, bath sets, towels and more.
My mom surprised me with the most adorable quilt—I knew she'd be making one for our baby girl, but she kept the pattern and colors a secret. I can't stop looking at it and studying each of the animals and their accessories!
I really can't thank my SIL (and MIL!) enough for throwing such an awesome book themed baby shower! It was such a special day, and so sweet to see how well-loved this girl is already by our family!
Love this? You may also like: