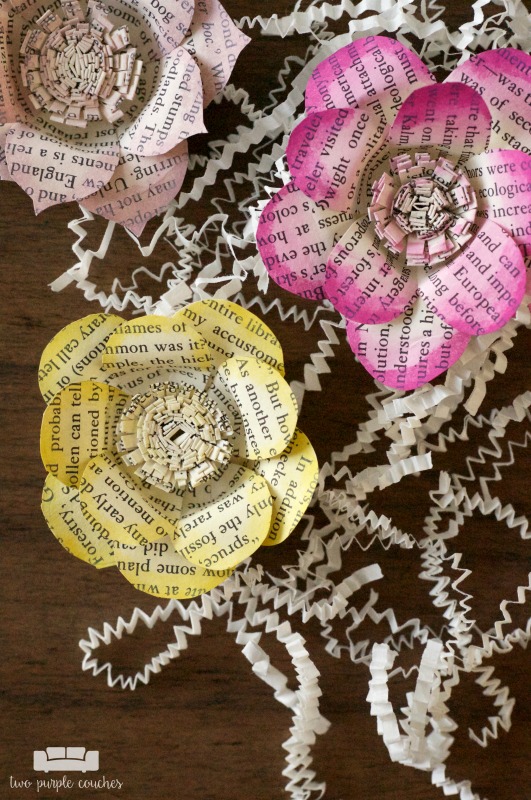 Apologies for the radio silence around here last week; I've been working on several things behind the scenes, including setting up my first-ever email newsletter (fill out the form to the right to subscribe!) and trying to get ahead on craft and DIY projects to share with you in the coming weeks. I've always been a somewhat "last-minute crafter" and I'm trying to be better about working a few weeks out. Which meant I needed to take some time off in an effort to get ahead! One of the projects I've been working on are these super cute DIY book page flowers for this month's Create with Me Challenge! I've been dreaming up all sorts of fun ways to use these book page flowers, but today, we'll start off with an easy tutorial on how to make them.
And since it's a Create with Me day, you can expect to find even more ideas for book page crafts at the bottom of this post, along with a survey to vote on what material we should use next month!
Let's dive into this book page flower tutorial, shall we?
This post contains some affiliate links for your convenience. Click here to read my full disclosure policy. 
How to make book page flowers:
Materials Needed:
A book you don't mind cutting up
Faber-Castell Gelatos® set in pastels or brights
Small paintbrush

I used the brush that comes with the Gelatos)

Scissors
Card stock
A small dish of water
Tutorial:
1.) Remove one page from your book and cut out a petal shape. The size of your petals will dictate the size of your flowers. My larger petals are about 1.5-inches long and my smaller ones about 1-inch long. Cut out five large petals, five slightly smaller petals, two strips of paper about 0.5-inch wide and one strip about 1-inch wide. You can alter the tips of the petals to create different types of flowers. I added a point to one set of mine, kind of like a curly parenthesis like this – }.
2.) Take the strips of paper, fold them in half and "fringe" the edges by cutting from the fold in (without completely severing the paper). Set these aside.
3.) Select which Gelatos you'd like to use. The colors I used were Butter Cream, Strawberry and Passion Fruit. I think these were all part of the Pastels set; they also offer a set of Brights. Take one of the Gelatos and color around the edge of each petal. Then dip your paint brush in water and lightly blend (don't completely saturate) the color as you move the brush down toward the center of each petal. Set these aside to dry.
4.) While the petals are drying, take one of the small strips of fringed paper and begin rolling it, securing it with glue as you go. Roll the second small strip around the first, then add the wider strip. This will be the center of your flower.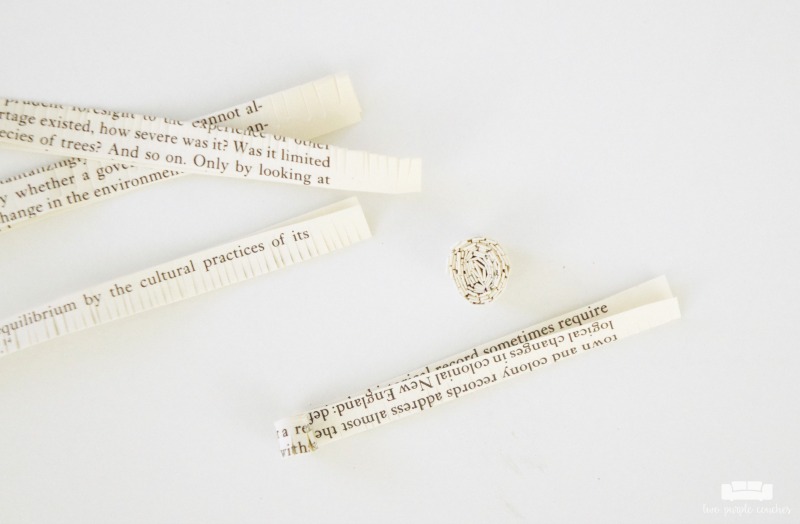 5.) Once the petals are dry, curl the edges and cut a small slit at the bottom of each. Add a dot of glue to one side and secure the other "flap" on top of it. This adds some dimension to the petals.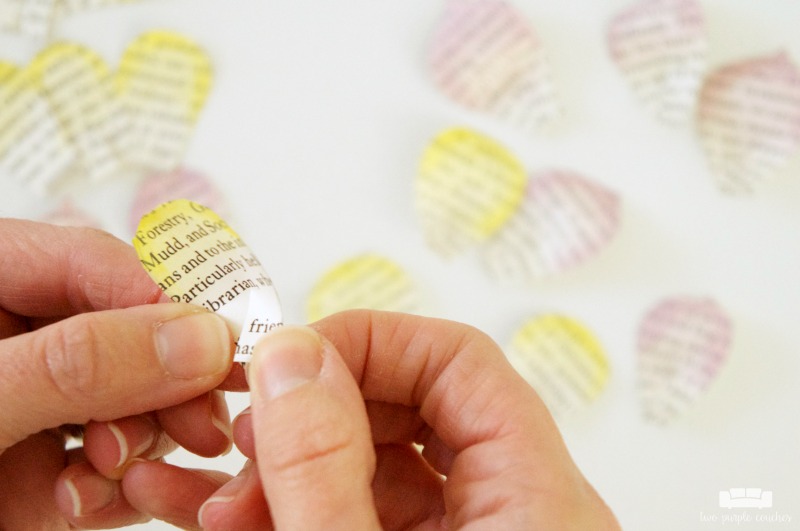 6.) Punch a circle out of card stock with the circle punch, and attach the large petals around the edge with glue. Add the smaller petals, then glue down the center and fan out the fringe with your fingertips. If you want to add color to the center, scribble the Gelatos on a scrap piece of paper, dip your brush in water and paint on some color.
And voila! You now have pretty book page flowers!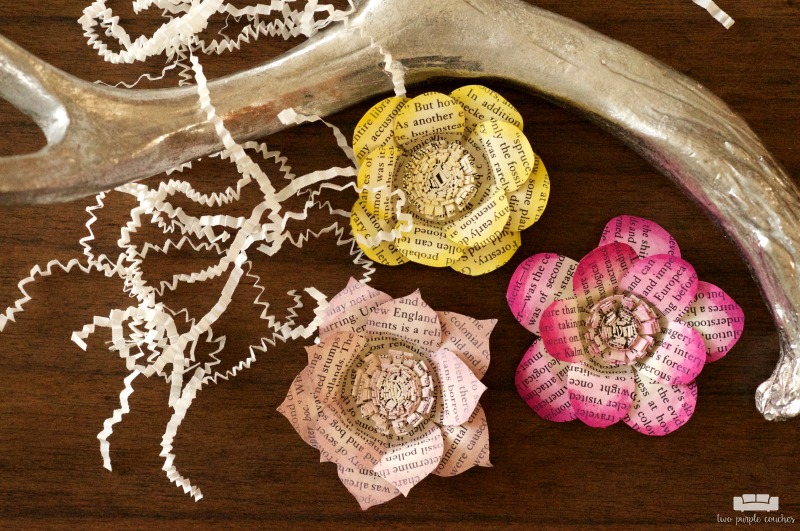 This isn't my first foray into paper flowers. You can see the giant paper flower backdrop I created for my SIL's bridal shower here. But this is my first time creating flowers with book pages, and I really love how they turned out! I've been dreaming up so many fun ways to use these book page flowers, and I'll be sharing my ideas in the coming weeks. Be sure to sign up for my newsletter so you don't miss a post!

Love this? Pin it for later: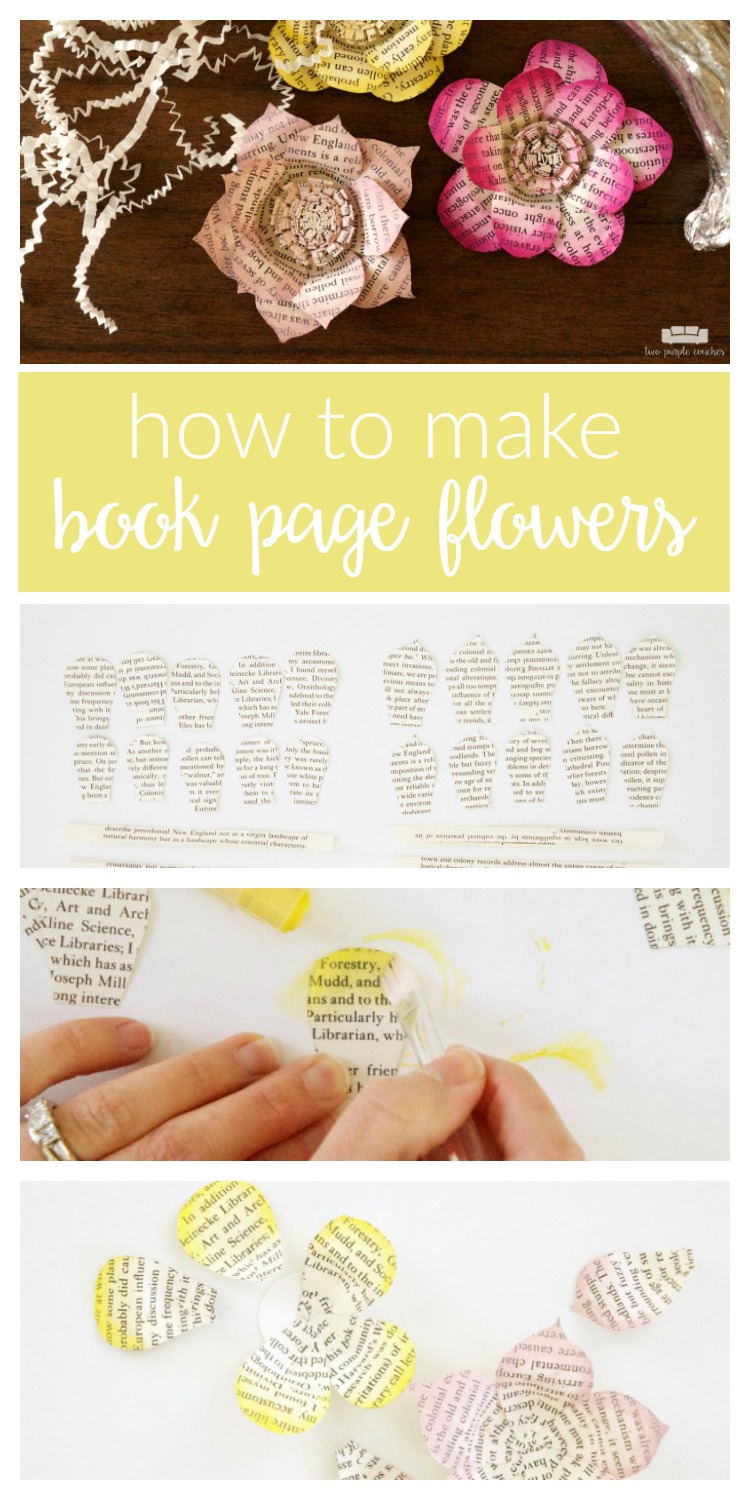 Check out these different ways to use book page flowers:
Create with Me DIY Challenge
Don't forget to vote on next month's challenge material and check out these other amazing book page projects!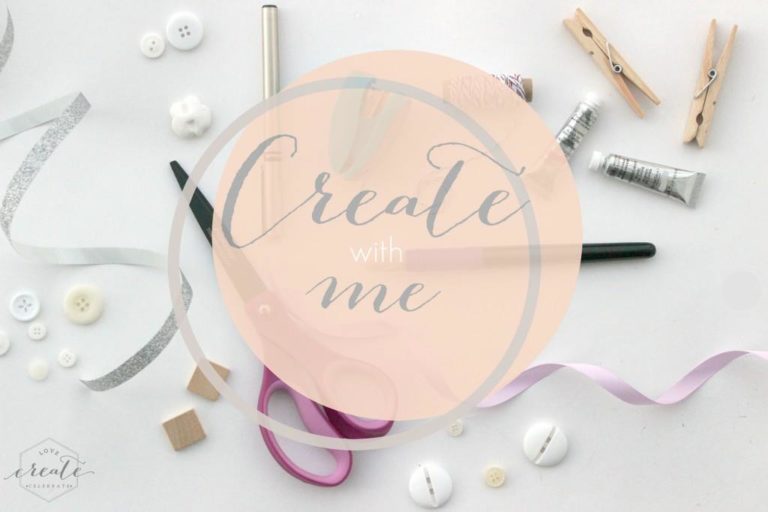 Create your own user feedback survey
If you can't see the survey CLICK HERE!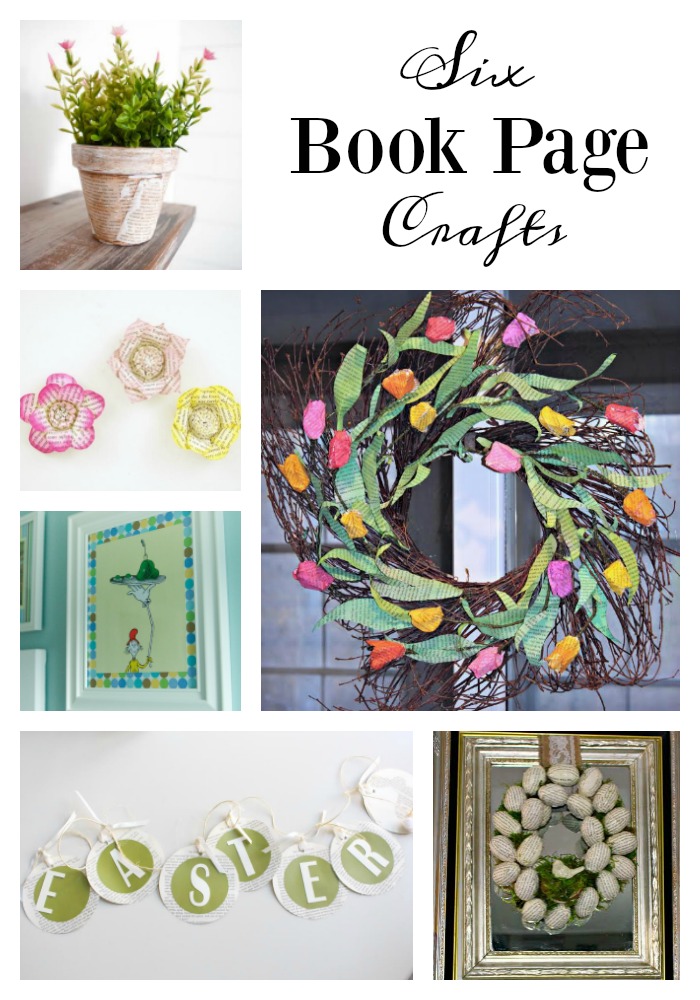 DIY Planter from Bookpages via Making Joy and Pretty Things
Book Page Flowers via Two Purple Couches
Easy Book Page Art via Little Bits of Home
Paper Tulip Wreath via Knock it Off Kim
Easter Book Page Banner via My Life from Home