With our first big home improvement project wrapped up, I've been thinking a lot about the tools we've acquired over the years, and which ones we use and love the most. Each new project seems to bring with it its own subset of required tools, but there are some staples that we turn to time and time again. Maybe you're a first-time homeowner, an aspiring DIYer or maybe you have someone who fits this description on your holiday gifting list. Either way, I thought I'd pull together a list of the best tools for beginner DIYers to help you figure out where to start.
When Tom and I got married, we received a few very basic tools, like screwdrivers and a hammer. We did very few DIY projects when we lived in our condo, but when we bought this house, we knew we'd be learning and doing more home improvement projects on our own. We started small with installing our own crown moulding and window trim, building wall shelves, and most recently, branching out into pieces of furniture for my office makeover.
Not surprisingly, as we've gotten into more do-it-yourself projects, our tool collection has grown. We've even got two workbenches in our home—one in our garage and one in our basement (both of which were built by Tom). But even as our know-how and tool collection grow, there are some we constantly find ourselves using.
Also, just as an FYI, you're not going to find any impeccably-styled photos in this post. It seems whenever I take photos of using power tools, the lighting is bad and I haven't showered yet. Haha. Just keeping it real, friends 😉 Now on to the list!
This post contains some affiliate links for your convenience. Click here to read my full disclosure policy. 
 Cordless Drill
From hanging pictures to assembling and installing furniture, a cordless drill is a necessity!
Speed Square
This handy little tool helps make sure you get perfect right angles and perfectly straight lines.
Clamps
The question here is what can't you use clamps for!? They're great for securing boards that need to be cut, sanded, etc. Use them to hold joints together while waiting for glue to dry. This set of Irwin Quick-Grip Clamps is a great place to start. But we've learned that even when you think you have enough clamps, get a few more. Trust me.
Compound Miter Saw
This was the first saw I ever used, and once I learned how to use it, I never looked back! This is a great tool for cutting smaller pieces of wood, especially trim and moulding.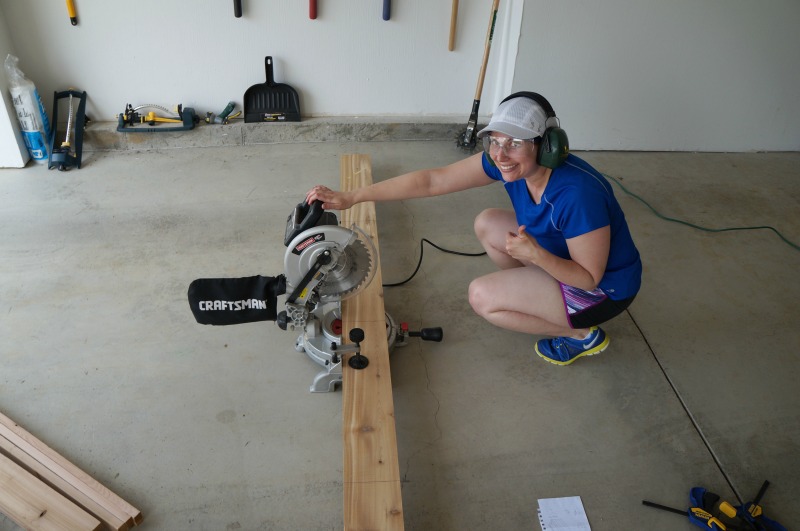 Circular Saw
If you plan on cutting up large sheets of plywood, a circular saw is a necessity. If you're into the idea of pallet wood projects, this saw works well for cutting through thick boards.
Orbital Sander
For smaller projects, sanding by hand or using the tool I mention below will work just fine. But if you're working on a larger surface, or if you're interested in refinishing furniture, etc, an orbital sander will save you tons of time!
This tool makes sanding by hand easier and the tool itself is more comfortable to grip than sandpaper alone or sanding blocks. I use it to prep walls and furniture for paint.
This tool helps you drill holes, known as pocket holes, for hidden screws. It really comes in handy when you're assembling a frame of any type. We used ours to build mirror frames for our master bath (which I realize I've never blogged about!) and the frame for the front of the cabinet in my office.
Use this jig to when you want to drill evenly-spaced holes so that you can adjust the placement of the shelves. This may not be a necessity for absolute beginners, but if you plan on building shelving units, this is well worth the money!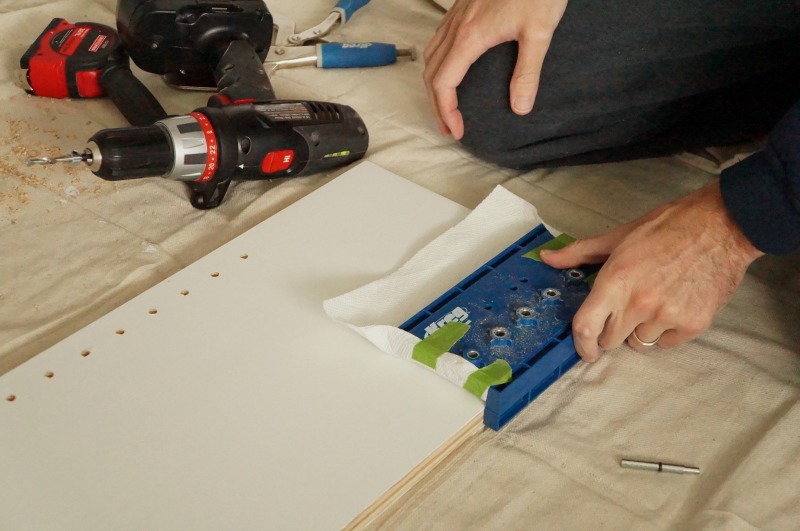 Safety Glasses
You can find these at any home improvement store for a few dollars apiece. We have at least 3 or 4 pairs and keep them in various spots around the house.
Any safety gear should be a no-brainer, but sometimes it's easy to forget the ear protection. I am even more conscious of wearing these since I lost my hearing in my left ear due to the brain surgery I had last year (you can read about that here and here). I've used Tom's pair of safety ear muffs in the past, but they were too big and uncomfortable on my head. We found these while we were in the middle of my office makeover project and I am so glad we did! They are comfortable, adjust well to fit my small head, and provide excellent noise canceling. They also came in purple. You can see me styling them in the circular saw photo.
Sturdy Sawhorses
It might seem ridiculous to spend your money on sawhorses, but trust me when I say you do not want to cheap out on these! We started off with a very affordable plastic pair—but they're not level and they wobble! Imagine trying to cut a huge piece of plywood in a perfectly straight line on wobbly sawhorses… yeah… you probably guessed that it's not going to work too well 😉
We have had a pair of these Black and Decker Workmate benches for a while. We like them because they do everything a sawhorse does and more. They provide a portable work surface and can also be used as a clamp or vice to secure items you're working on.
These kinds of tools are great for small projects or fixes, like sanding down or shaving off small edges and cutting and removing drywall. I bought Tom this Makita Multi Tool for Christmas several years ago and we were constantly turning for it during our office makeover.
And there you have it – my list of the best tools for beginner DIYers! Is there anything I missed? If you're a beginner, which of these do you want to add to your collection? If you're a seasoned pro, what other tools would you recommend?