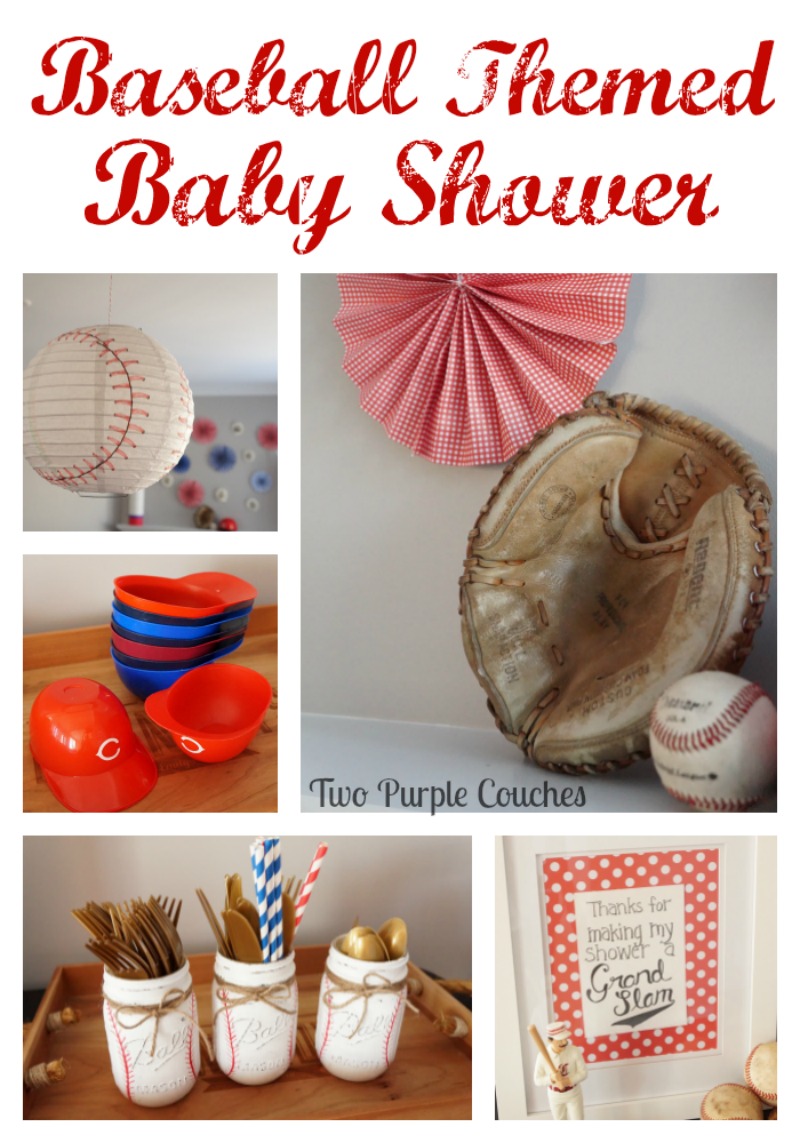 Happy March my friends! I hope you enjoyed your extra day yesterday!
Over the weekend, I was thrilled to team up with a couple of gals to host a sweet baseball themed baby shower for one of our dearest friends. We had a wonderful afternoon full of food, games and laughter, and today I am going to share all of the adorable baseball details with you.
The Mom- and Dad-to-be are big Cincinnati Reds fans. Kevin, the Dad-to-be, has attended 19 Reds Opening Day games, and he proposed to Katie during a post-game fireworks display. So a baseball themed baby shower was practically a must to celebrate their little guy, Jake.
My fellow co-hostesses and I divvied up the shower-planning responsibilities (which is a fantastic idea – if you ever throw a shower, having co-hostesses to help is awesome!). It should come as no surprise that I volunteered to do the decorations!
I started in our entryway, making a hand lettered sign to go with the favors (boxes of Cracker Jack, naturally!). I dug through the hubs' softball gear to find his glove and a ball, which I placed inside my cool vintage beer crate.
I made the Ohio string art at a craft night last week, which fit in perfectly with the rest of the baseball themed and Cincinnati Reds decorations.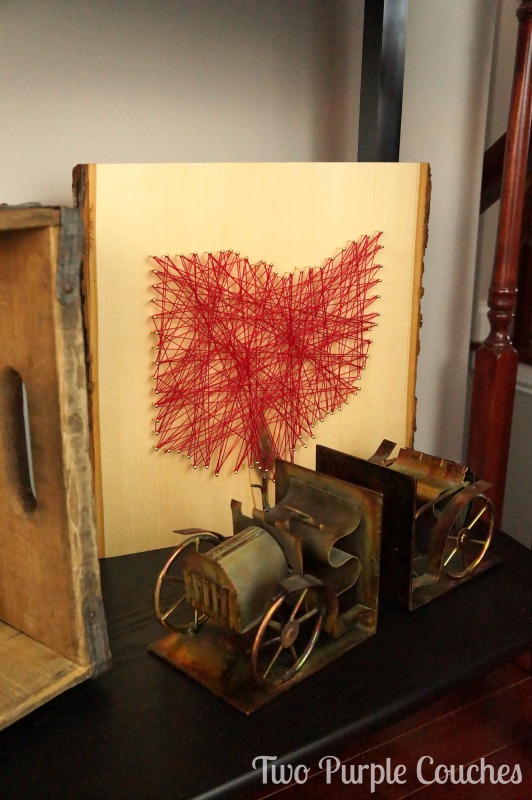 In our dining room, I added a red felt runner to our table, along with a vase full of peanuts and baseballs, small souvenir bats from the Louisville Slugger Museum, and a couple of Cincinnati Reds bobbleheads. Simple, but adorable!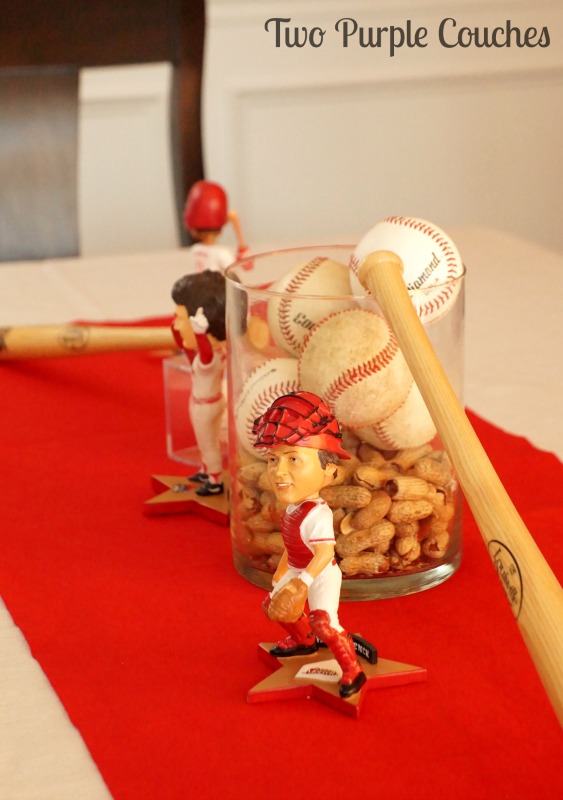 One of my hands-down favorite types of party decorations are paper pinwheels (sometimes they're called paper rosettes). They are so festive, yet so simple to make. And since it's just folded paper, you can customize them to any theme or color palette. I've already shared a tutorial on how to make these paper pinwheels, which you can find here.
I selected red and blue patterned paper for these pinwheels. I was originally planning to cluster them in the center of the mantel and add a felt pennant, but the hubs had an idea that he wanted to try out.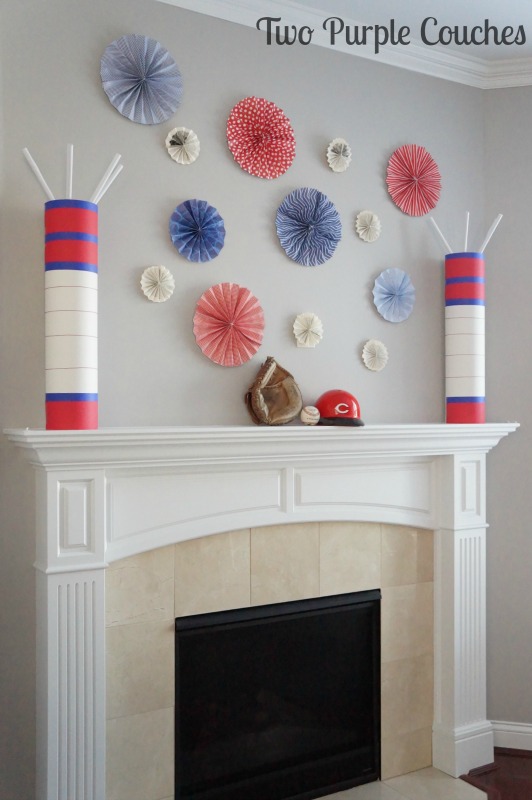 If you're not from or familiar with Great American Ball Park, the home stadium for the Cincinnati Reds, there is a set of iconic smokestacks in the outfield. They face the Ohio River, and are a nod to the steamboats that were often found on the river during the 1800s. During games, the "power stacks" are used to shoot off fireworks and steam. The hubs created his own version of the smokestacks out of poster board and construction paper to place on either side of our mantel. And it just so turns out that my paper pinwheels sort of resemble fireworks, so we wound up creating our own version of Great American Ball Park in our family room!
The batting helmet and catcher's glove were the perfect touches on our Cincinnati Reds themed mantel!
Moving into the kitchen, I turned out wall chalkboard into a scoreboard for "Jake Field", and even added a Coca-Cola advertisement at the bottom (Kevin is a Coke fan).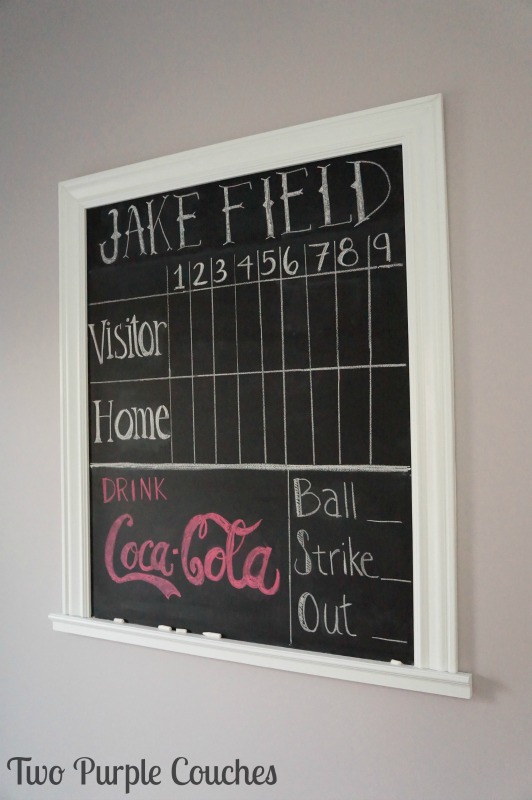 We placed our food table—I mean Concessions stand—under the chalkboard, and filled it up with all sorts of ball park goodies: hot dogs, Skyline Chili coneys (a total Cincinnati thing), a nacho bar, and of course, freshly popped popcorn. (See how I made the Concessions banner here).
(Find the tutorial for the painted baseball mason jars here).
Oh, and you can't forget the fresh fruit, right?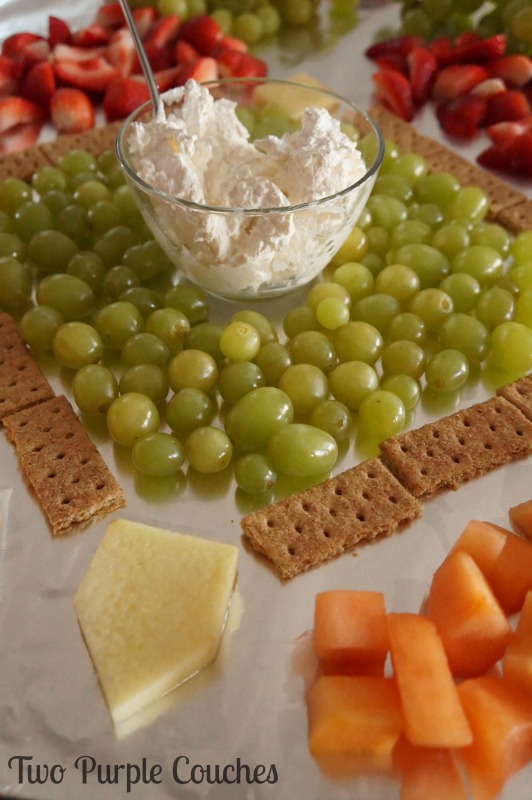 (In case you can't tell – I laid out the fruit tray to look like a baseball field!)
For dessert, we set up an ice cream sundae bar, complete with mini helmet bowls (big thanks to my mother-in-law for finding these tucked away in her house!).
For games, we played some standard ones, like guess-the-baby-food and gift bingo. We also played a sort of scavenger hunt game that requires you to find items on your smartphone. We also asked guests to write out their "coaching" advice for the parents-to-be on cards, which were added into a special keepsake book for them.
That about wraps up the tour of our baseball themed baby shower! I'll be sharing a bunch of the DIY decorations (like the concessions banner and baseball mason jars) over the next couple of weeks! Stay tuned!
Baseball Baby Shower Series
Here is the full collection of baseball-themed baby shower projects and tutorials for you to reference. These projects would also work well for a baseball or sports-themed birthday party. I hope you find some inspiration 🙂
Sharing with: Inspiration Monday