I promised during Tuesday's #SwapItLikeItsHot reveal to share the detailed step-by-step of how I made this DIY Ring Dish.
Our story begins on Saturday afternoon, as I was staring at a lump of modeling clay and an old china plate. I began by rolling out a section of clay, as I was originally planning to make a typical ring dish with a cylinder in the center. But, let's be honest, those cylinders can tend to look like—ahem—something else. And mine was no exception. I asked Tom for his opinion. He kind of snorted.
A sure sign that I was on track to have my finished dish look like something else.
So, I took to the internets to try and find ring dishes that didn't look like… well, you know. And I landed on this page of landmark ring dishes from Anthropologie. I remember seeing these a while ago and thought they were pretty cute. As I studied the photos more, I thought that I just might be capable of making a knock-off version of the Eiffel Tower.
What convinced me that I'd be capable of such a thing? I have no clue.
I am not particularly (read: at all) skilled at working with clay or creating three-dimensional art. But I jumped right into it. And you know what? I surprised myself!
I began by constructing the bottom of my Eiffel Tower, forming the clay into a four-sided base: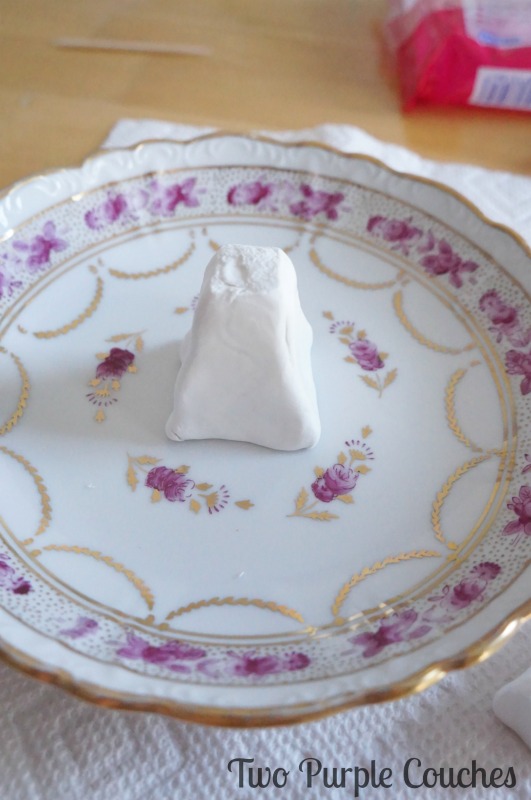 I added a toothpick through the center for support. I was worried that the tower and the base portion wouldn't adhere together as they dried, so I figured a "support beam" through the center would help with that.
Then I formed and attached the tower portion. For this, I made a squared-off cylinder and then brought the top to a four-sided peak. Not exactly how the actual Eiffel Tower top looks, but I figured I could fudge it when I painted on the details.
I let the clay tower dry overnight. While drying, I painted the china dish. I decided on black. I was debating between black or white, but was a little worried that the original pattern might show through white, even with plenty of coats. Plus, the glossy black plate looks a bit more dramatic, don't you think? It took about two coats of acrylic craft paint for glossy enamels.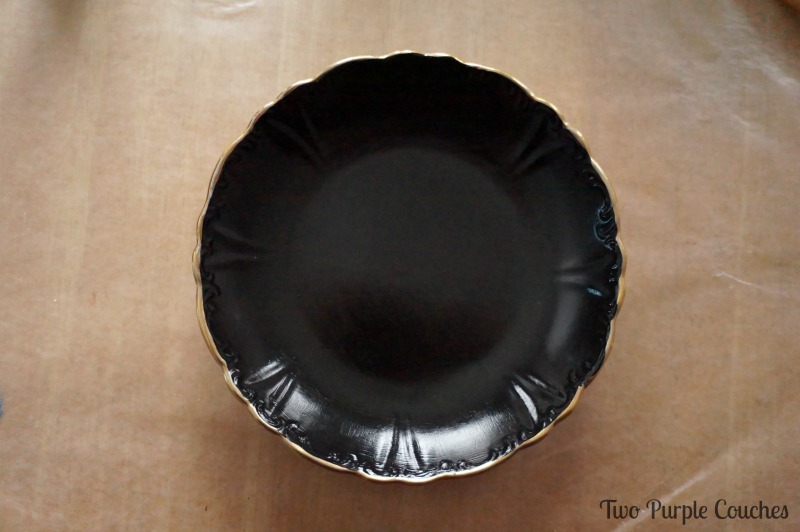 To decide how best to paint the Eiffel tower, I studied the Anthro version and then sketched out the base and tower portions:
I forgot to take step-by-step pictures while I was painting. D'oh! But I can talk you through what I did: I started on the base, drawing the two horizontal sections first. I added the "legs" to either edge, then added the "X" and scallop details. Same for the tower: I started with the horizontal section, then added the vertical lines and finally, the details.
I used the same black acrylic craft paint and a very fine-tipped brush to carefully paint on the line detail.
I worked one side at a time. The paint seemed to dry pretty quickly, and I had the whole thing painted in maybe 30 minutes or so. I probably should've worked more slowly and been a bit more careful and precise. But let it be known that crafting patience is not a virtue of mine!
Once the paint was fully dried, I used my hot glue gun to glue it to the center of the plate. I hope the hot glue holds up; I'm thinking I should've used a something like E6000. If it comes loose, I'll just re-glue it!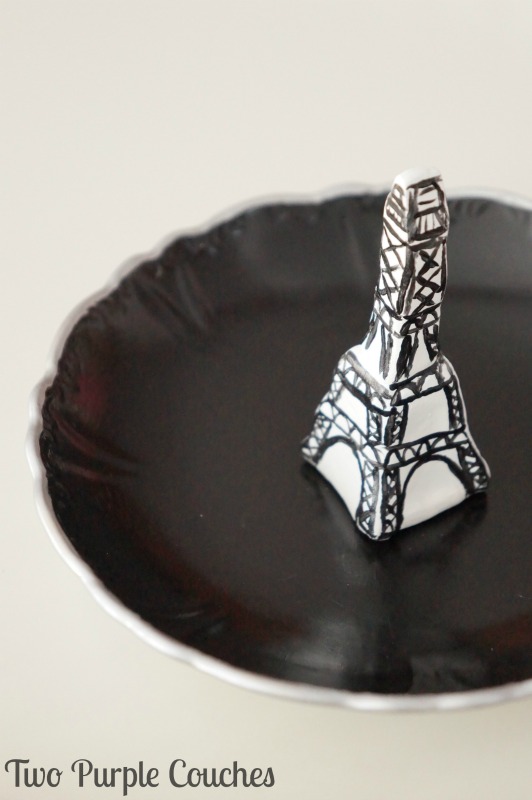 What do you think??
I'm pretty smitten with it! This might be one of my fave projects to-date!
While my style isn't typically French-inspired, I think this is just the right touch of Parisian chic for my nightstand or dresser.
Who knows? Maybe I'll try creating my own version of the Big Ben or Golden Gate Bridge dishes next!? Which landmark would you sculpt into a ring dish?
Sharing with: Shabbilicious / Work It Wednesday / Pretty Preppy Party / Something To Talk About