Hello friends! I am excited to be joining a team of amazing bloggers for the Simply Seasonal: Holiday Edition Blog Hop this week! All week long, we'll be sharing what we love most about the season along with our favorite tips for making your home feel festive and cozy this holiday season. Hopefully this will also help take some stress out of the holidays!
I've been hard at work the past week or so getting my home decked out for the holidays. I still have some work to do, but today I'll be giving you a peek around as well as sharing five ways to create a cozy holiday home this Christmas season.
If you're coming over from My Life from Home, welcome! I'm so glad you're here. Isn't Amy's home beautiful!? Amy and I actually friends in real life, and I can tell you that her home is even more stunning in person!
My home decor style is a blend of traditional, modern, vintage and glam, but at the holidays (and especially in recent years), I gravitate more towards vintage and rustic decorations. To me, they have a feeling of nostalgia and instantly make me feel warm and fuzzy inside.
Many of my Christmas decorations are handmade items and pieces passed on to me by my mom. I look forward to pulling them out each year and remembering who made them and thinking of all of the other Christmas memories that they've been a part of. For me, the holidays are all about family and making special memories together, whether it's baking favorite recipes with my mom or our annual trip with my in-laws to pick out our Christmas tree. This is my favorite holiday and my favorite time of the year, and I try to soak it up as much as possible!
Last week I shared my Christmas mantel, which you can see here. I am putting the finishes touches on my full holiday home tour for this year, but here a few other looks around…
Now I'd love to share a few of my favorite ways to bring warmth and comfort to my home for the holiday season.
This post contains some affiliate links for your convenience. Click here to read my full disclosure policy. 
Five Ways to Create a Cozy Holiday Home
1. Include family heirlooms and meaningful items
From our Christmas tree ornaments to our stockings and Nativity scene, many of our holiday decorations have been in our family for a while or hold a special meaning for us. Both my parents and my husband's parents gifted us new ornaments each year when we were kids, so we had a nice collection going when we got married. We continue to collect ornaments when we travel, or to commemorate special occasions.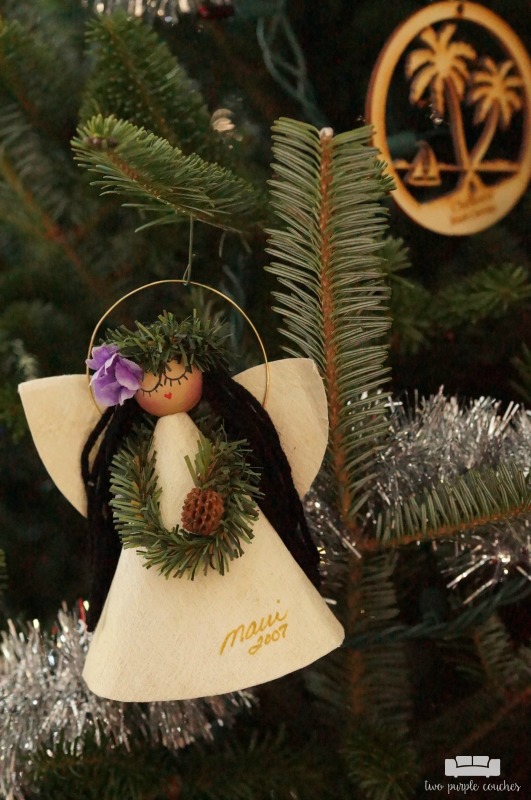 We bought this angel while on our honeymoon in Maui. She's made from all-natural materials native to the Hawaiian Islands! This is one of my most favorite ornaments.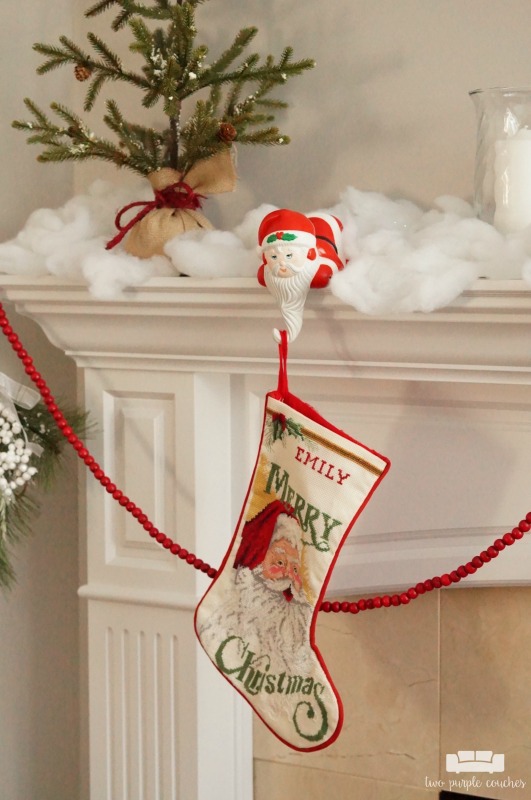 My mom made this needlepoint stocking for me when I was very young. The detail on it is amazing! The stocking holder is also mine from when I was a kid. Sometimes I think it'd be nice to have a matching set of stockings for my husband and I, but I can't bring myself to not put this one up.
This shot of our Nativity scene is from a few Christmases ago—I haven't put it up yet this year. But this set is very special to me because it was purchased by my grandfather in 1952. We always used this Nativity when I was a kid, and I was constantly playing with the animals (don't worry, they're plastic!), to the point that my parents always joked that they'd just wrap them up and place them under the tree for me on Christmas morning. The other special thing about this Nativity is that it's still stored in its original cardboard shipping box, with the original postage stamp and hand-written address on it. These are the details that I love re-discovering every Christmas.
2. Add texture around your home
The easiest way to add texture, which I'm sure you've heard before, is with throw blankets and pillows. I have a pair of plush faux fur pillows I bring out every winter (similar options available here). Keep a basket full of cozy throws nearby for chilly nights, or just to dress up your sofa.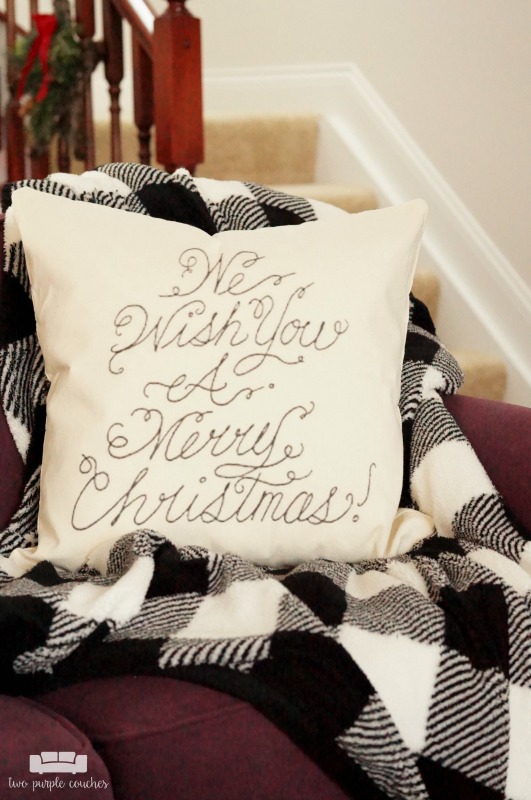 I also like to add texture to my decor through Nature. A few evergreen clippings in a mercury glass vase or even faux snow are great ways to bring some extra texture into your decor and give your home a cozier feeling.
3. Have a cup (and plate) of cheer!
I am a coffeeholic, so I always have my Nespresso and milk frother out on the counter so I can make my daily latte. As soon as December rolls around, I also bring out mason jars full of hot cocoa mix.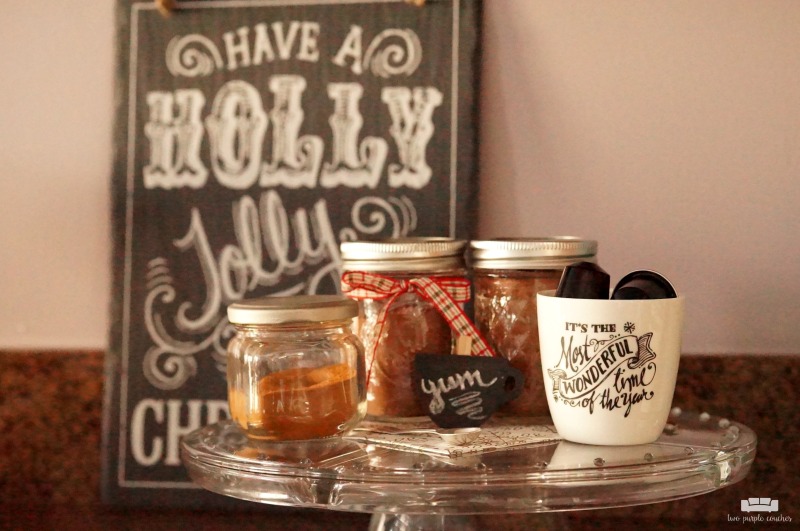 And it's a rare day during the holidays when we don't have some sort of cookie, sweet or bowl full of candy canes around. One of my favorites are my grandma's old-fashioned butter cookies. I shared her recipe in this post last year.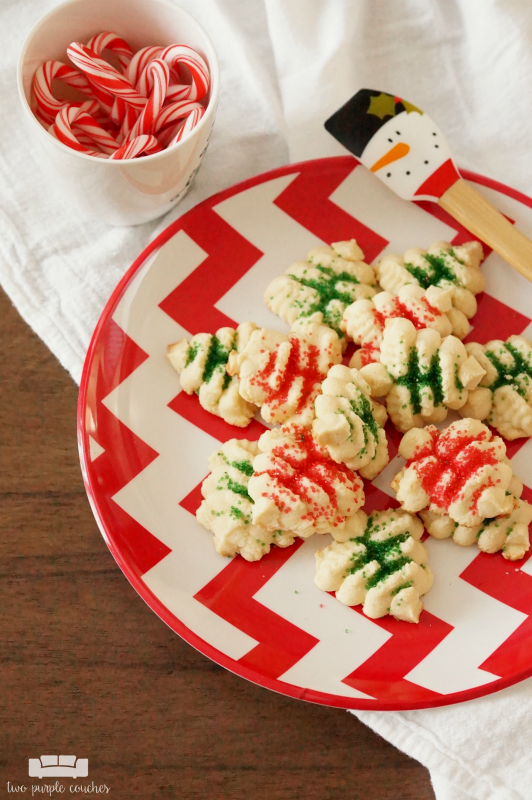 4. Caroling, caroling
I am also carol-aholic, if there is such a thing. I. Love. Christmas Carols. I can sing them 24/7-365, much to the chagrin of my husband. I found these amazing vintage hymnal cards at the Country Living Fair earlier this year and have been so excited to display them on our piano this Christmas (yes, I do play, but am a bit out of practice!).
5. Scents of the season
Last but not least, one of my favorite ways to ready my home for the holidays is by making it smell amazing! Have you ever tried a simmering pot? I discovered these a few years ago and love making them. They are so easy to put together, use all natural ingredients, and make your home smell incredibly cozy.
This is one of my favorite "recipes" for the Christmas season:
Holiday Simmering Pot Recipe:
one orange, sliced
2-3 cinnamon sticks
5-6 dried cloves
a splash of vanilla extract
Add all ingredients to a saucepan and cover with water. Place on the stovetop over low heat and bring to a simmer. Add more water throughout the day as it burns off.
Now be sure to head on over to Old House to New Home to see how Amanda is readying her home for the season! I've included the full schedule for this week's Simply Seasonal: Holiday Edition below so you can check out all of the wonderful posts throughout the week. Many thanks to Caroline of Organize Nashville for organizing this hop!
Monday, December 5
Tuesday, December 6
Wednesday, December 7
Organize & Decorate Everything
Thursday, December 8
Friday, December 9
Finding Your Joy in The Journey