One of my favorite things to do when I take a trip to the mall is to stop by and browse through Anthropologie. Their stores always smell incredible, and I love to take my time walking through each section, getting inspired by the beautiful styling, props and merch for sale. But another thing I am loving lately about Anthropologie is their shopping bags! They are gorgeous! I've been hanging onto a couple because I can't bear to throw them in our recycling bin. While I was hunting around the house for artwork for my new craft room (reveal coming soon!), I remembered I'd been hoarding these and decided to turn one into a pretty piece of gift bag framed art.
This is a super simple, and fast project – I am not kidding you with the "5-Minute" description! This bag has the same design on both sides, and instead of just framing the whole bag, I wanted to cut away one of the panels. I may end up framing the other panel as well.
To create my gift bag framed art, I cut along the centers of the short sides of the bag with a pair of scissors, following the fold:
Then I cut slits along the "V" shapes at the bottom:
After making these cuts, I flattened out the whole bag so it looked like this:
Then I used a craft knife to carefully cut away one of the panels and remove the string from the top, and finally trimmed the edges until it fit snug into a frame.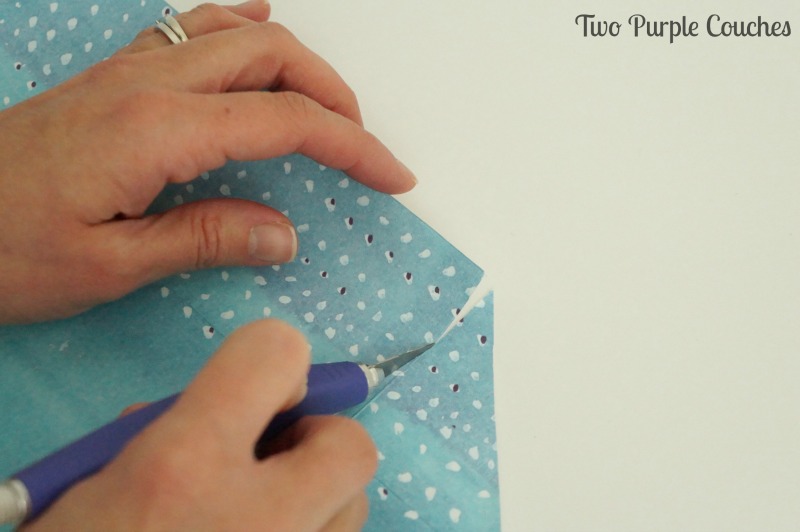 And voila! My framed gift bag art is done!
Isn't it beautiful!? Those watery turquoise-y colors make me smile every time I look at it! I'm considering framing the other large panel, but flipping it upside down and hanging them side-by-side. It might make for a neat pair of artwork, don't you think?
{Don't forget to Pin this for later!}
Sharing with: Home Decor & More