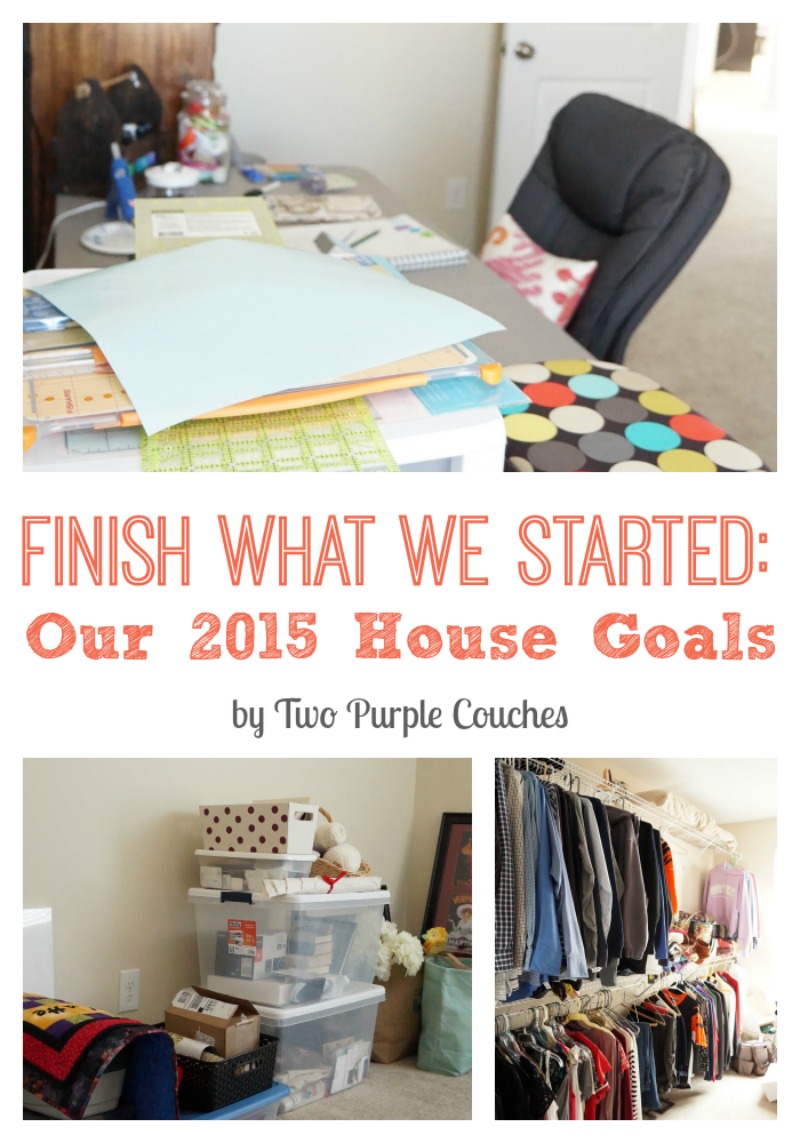 As I was looking back at some of the house goals I set for us last January, I realized that I sort of got off track. I outlined several goals that I wanted to accomplish last year. Some we checked the boxes on, others we did not. In some cases, we made up and checked boxes as we went.
Case in point: at the outset of 2014, I had no idea we'd give such a gorgeous makeover to our bedroom windows, adding new sills and fancy trim. But we did, and we're both thrilled with the results.
For our 2015 House Goals, there are definitely a few repeats from last year's list, and re-assigning projects that didn't get started (or finished) last year.
First up, my office or "Liiiiiiiiiibrary" makeover. But I'm going to approach this project with a different mindset this year.
I know that bringing our vision to life is no small task. If you're new here or need a vision-refresher, our plan is to add plenty of floor-to-ceiling shelving and storage, plus a window bench. (I talked more about our vision in this post). I know this project won't be completed in the timespan of a few weekends. It's just not how we roll. I'm slowly coming to terms with that (wink). If we can nail down a solid building plan and blueprints this year, I'll call that a success. Any progress will be good progress!
In the meantime, we have a few other goals we can set our sights on. Here they are, in (my) order of importance. Oh, and just to keep it real with ya'll… these are true "before" photos, my friends! These are our spaces in all their messy, unfinished, everyday glory!
#1: Finish our Master Bedroom Makeover. This includes some accent furniture and hanging artwork. I shared some ideas for our space in this post. (I'm still on the hunt for the perfect armchair!) This goal also includes finishing our master bathroom. Our bathroom windows are already trimmed, but they still need painting. And the walls will be getting a fresh coat as well!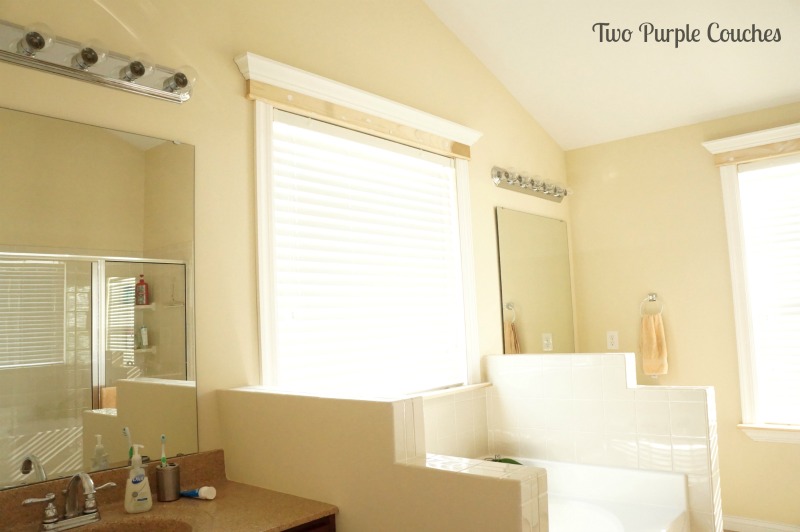 #2: Craft Room Organization. Tom and I put together a makeshift craft room for me in November. Basically, we moved the majority of my craft and sewing supplies, along with my hand-me-down sewing machine to one of our spare bedrooms. I'd like to arrange some better storage in there, as well as set up a photo studio in one of the corners so I can have a dedicated space to photograph my smaller craft and DIY projects.
#3: Paint our Bonus Room. Right now, we mostly use this room as a space to do our workouts, and as a second family room. The walls are still sporting boring Builder Beige (as are our other spare bedrooms). I'd also like to accessorize and furnish a tad more. I've been collecting a variety of prints and artwork for a Cincinnati / Ohio landmarks gallery wall and I think this room would be a perfect spot to hang them all up!
#4: Add a storage chest/dresser to our upstairs hall. Maybe this should be #3.5, as this hallway landing is sort of an extension of our bonus family room. Not that it's a critical goal, but I'd love to add a piece of furniture to this space to make it feel more purposeful and finished. Plus a little extra storage never hurts (wink).
I've also got a few Organizational Goals for 2015. All are carry-overs from 2014. Whoops!
– Devise a better system for holiday decoration organization. Guess I'd better get on this one pretty soon, huh?
– Set up a filing system for paperwork, tax documents, etc. (I've successfully procrastinated on this one for ahem, several years.)
– Declutter/re-organize our master closet. While I would love some sort of fancy closet system, I don't think this one will be in the cards for another several years. But that doesn't mean I should ignore the growing pile of clothes and shoes intended for donation.
Well, that about does it for my 2015 House Goals. By the looks of this list, I need to get a move on! Do you have any house goals for the year? Any projects—big or small—that you're hoping to tackle? Share them in the comments! Let's cheer each other on! It's so much easier to tackle a project when you've got support!