This vintage steamer trunk was all kinds of dirty and gross when I finally pulled it out of our basement to start giving it a bold, beautiful makeover. Even after a thorough cleaning, it still wasn't shining bright like the diamond I knew it could be. It needed color. It needed depth. It needed some bling. But the biggest change, and what I'm going to share with you today, is how to paint a vintage trunk.
Now, I've already acknowledged that not everyone will agree with my decision to paint this trunk. And I understand that. A painted trunk is not for everyone. Especially not a bright blue painted trunk. But I wanted this piece to be something we'd love and use, and in its poor, dilapidated state, the original red-brown was just too ugly for me to love. And this trunk deserves to be loved!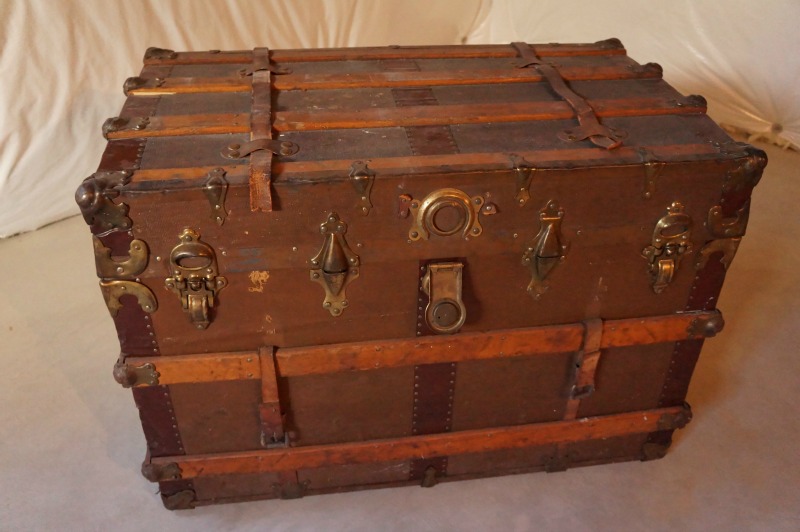 So, first things first. This trunk needed a thorough cleaning and prepping before I even cracked open a can of paint. Once I'd ripped out the 1970s fabric lining, I vacuumed the interior and exterior.
To prep the exterior, I gave all of the wood a light sanding by hand with sand paper. Then I wiped down the whole trunk with a soft cloth (an old tee is always my choice) and a solution of vinegar and water. I think I used 1 part vinegar to 4 parts water, mixed in a spray bottle. I lightly sprayed the cloth instead of spraying directly onto the trunk because I didn't want to soak the trunk. I hauled the trunk out of our basement and onto our patio for cleaning; being outside in the sun for several hours helped to air it out and reduce some of musty smell.
Now onto the painting stage…
This post contains some affiliate links for your convenience. Click here to read my full disclosure policy. 
How to make-over a vintage trunk:
Materials Needed:
Water-based paint
Small polyester paint brushes in assorted sizes
Restor-A-Finish or Minwax Wood Finish wood stain
Rub 'n Buff Wax in Antique Gold
Sandpaper

You may need to start with a medium grit (60-100) and finish with a fine grit (120-220)
I researched several different paint brands, and ultimately decided on Cari Cucksey's RePurpose Paint in Mohair Blue. I chose it because this paint is self-priming and works on all kinds of surfaces. It has a very smooth texture and covers extremely well. I fell in love with this rich blue color and knew it would be just the right color to make my trunk pop.
Once the trunk was cleaned and prepped, it was ready to paint! I used a small craft brush to cut in around all of the hardware and wood and a 1″ polyester brush for the larger sections. This was probably the most tedious part of the process, but I just turned on some music and got to work! I painted two coats to make sure I had solid coverage, and I barely put a dent in my quart of paint!
Once all of the reddish-brown canvas was painted over, it was time to work on the wood and the hardware. After initially sanding the wood, I applied a light coat of Restor-A-Finish in Mahogany. I gave it a few days, and then decided that the color wasn't jiving with the beautiful Mohair Blue paint. So I headed back to the hardware store and bought a small can of Minwax Wood Finish Wood Stain in Espresso. This tone was much richer, and compliments the paint really well. I was happy to find that the stain went on pretty easily over the Restor-A-Finish, though I think another light sanding would have been a smart idea. Live and learn, right?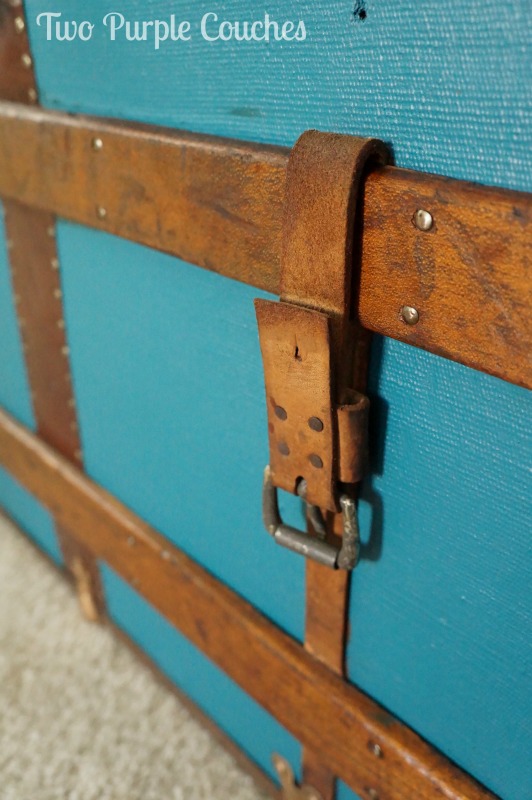 The hardware was by far the simplest part to makeover, but had the biggest impact. I applied Rub 'n Buff Wax in Antique Gold to every. single. piece. My fingers were gold for a day or two, but it was SO worth it! I can't believe how gorgeous the hardware is now!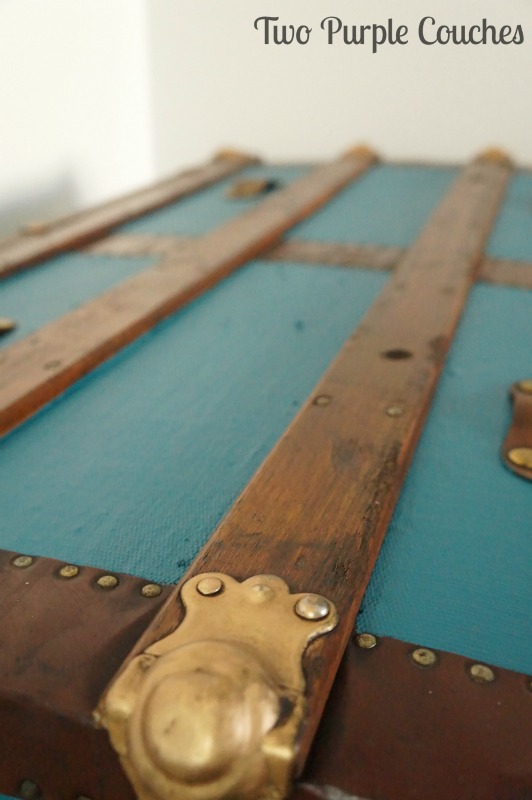 It's a bit more decorative than the hardware I've seen on other vintage trunks, and I love how the Rub 'n Buff brings more attention to each piece. It totally took this trunk from blah to bold!
Looking back, I wish I'd tallied up how many hours I spent on this piece. Because it was a lot. At least 20, maybe 30 hours. Maybe more. This being my first big furniture makeover, I wasn't sure what to expect with the process and the outcome, but after weeks of work and countless trips to the hardware store, I can proudly say that it was worth every minute!
Want to see more vintage trunk makeover goodness? Check out these posts:
Sharing with: Shabilicious Friday / Inspired By You