I love throw pillows, and I would guess lots of you are nodding and agreeing with that statement. Throw pillows are one of the easiest ways to change out your decor for each of the seasons. You can buy or DIY, which gives you the option to personalize them however you please! You can also add embellishments to plain store-bought pillow covers. If you saw my fall home tour last week, you saw this cute pillow, and today I'm going to show you the simple technique I used to create this "cozy" DIY fall pillow.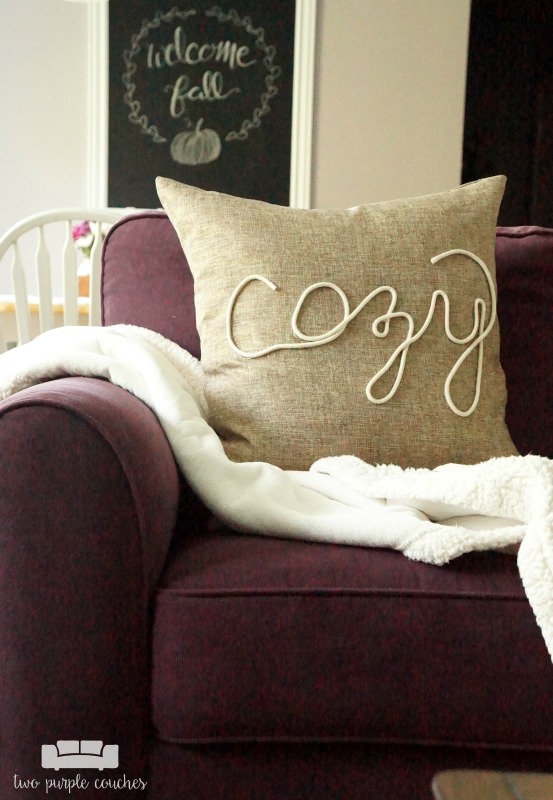 Whenever I get in the mood to change up my pillows, I start with plans to make a whole bunch of covers myself. A few weeks ago, I was all gung-ho about sewing up a pile of new pillow covers… until I stopped by HomeGoods with my mom one afternoon, and promptly threw three throw pillows into my shopping cart.
One of the pillows was covered with a plain tan linen, but all the way home I was hatching a plan to add a word to it. Instead of paint, I wanted something with dimension. A quick run to JoAnn Fabrics and I found exactly what I wanted – cotton bolo cord. It's easy to bend and shape, and I knew it'd be perfect for embellishing my DIY fall pillow.
Materials
20″ x 20″ pillow cover
~2 yards cotton bolo cord (mine is 3/16″ wide)
hot glue gun and glue sticks
water soluble marking pen
cardboard
Instructions
Remove the pillow insert from the cover and place a piece of cardboard inside. This is so you don't wind up with hot glue bleeding through to the other side of the pillow cover. Then, using a water soluble pen, lightly write out the word "cozy" on the front of the pillow cover. This type of pen is handy because you can remove the marks with a damp cloth.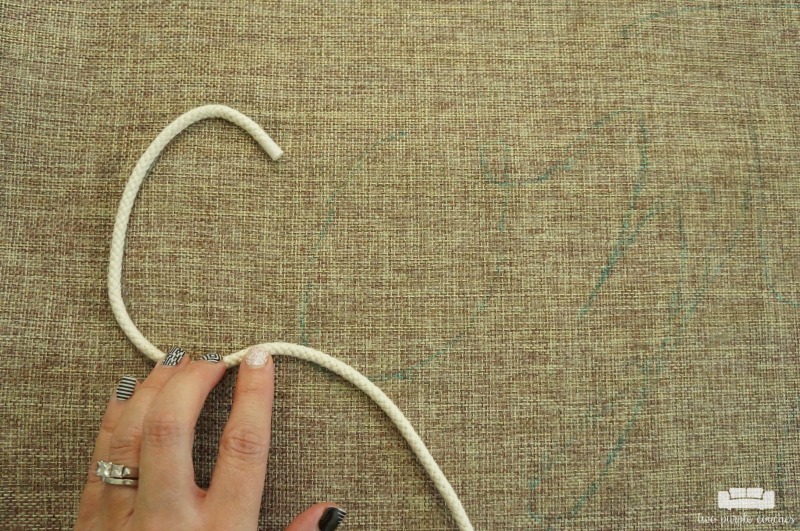 Add a thin line of hot glue along the "c" and start gluing down one end of cotton cord. Working in small sections as you go letter by letter will give you better control over the cording so you can place it where you want it. Note: forming the "o" was a little tricky; I played around with the placement of the cord a few times before adhering it with hot glue.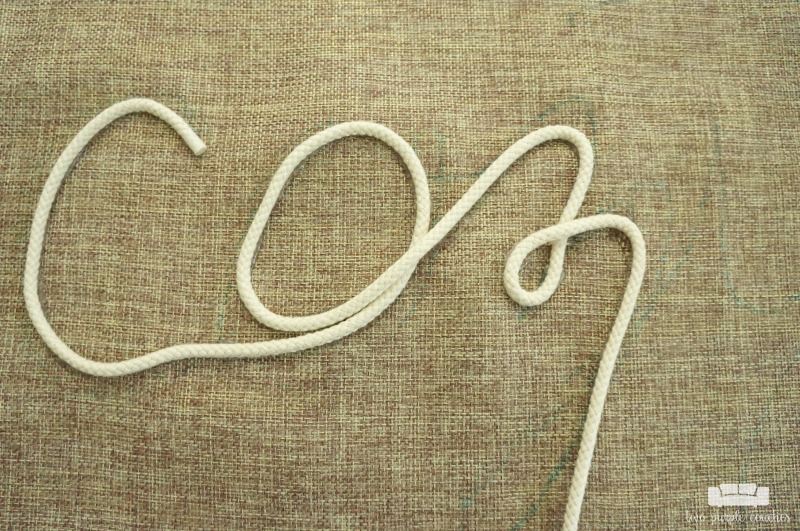 Continue adding glue and cord along the rest of the pen outline until your word is complete! If you have more cording than you need to finish the word, wrap a piece of clear tape around the cord before you cut it – this will keep it from fraying and unraveling. (I used all of the 2 yards of cord on my pillow cover).
Once the glue is dry, remove the cardboard, stuff the cover with a pillow insert and your "cozy" fall pillow is complete!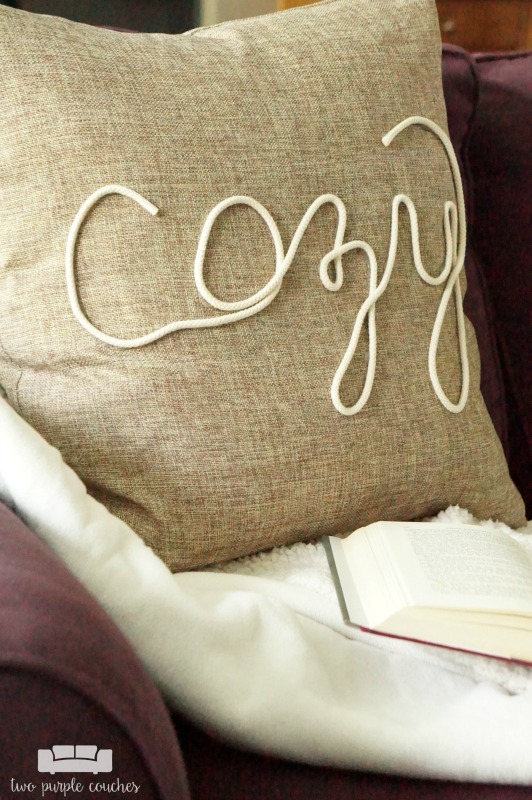 I am really pleased with how this turned out, and I love that I can display it for fall and winter! Getting extra mileage out of my seasonal decorations is definitely a win-win in my book.
Love this? Don't forget to pin it!
Wanna see more pillow projects?