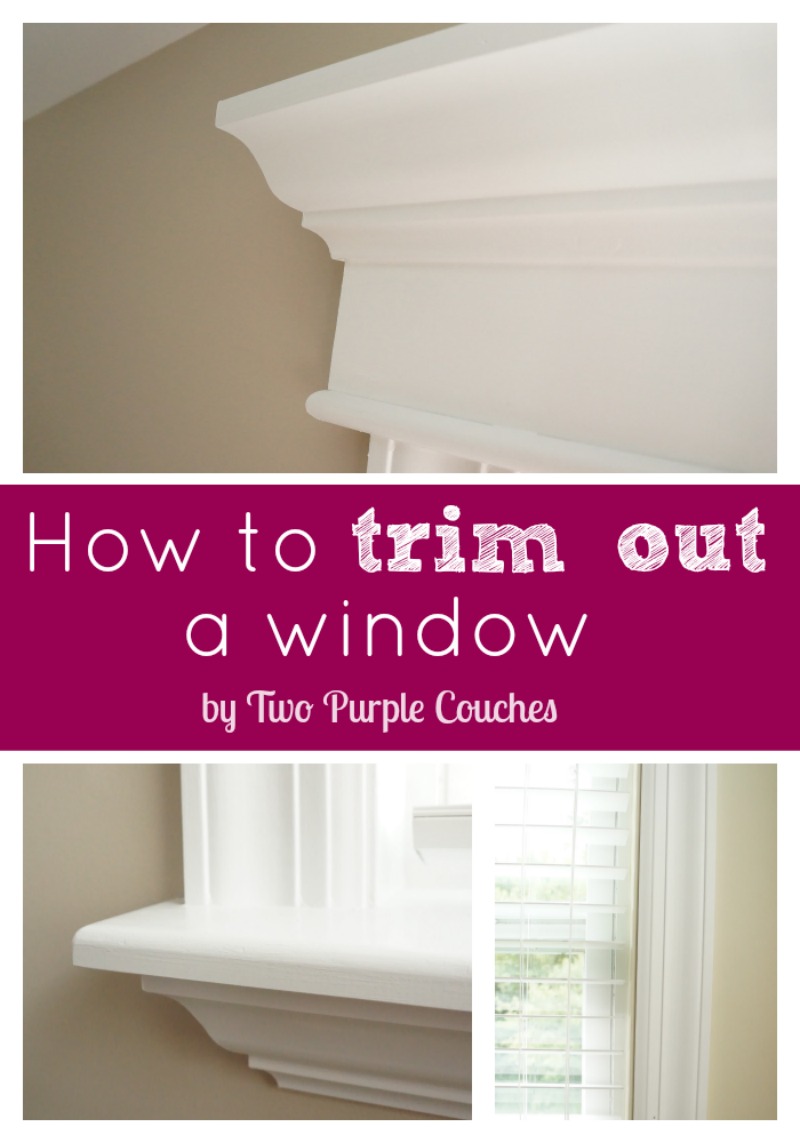 Today I'm sharing Phase 1B of our Master Bedroom Makeover: How to trim out a window for a custom look. In Phase 1A, you saw how we replaced our window sills with larger, jazzier looking ones. And we carried that thought through to the trim as well.
Trimming out a window is kind of like adding crown to a room. It might be one of the simplest DIY projects you can do to add some punch and pizzazz to your home. And once you've got your measurements figured out, it's not too challenging of a project. Just time-consuming, as evidenced by the fact that this project took us about a month to complete.
We take "measure twice, cut once" very seriously around here 😉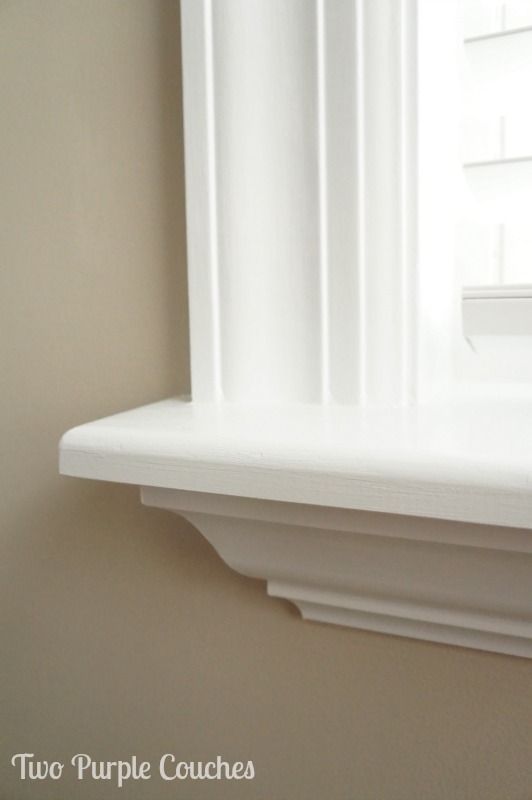 For our master bedroom windows, we decided to go bigger and bolder than we did on the trim around our family room and dining room windows. I wanted to channel fancy Victorian trimwork and Tom wanted to flex his craftsman muscles and design us a custom look.
And I think he did a fan-freaking-tabulous job!
Want to see how we did it? Read on for the full step-by-step tutorial…
Step 1: Install the top trim pieces first. This could be a single piece of trim or, if you want to create a more custom look like we went for, a 1″x6″ board of pine or poplar. There are a few benefits to using a 1″x6″ board like this at the top: 1) you can add on multiple pieces of trim to get that custom look and 2) you don't need to miter the edges! Just a nice straight cut will do!
Measure for the length of the window and make the cuts. Install with a nail compressor, which will pretty much become your best friend throughout a project like this!
Step 2: Measure and install each side piece of trim. We selected about a 4″ piece of pine trim for the sides of our windows. Measure for the length of each side, make the cuts, and install with that handy dandy nail compressor.
If you selected a single piece of trim for the top of your windows, you can jump to Step 5. Oooh, this is becoming a sort of Choose Your Own Trim Adventure!
Step 3: Add crown / additional trim pieces. We used crown and half-round. The crown at the top of the boards went up first, followed by the half-round at the base. More measuring and cutting, gluing and nailing… Also, FYI: painter's tape is great for holding pieces of trim together while you wait for glue to dry.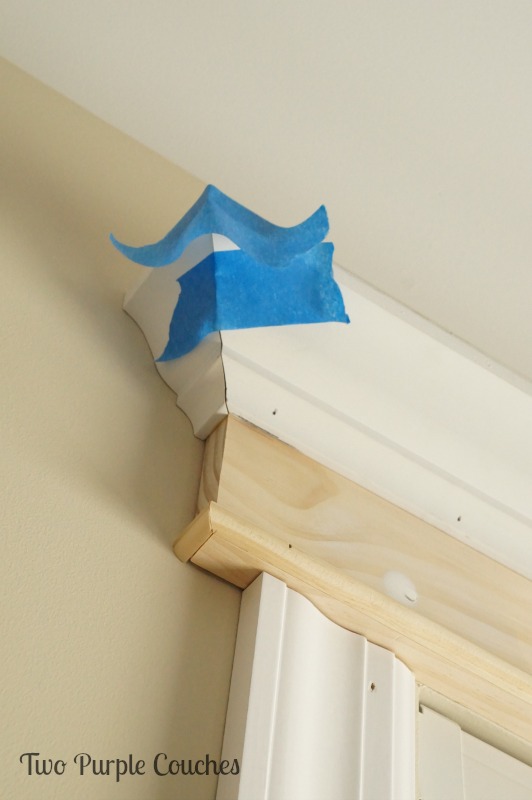 Step 4: Add crown beneath the window sill. This is kind of an optional step as well, buuuut… why would you want to skip it? Adding crown beneath a window sill looks ahhhhmazing! And definitely gives off that fancy Victorian vibe I love!
Here's a tip that Tom picked up as we were working: if you're capping the edges of crown, like we did at the tops of each window and under each sill, glue all of the pieces together and allow to dry before nailing in the assembled boards. This way you can get each joint matched up as perfectly as possible. And there's fewer crazy gaps to fill with caulk.
Step 5: Putty nail holes and caulk seams. Before you start this portion, give yourselves a pat on the back or grab a cold one, because the hardest part is over and this step is the start of the light at the end of the tunnel!
Select a good wood putty to patch up those nail holes, as well as any other knicks or gaps. Let dry and sand lightly with sandpaper. Caulk all of the seams with a good acrylic caulk (we used DAP Alex Flex from Lowe's). Apply a bead of caulk, then run your finger over it to smooth it down and evenly fill in gaps. You want to caulk all of the wood joints, as well as wherever any wood meets the wall. Once the caulk has dried, it's nearly impossible to sand down, so be sure to get everything nice and smooth before it dries!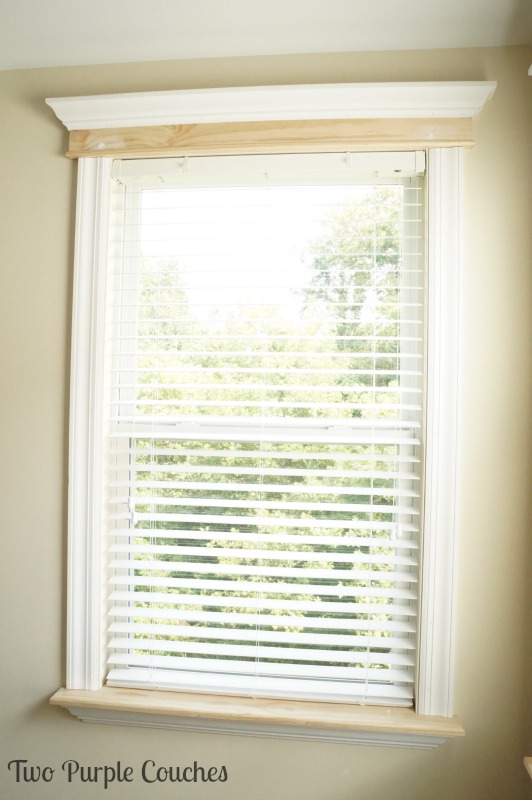 Step 6: Paint all trim to match existing baseboards, crown, etc. A painting pro (i.e. Tom's uncle) gave us this expert tip: If you're updating the wall color along with the window trimming project, as we were, paint the walls first. Why? Because if you get wall paint on the trim as you're cutting in or rolling, it's a lot easier to just go over the trim with a fresh coat than it is to try to wash off splatters. Especially if the paints are different finishes, like an eggshell vs. a semi-gloss.
Update: I've had a few questions about how we covered the blind mount at the top of the blinds. We used 1/4″-thick poplar, painted to match the trim. To secure it, we glued magnets to the back so it can easily snap onto (and be removed from) the metal blind mount.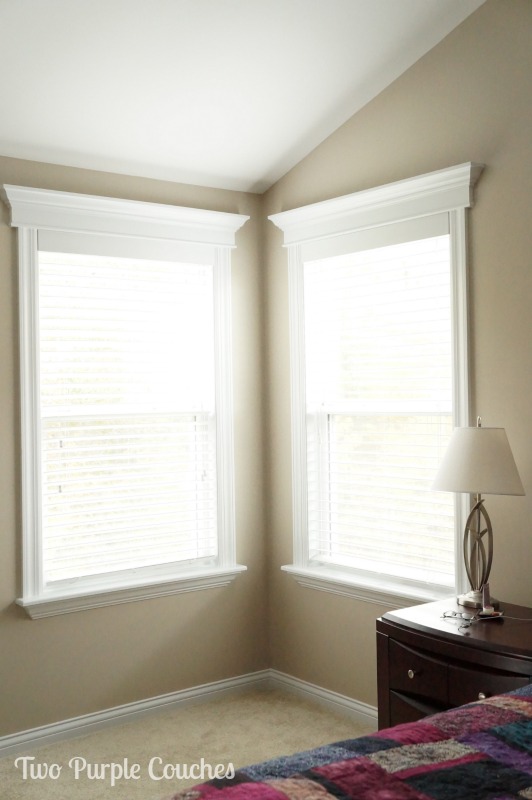 So, to recap… with a bit of time, a tape measure, a miter saw, and a nail gun, you can take your windows from blah to brilliant!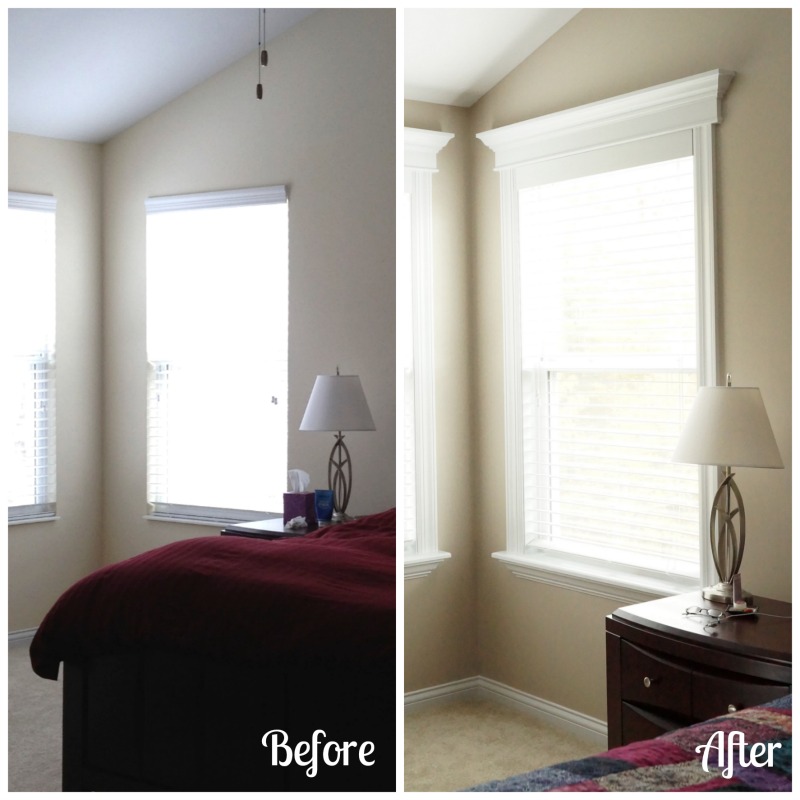 All-in-all, we trimmed out three windows in our bedroom and two in our bathroom. Though our bathroom windows have stalled at Step 5. We've got other visions for our bathroom, including framing our vanity mirrors and replacing the light fixtures, so that project is going to take a little longer to complete.
Oh, and you're getting a peek at the paint we selected for our bedroom! This is the next phase in our Master Bedroom Makeover, and I'll be back next week to share more about the whole painting process… the before, the after, and the funny incidents that happened along the way!
You may also like: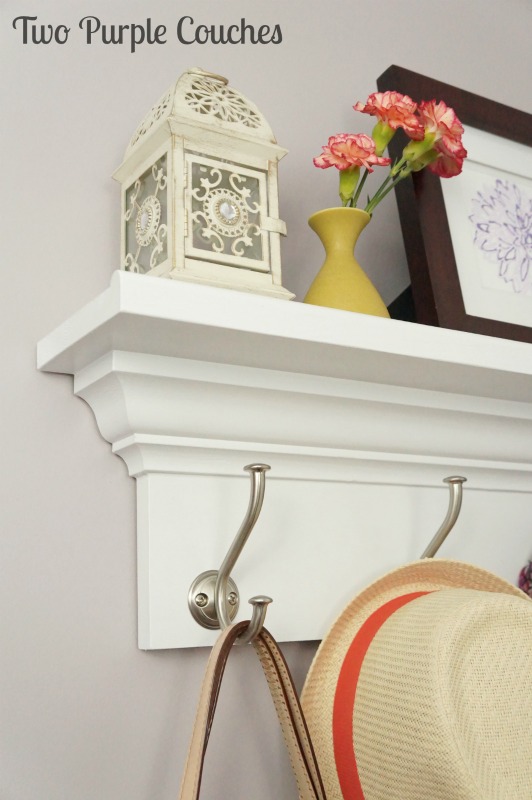 How to build a wall shelf with hooks
Sharing with: Creative Spark / Work It Wednesday / Weekend Re-Treat / Outside the Box / Share It Sunday